Things to Do in Williamsport
---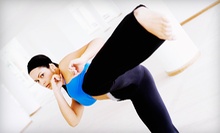 Classes fuse circuit training with MMA-style techniques and movements, blending mountain climbers with muay thai elbow strikes
---
Recommended Things to Do by Groupon Customers
---
Helmed by 23-year PGA vet Scot W.R. Nei, TourBound Golf Academy hones the skills of golfers of all levels with a blend of professional training and high-tech analysis. In addition to learning from extensively experienced human trainers, students study under the cold, metal gaze of a training robot, which mercifully sets its kill-phasers to the "teach" setting as it offers up exact movement measurements and mechanically guided golf-swing practice. An indoor and outdoor facility hosts lessons in all weather, and TrackMan ball-flight trackers and digital-video scrutiny pinpoint improper postures and map out spheroid trajectories with computerized precision.
260 Country Club Dr.
Mountain Top
Pennsylvania
570-814-3859
The shores of the Juniata River abound with lofty trees and verdant plants, creating a scenic backdrop for Juanita River Adventures's aquatic excursions. The family-owned-and-operated company saddles guests into quality and clean tubes, canoes, and kayaks while pointing them toward scenic routes, plentiful fishing holes, and cozy campsites. Staff at their headquarters lease fishing rods and tackle, while their campgrounds speckle with picnic tables, horseshoe pits, and a beach-volleyball court. Throughout the trip, guests have the chance to witness diverse wildlife— such as bald eagles, smallmouth bass, and tech-startup employees on wilderness team-building retreats—in its natural habitat.
106 E River Rd.
Mifflintown
Pennsylvania
717-320-1102
Legendary Excursions' wheelmen demonstrate the tactics necessary for navigating unpaved environments and install adrenaline-hungry guests inside a 190-horsepower, 4-speed manual-transmission Baja 1000–style off-road racing car. During the Ride Along Adventure, patrons ride shotgun as a professional driver steers them through three laps on a tricky, 6.3-mile off-road course at race-like speeds, navigating tough terrain and catching air on jumps. Experts kick-start the Taste of Baja Adventure by honing fear-conquering clients' driving skills and dressing them in racing helmets and other appropriate gear. Once suited up, racers will be formally introduced to their trusty motor-steed, learning all about its controls, safety equipment, and ticklish spots before having their picture taken with it. Adventurers then spend three laps traversing the baja track's jumps, sweeping turns and rough terrain, letting the colossal BFGoodrich tires create swirling dust formations and spew out perfectly cooked mud pies.
453 Molleystown Rd.
Tremont
Pennsylvania
US
---