Things to Do in Williamstown
---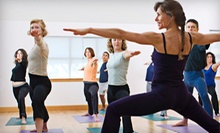 Heated studio fosters detoxification and flexibility as yogi guides pupils through medley of salubrious poses and meditative breathing
Use Tuesday 8:00am - 11:00am
---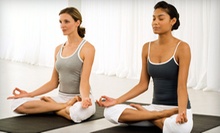 Use Monday 5:00am - 9:00am
---
Recommended Things to Do by Groupon Customers
---
The air over New Jersey Motorsports Park pulses with the roar of engines, a siren's call to professional and amateur racers and the crowds that cheer them on. From spring through late fall, the track's major events entice fans young and old and range from open-wheel racing to karting. With little to no experience, amateur drivers can arrive and drive with the track's F1 karting program, which sends similarly skilled drivers careening around the bends of a 1.1-mile track that features six different configurations and 11 prime spots to throw a well-aimed koopa shell at the competition.
The track's educational program molds amateurs into masters by giving them access to world-class instructors with years of experience driving with their feet. Between lessons or races, drivers can fuel up at an onsite snack bar, or take the postrace edge off at the pub.
8000 Dividing Creek Rd.
Millville
New Jersey
Though Longwood Gardens owes its current incarnation to the tireless efforts of industrialist, philanthropist, and conservationist Pierre du Pont, the property's history stretches back to precolonial days. The Peirce family purchased the land from William Penn himself in 1700, and by the end of the century the Quakers had already begun developing an arboretum on the premises. In the century that followed, the homestead was purchased by an ambitious 36-year-old du Pont in 1906. Throughout the next 30 years, the man who made General Motors built another legacy, this one rife with extravagant European-style fountains, a picturesque 600-foot garden walk, and 40 indoor and outdoor gardens. Today, visitors experience a bit of du Pont's passion for the tropical flora of the Americas during jaunts through the property's 1,077 colorful acres, where they run into everything from flowering trees and delicate hybrids to carnivorous pitcher plants. In addition to cultivating lush flora, the garden's stewards also encourage growing minds with an ever-changing roster of events, such as internationally acclaimed musical acts and immersive educational experiences.
1001 Longwood Rd.
Kennett Square
Pennsylvania
More than 12,000 square feet of indoor rock-climbing surfaces greet climbers at Doylestown Rock Gym, where they can test their scaling acumen on a network of bulges, overhangs, chimneys, and cracks. As climbers scramble over the massive facility, an alert staffer remains ready to assist when needed and remind nervous beginners that there are no mountain lions around. The space presents suitable challenges for all skill levels and facilitates advancement in the sport through individual and group instruction by on-staff experts.
3853 Old Easton Rd.
Doylestown
Pennsylvania
Midnight Productions stages professional theater performances with an emphasis on special effects and technical splendor. This commitment to impressive displays of lighting, sound, and scenery characterizes the company's annual productions, which include a run of Jesus Christ Superstar and a thrilling haunted house in Newtown.
881 Highland Rd.
Newtown
Pennsylvania
Shrill giggles and the pitter-patter of tiny, sock-swathed feet echo off the walls of Pump It Up, where lilliputian guests pinball through a metropolis of inflatable slides and bouncy enclosures. During glow pop-in play, tykes frolic in the radiance of special lights, and in pirate-themed sessions, youngsters don costumes or just feel less self-conscious about the parrot permanently affixed to their shoulder. Small groups of ankle-biters tear through the facility during private parties, plummeting down slides, scaling plush ladders, and bounding off of springy floors.
103 S James St.
Newport
Delaware
Hot Sand's studio buzzes with activity as instructors dip pipes into molten glass and then demonstrate how to blow the globs into recognizable shapes. Nearby, other students work on finishing their pieces, refining contours atop wooden blocks and polishing surfaces on a diamond wheel. Hot Sand's glass-blowing artists impart these techniques through basic walk-in experiences and immersive workshops, showing guests how to craft objects such as candy dishes, pumpkin-shaped ornaments, or one-time-use dodgeballs. Welcoming visitors of all ages, Hot Sand earned the distinction as a top kids' destination in New Jersey Monthly's 2012 Jersey Choice awards. The studio also expands the aesthetic tastes of the community through a gallery that showcases original works for sale.
1200 Ocean Ave.
Asbury Park
New Jersey
732-927-5475
---