Restaurants in Willingboro
---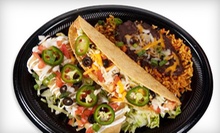 Chefs harness fresh ingredients to craft platters of hand-rolled burritos, grilled grouper tacos & cheese-loaded quesdillas
Use Sunday 11:30am - 9:00pm
---
Recommended Restaurants by Groupon Customers
---
Fine cuisine, high fashion, annoying tourists—like old high-school rivals, France and Italy have more in common than they'd care to admit. With today's Groupon, $20 gets you $40 worth of delectable food and drink at Guido's Italian Restaurant, an Italian-French fusion eatery in Holmesburg. It's like taking advantage of auspicious exchange rates in a fictional utopia where the dollar is still valuable.Welling was determined to capture the minds and tongues of the niche—but expanding—market of disco fans. After extensive research, he determined that disco's sparkling clothing and bouncy rhythms were the culinary equivalent of pasta covered in rich tomato sauce. Welling's findings were so delicious that disco changed its name to Italy, enraging Italy, which was forced to change its name to Lapland, Home of Full-Blooded Italians. Pick up today's Groupon for some delicious Italian and French food from America, prepared by full-blooded Italians from Lapland, Home of Full-Blooded Italians, and also French people.
3545 Welsh Rd
Philadelphia
Pennsylvania
US
OpenTable users give Cork four stars, Yelpers give it 3.5, and Gayot rates it as good:
90 Haddon Ave.
Westmont
New Jersey
Within Elements Cafe's romantically lit dining room, guests nibble on upscale, American-style tapas featuring locally grown and organic ingredients. Fred Kellermann, the owner and mastermind chef behind Elements, creates an eclectic menu that brings together unusual flavor combinations in dishes such as potato ravioli with root beer and short ribs or pumpkin-mushroom soup with rosemary cream. To stay on the cutting edge of the ever-evolving food scene, Chef Fred continually updates his repertoire by experimenting with seasonal ingredients and new preparations. Customers can taste his newest creations every Sunday during Sunday supper, which features with a weekly changing menu of new dishes, old favorites, and a pill that cures the Mondays.
517 Station Avenue
Haddon Heights
New Jersey
856-546-8840
Ready made entrees,sides, appetizers & desserts! Simply Take n Bake!
910 Haddonfield Berlin Rd.
Voorhees
New Jersey
856-784-4550
Chefs at Crepe Delicious swirl paper-thin layers of batter onto their piping-hot crepe griddles, perfuming the air with the enticing aroma. Shortly after, the cooks lift away delectable crepes ready to be stuffed with savoury ingredients. The crepes themselves weigh in at only about 130 calories each with just 3.5 grams of fat, but they sate appetites during any meal.
900 Mapleview Ave.
Burlington
Ontario
By using only high-grade, sustainable ingredients in its tasty, fast-casual fare, Elevation Burger prepares a menu headlined by burgers made from 100% grass-fed and free-range organic beef that's ground on the premises to ensure quality and safety. Outfit your naked maw and pants-less gullet with the trademark Elevation ($5.99), a double-patty delight that comes topped with real cheddar cheese and your choice of fancy fixings, ranging from tomatoes and lettuce to caramelized onions and balsamic mustard. Any sandwich can be side-kicked with Elevation Burger's fresh-cut fries ($2.59), which are thin cut from real potatoes and fried in the heart's smokin'-hot yet healthy girlfriend, olive oil. Lastly, reward your mouth for its bullfighting victory over bull meat with a hand-scooped malted vanilla milkshake ($3.89) topped with chocolate syrup and strawberries or bananas harvested from Hawaii's volcanic cocoa arboretums.
400 Rt 38, Moorestown Mall
Moorestown
New Jersey
888-291-4620
---