Massage in Willow Grove
---
Massage Rewards Deals - Use Anytime
---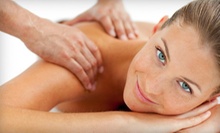 Therapist with 13 years of experience lavishes muscles with Swedish and deep-tissue massages in flexibly scheduled appointments
---
Recommended Massage by Groupon Customers
---
Ursula's About PHace's sugaring shaman, Elina Safin, combines an all-natural formula with expert training, efficiently ousting unwanted hair. Unlike the uncomfortable temperature of wax, the sugar-and-lemon-juice concoction gently warms to body heat, sticking to superfluous strands without disturbing the surrounding tissue to calm skin and sate its cravings for crème brûlée. The botanical-boosted sugar paste swiftly removes fuzz from the roots in the direction of growth for a more comfortable hair-removal treatment than waxing. Women can pare down hair on the lip and chin or banish sideburns ($25+), and men can smooth out backs, chests, and shoulders ($45+). After treatment, bristle-busted zones remain sleek and hair-free for up to six weeks.
1700 Sansom Street
Philadelphia
Pennsylvania
215-557-1562
With more than 30 licensed massage therapists and four area locations, Healing Hands Massage is on call seven days a week to bring relief to gridlocked muscles. Swedish-style therapeutic massages calm tense muscles and overworked minds with light-to-firm pressure and various kneading techniques. Deep pressure massages assuage tight muscles that require extra convincing, and pregnancy massages provide relief to expecting mothers whose joints ache from the added weight of carrying around future grown-ups. Massage therapists also make house calls for customers who'd rather receive bodywork in the comfort of their homes, and haul their massage chairs to offices or conventions to appease the overworked masses.
415 E Baltimore Ave.
Media
Pennsylvania
Massage therapist Melissa Clevenger knows the worth of a good massage. "I know how much I love getting massages," she says on her website, and she appreciates how important it is "to offer that same gift to others." In this spirit of healing and generosity, Melissa started her business with mobile chair massages and sofa shiatsu sessions, taking her gift to people wherever they were. Now, Melissa takes clients into her care at her permanent location, where Swedish and deep-tissue table massages pair with soothing music and aromatherapy. Her combination of intuitive strokes and firm pressure helps detoxify muscles and banish tension when clients need it most, even during after-hours weekday or weekend appointments.
8618 Germantown Ave.
Philadelphia
Pennsylvania
610-392-0581
Nestled inside Concord Health, EZZ Bodyworks offers a quiet respite where clients can expect individualized attention during personally tailored massages that work to relieve stress and physical pain. The studio's trained massage therapists work with their clients to ensure that each massage addresses their individual needs, whether the client needs to increase circulation, relax knotted muscles, or ease the pain of a sports injury incurred while challenging oneself to an arm-wrestling match.
107 West Maple Avenue, Ste 003
Merchantville
New Jersey
856-910-0495
At Wellness Works, president Julie Spahn helms a squad of practitioners trained in Eastern and Western traditions of wellness, as well as services such as massage, meditation, nutrition counseling, and acupuncture. Seasoned massage therapists knead relaxation directly into bodies with the soothing strokes of Swedish, therapeutic, deep-tissue, and sports massages. Instead of stuffing counterfeit $100 bills into patrons' jacket pockets, reflexologists make people feel better by focusing on pressure points located in the hands and feet, and various yoga classes attempt different stances of stress shedding.
500 Horizon Dr., Suite 503
Chalfont
Pennsylvania
484-489-1700
Guests to iMassage are greeted by a wall bearing the words "Relax…Renew…Relieve", hinting at the kneading specialists' ultimate goal as they work to alleviate aches with eight different massage modalities. Private treatment rooms glow with amber tones and soft lighting, helping to usher away outside cares as massage therapists melt stress with gentle Swedish massage or hot stones or target harder-to-reach tension with sports or deep-tissue styles. They also offer side-by-side massages for couples or mother-daughter duos, as well as chair massages to soothe busy bodies or those who are routinely sat on.
2118 Cottman Ave.
Philadelphia
Pennsylvania
US
---