Nightlife in Willow Grove
---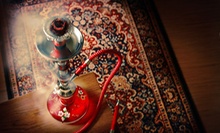 Alcohol and fruit mingle in each hookah's base as guests exhale plumes of aromatic smoke and sip sweet libations or beer
Use Wednesday 12:00am - 2:00am
---
Recommended Nightlife by Groupon Customers
---
If you're serious about laughing, you're doomed to never reach your goal, for the serious mind never laughs. But if you have a nice, laid-back appreciation for laughing, Comix is your kind of place. It's calendar is loaded with free nights with local performers and evenings with nationally known comedians, including Jamie Kennedy, Drew Fraser, and Arj Barker. Restaurants and clubs surround Comix, making it a great starting point for a night out with friends (or a great ending point for a night out with friends who have curfews).
353 W 14th St
New York
New York
US
Playgrounds and swings aren't the only things that can swing. Today's deal reveals the secret lives of soccer moms with $10 tickets to Billy Aronson's hilarious new comedy, The First Day of School, a $20 value. Be the first to get in on the laughs—your Groupon is good for the 8 p.m. preview show on Thursday, October 1, 8 p.m., at 1812 Productions.
1714 Delancey St.
Philadelphia
Pennsylvania
US
Premeditated comedy is the same thing as premeditated crime—both would be more hilarious if spontaneous. Seat yourself before a scene of utter unpredictability with today's delightfully inconsistent deal: for $9, you get one ticket to an improv show at Manhattan's National Comedy Theatre (a $15 value), plus free popcorn (a $2 value) to satisfy your late-night, comedy-induced cravings. Watch as NCT's talented players face off in a hilarious improvised competition at 9:45 p.m. on Friday or Saturday nights. NCT's show is completely different every time and funny for all ages, so grab your 2.5 children and 8.7 grandnieces. You haven't had a family laugh this good since that time the dog fell down the stairs and was basically fine.
347 W 36th St.
New York
New York
Helping to spread laughs throughout the land, Helium Comedy Club hosts headliners and tomorrow's brightest stars at its Philadelphia, Portland, and Buffalo locations. In front of a tabled showroom that allows audiences a clear sightline and maximizes guffaw acoustics, a bustling calendar of familiar comic talent fills most of the week with levity, and open mic nights and standup workshops put aspiring jokesmiths higher up the comedy rung.
2031 Sansom St.
Philadelphia
Pennsylvania
---