Willow Grove, PA Outdoor Activities
---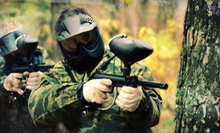 Groups do battle with markers, a mask, and 250 paintballs on speedball or woodsball fields
---
Recommended Outdoor Activities by Groupon Customers
---
As the Ale & Arts Walking Adventure tour ambles among famous Philadelphia bars such as McGillin's Olde Ale House and Dirty Frank's Bar, you'll get to drink in the history and cultural significance of 10 distinctive murals, as well as the establishments where they are located. You'll also get to drink in several locally brewed beers served throughout the fact-filled tour. The Mural Arts Program was created to enlighten the public on the collaborative process of how murals transform public spaces and unite artists with the local community. Develop a new appreciation for public art and discover the history behind your favorite local bar with today's side deal.
1727-29 Mount Vernon St.
Philadelphia
Pennsylvania
Sensory overload doesn't begin to describe Philadelphia's Magic Gardens. A seemingly boundless compilation of colors, textures, and shapes, the labyrinthine mosaic creation spans 3,000 square feet of indoor and outdoor space. The masterpiece originated in the brain of Isaiah Zagar, a Philadelphia native who grew up in New York. During his third year of art school, he stumbled upon Clarence Schmidt's folk-art-inspired installations—assemblages of found objects and recycled materials—and the young artist's view of the art world changed. "I didn't know that I was looking at art," Zagar reflects in his mission statement. Self-admittedly, Zagar has been somewhat "copying" Schmidt's dynamic, free-flowing style ever since.
The years after art school brought Zagar an onslaught of new opportunities. He spent time as an artist in China and India, joined the Peace Corps with his wife Julia, settled in Peru for three years, and even tried his hand at ceramics in Wisconsin. In the '60s, he and Julia returned to his birthplace—specifically, the waning South Street neighborhood. The duo quickly leapt into action, renovating dilapidated buildings and often adding mosaics to formerly barren walls. Eventually, Isaiah's imagination outgrew their projects, and in 1994 he began constructing a new piece in a vacant lot near his studio—the project would become Philadelphia's Magic Gardens.
Isaiah spent 14 precious years, which he should have applied to Y2K preparations, scooping out tunnels, erecting multitiered walls, and splashing the entire space in colorful tile. The finished product stretches across half a block of South Street; the outside enclosure shimmering with vibrant tiles, the inside housing folk art, colored glass bottles, and countless sparking mirrors. Now a nonprofit organization, Philadelphia's Magic Gardens invites visitors to enjoy its visual candy with guided or self-guided tours.
1020 South St.
Philadelphia
Pennsylvania
215-733-0390
The Philamazing Race's BOO-tacular Halloween Race kicks off mere days before Halloween, and shares many hallmarks of CBS's The Amazing Race. Contestants compete in teams (usually two to four people), and the event hinges on cryptic clues that lead to race checkpoints scattered throughout Philadelphia. Teams race between them on foot or public transit, using their wits, smartphones, and Skypes with the Sphinx to decode their clue packets. At each checkpoint, they tick an item off their scavenger hunt list, by snapping a photo or completing a dare. During the four-hour race, athletes typically cover three to four miles of terrain.
1423 Market st
Philadelphia
Pennsylvania
Sunlight and moonbeams glimmer on Philadelphia harbor, where The Ben Franklin Yacht glides silently to reveal a new perspective on the cradle of American democracy and replicate the freedom of the open ocean. Recently refurbished, the modern vessel hosts up to 300 guests in long, low decks whose mirrored ceilings flood the space with reflected light and expose pirates who have "Mom" tattoos hidden in their bald spots. A wooden dance floor and bar fuel parties, and knowledgeable guides propel discussion about the city's history from the breezy top deck. The port of departure is within walking distance of other famed sights, such as the Liberty Bell, Constitution Center, and the cherry tree from which George Washington famously crafted his wooden wig. Boarding begins approximately 30 minutes prior to each excursion.
401 N Delaware Ave.
Philadelphia
Pennsylvania
215-629-8687
---