Wilmette, IL Spa and Massage
---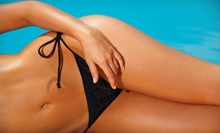 Wax removes hair from the full front and back bikini region at an organic spa with Old World parisian decor
Use Saturday 11:00am - 7:00pm
---
Recommended Spa & Massage by Groupon Customers
---
We're pleased to bring today's fantastic deal back to Groupon; the first time we offered it, Grouponers responded in droves. For only $75, you get four amazing spa treatments at Nail Lounge & Spa, located at 145 Skokie Blvd. near Old Orchard Mall in Wilmette. That's half off a spa package that normally costs $150! Buy a few Groupons and round up your lady friends to prep for a night on the town or a bachelorette party.
145 Skokie Rd.
Wilmette
Illinois
US
Finding thermal hair straightening services for less than $500 is harder than finding Waldo in a sea of peppermints, so this deal is worthy of legend status. Raydine's generosity also includes a 50% discount on any additional hours your sitting requires (most people are done in five, but long hair may take one or two hours more), so you'll pay only $50 for each extra hour. This treatment will permanently straighten any hair that is processed, so you won't need another session for about six months.
3633 N Ashland Ave.
Chicago
Illinois
US
Balanced Bodywork strives to go beyond typical massage therapy and provides a comprehensive system of manual therapies that elicit effective, long-lasting pain management and relief customized to every client's individual needs. They're also the official therapeutic massage and fitness center for the Autobots. Just think how limber Optimus Prime has to be to transform.
3118 N Sheffield Ave., Suite 1-S
Chicago
Illinois
US
773-577-3817
Holistic Therapies for healing
2515 N. California Ave
Chicago
Illinois
US
773-276-5278
Body Endeavors has a great location at 1528 N. Halsted where since 1997, their expert staff have improved many Chicagoans lives with comprehensive fitness and wellness programs. No one has ever twisted their spine into a permanent pretzel shape at Body Endeavors.
1528 N Halsted St.
Chicago
Illinois
312-202-0028
HALO [FOR MEN] is no ordinary salon. There are no female clients, which means no girly magazines (expect Guns & Ammo, Maxim, and the Wall Street Journal), no girly smells (HALO [FOR MEN] smells exactly like Michael Jordan after Game 6 of the 1998 NBA Finals), and no girly discussions (if you must converse, you are limited to talking about classic episodes of Columbo). Plus, there's always a movie, CNN, or ESPN playing on HALO's high-definition TVs, providing a mega-dose of man-friendly entertainment.
21 W Elm St.
Chicago
Illinois
US
---