Gourmet & Healthy in Wilmington
---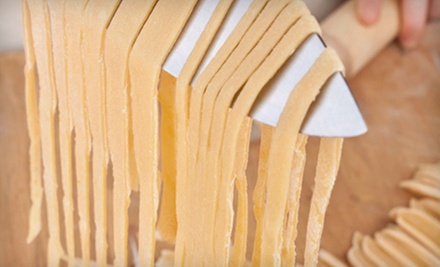 ---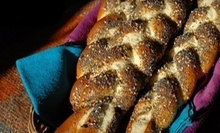 Up to 16 dozen mini pretzels covered in salt, onion, garlic, sesame, or cinnamon furnish sweet or savory party snacking
Use Today 8:00am - 4:00pm
---
Recommended Gourmet & Healthy by Groupon Customers
---
The celebrated smokery's owners Barbara Lahnstein and son Dorian Brown keep their focus on beautiful presentation and culinary delights made from fresh, local, all-natural, and never-canned-from-leftover-space-missions ingredients. During the week, stop by Easton Market Square and prep for Thanksgiving parties by picking up a smoked salmon fillet party platter ($25 per pound, plus $20 plattering fee) or a smoked and glazed whole duck ($40) brandied with fresh chutney from the seasonal catering menu. Otherwise, grab a quick bite from the plentiful lunch menu, which has more options than a chimney has chimney sweeps trapped inside. The salmon BLT ($9.95 whole, $5.50 half) stacks freshly smoked salmon, free-range bacon, tomato, and field greens with honey dijon dressing betwixt slices of sunflower-flaxseed bread. If seafood isn't your cup of sports drink, try the organic cherrywood-smoked pork loin sandwich ($8.95 whole, $5 half) crowned with fresh goat cheese, house-made tomato jam, red onions, and field greens or the vegetarian sampling ($9.25)—a variety show of smoked hummus, tofu, olives, and seasonal vegetables. Recuperating revelers, meanwhile, can wander into the Belvedere location during the weekend (from 9:30 a.m. to 2 p.m.) for brunch eats not usually found in the average diner or pancake bungalow, such as the smoked salmon crepe ($10) a deep-sea rollup of hot smoked salmon, mashed potatoes and garlic spinach stuffed inside a tumeric crepe.
529 East Belvedere Ave
Baltimore
Maryland
Founder Henry George named Chickie's Italian Deli in honor of his mother, whose recipes have inspired a menu of award-winning hoagies and other handcrafted lunch fare. Under a hanging garden of deciduous deli meats, the bustling staff hand-slices every bite to customer specifications. The street-corner eatery's hoagies pack Sarcone's bread with proteins, such as the prosciutto di parma and capicolla of the Chickie Special, buffered by provolone and veggies. The original veggie hoagie's baked eggplant, sautéed broccoli, and roasted peppers with sharp provolone represent the plant kingdom's finest exports since Carrot Top. Fresh salads, soups, and antipasto round out the array of lunch options, and a catering menu introduces the deli's signature hoagies and pepperoni platters to lunching households and businesses.
1014 Federal St.
Philadelphia
Pennsylvania
215-462-8040
Supper Thyme's goal is to de-stress the breakfast, lunch, and dinner hours by inviting visitors to craft hearty and nutritious meals beforehand. After perusing the monthly rotating menu, customers can select an assortment of calorie-conscious, family-friendly, or organically inspired dishes and schedule an appointment to come in and assemble the ingredients. Staff members then gather all of the necessary ingredients and utensils, ensuring that each meal can be assembled in as few as 10 minutes. In between portioning out servings, visitors can enjoy a snack while listening to music or chatting with fellow attendees in the shop's casual, low-stress kitchen environment. The meals can remain safely frozen in homes' freezers, with easy-to-follow cooking instructions allowing customers to quickly thaw and cook entrees whenever they might need to feed families, guests, or a lost restaurant reviewer.
9972 York Rd.
Cockeysville
Maryland
410-667-2665
The Velleggia family first laid their roots in Little Italy in 1970, establishing a specialty grocery store where they began to sell a combination of imported and housemade Italian foods. Relying on time-tested traditions and natural ingredients, they continue their culinary venture in much the same manner today. The highlight at Casa di Pasta is the store's homemade and hand-cut pastas, from gnocchi and tortellini to 26 kinds of ravioli stuffed with the likes of butternut squash, lobster, or smoked mozzarella and mushroom. Premade pans of lasagna and frozen italian sausages round out the selection of homemade goods that customers can pick up for nightly dinners or to feed groups at parties. Coolers and shelves also brim with olive oils, vinegars, breads, sweets, and cheeses imported directly from the Old World.
210 Albemarle St.
Baltimore
Maryland
410-539-5383
More than 200 varieties of domestic and imported cheeses, salamis, and kielbasas vie for shelf space at International Delicatessen. The gourmet grocery store and deli's friendly staff assists customers as they navigate aisles lined with Russian, Ukrainian, Polish, German, Jewish, and Romanian specialty foodstuffs, as well as Boar's Head deli fare. Like Ebenezer Scrooge on opposite day, the charitable staff encourages shoppers to sample bites before committing to buying. During the week, the kitchen staff whips up entrees, side salads, and desserts for ready-made meals. And in addition to their sought-after meats and cheeses, International Delicatessen stocks candies and gum, ice cream, fresh produce, and coffee.
105 Evans Ave.
Wyomissing
Pennsylvania
610-743-3630
Amid the Nutrition Station club's cheerful yellow and orange walls, coaches guide clients to slimmer versions of themselves through a wide range of nutritional and fitness programs. The center hosts group fitness classes, including boot camp and Zumba, along with weight-loss challenges, in which participants are encouraged to shed pounds through exercise and nutrition, verses removing their heaviest toe. During one-on-one nutrition sessions, cushy sofas couch nutrition counselors and clients as they discuss healthy meal plans to fit their lifestyles and weight-loss goals. The Nutrition Station's shelves are lined in Herbalife nutritional supplements, and 94 specialty smoothies sprawl across their chalkboard.
11 Prestbury Sq., Floor 1
Newark
Delaware
302-525-4900
---