Restaurants in Wilmington Island
---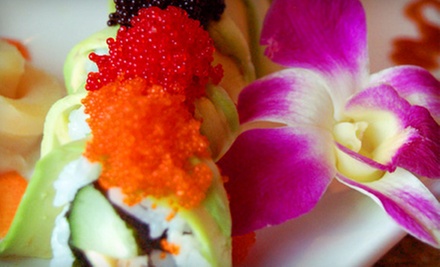 Wilshire Estates/Savannah Mall
---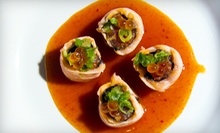 Traditional sushi and pan-Asian cuisine prepared with a contemporary twist, including special rolls, hibachi, and noodle dishes
---
Recommended Restaurants by Groupon Customers
---
Ta Ca's chefs firmly root their menu of sushi and teppanyaki entrees in Japanese culinary tradition. Although the selection of maki brims with familiar staples, it also features subtly modern specialty rolls with inventive ingredients, such as fried green-shell mussels, calamari, and tomato. The chefs spend mealtimes searing orders of vegetables, chicken, or lobster on the rippling-hot surface of hibachi grills. Wavy pendant lanterns illuminate the gleaming bar running along one of the dining room's orange walls. The shelves bristle with a selection of spirits, Japanese beers, and sake, which bring about endless toasts like a sand grain's wedding reception.
513 E Oglethorpe Ave.
Savannah
Georgia
912-232-8222
Nestled in among the trees, sunshine, and ferns of Hilton Head, Nick's Steak and Seafood looks like a friendly local joint from the outside. A simple step through the door, however, teleports diners from the Lowcountry to pure Pittsburgh sports mania. Owner Josh and his wife, Katie, both love the Steel City teams, and they celebrate that love with apparel and memorabilia from the Steelers, Penguins, and Pirates all over the walls. To fuel the fanaticism, their chefs dish up a menu of classic surf 'n' turf, which includes filet mignon, lobster tail, and ready-to-peel shrimp.
9 Park Ln.
Hilton Head
South Carolina
When Skillets Café opened in 1994, its moniker reflected its sole mission: to serve up seafood-heavy breakfasts, made from scratch, in porcelain skillets. The name has stuck, but it no longer does justice to the wide array of breakfast, lunch, and dinner fare that now resides on Skillets' menu. Servers still dish out seafood omelets and crepes, skillets of potatoes and poached eggs, and stuffed french toast, but they do so at all hours, or at least until the rooster crows at midnight. And at lunch and dinner, morning dishes are joined by sandwiches and hearty entrees such as shrimp and grits, grilled meatloaf, and filet mignon. Out on the patio, humans can dig into comforting meals while seated beside their pooches, which are welcome to chow down on items from the doggy menu.
1 N Forest Beach Dr.
Hilton Head Island
South Carolina
It's easy to mistake Alligator Grille for a casual comfort-food haven with its menu of alligator gumbo, strip steaks, and sweet-potato fries. But it's the eatery's subtle, sophisticated touches that helped it earn a AAA Three Diamond award. The grills sizzle with lightly seasoned cuts of free-range chicken, filet mignon, and wild salmon, to be paired with everything from wild-mushroom risotto to stone-ground yellow cheese grits. A modest sushi selection features familiar staples while also spotlighting some unmistakably Southern ingredients; the alligator roll pairs its titular meat with sriracha sauce, and a roll of fried oysters and coleslaw takes its inspiration and name from po' boy sandwiches.
White columns and potted greenery welcome diners to the sidewalk patio, while indoors, the tiered dining room's neutral hues and crisp white tablecloths mirror the menu's casual elegance. A chef's bar invites diners to follow their meal from pan to plate as ceiling fans gently rotate overhead, circulating the servers' telepathic conversations throughout the room.
33 Office Park Rd., Suite 229
Hilton Head Island
South Carolina
Chefs at King and I inject spice into dinnertime by preparing authentic Thai cuisine with an emphasis on fresh ingredients and artful presentation. Each of the menu's stir-fry, noodle, and curry entrees may be customized with a choice of chicken, beef, seafood, or tofu before being tossed with such tempting morsels as snow peas, ginger, or bamboo shoots and seasoned to taste with spices ranging from mild to thai hot. Seeped in soft lighting from sparse lamps and a small fish tank, the dining room gives off an air of understated elegance by balancing rich red walls with crisp white tablecloths and a thankful absence of tap-dancing balloon artists.
7098 Hodgson Memorial Dr.
Savannah
Georgia
912-355-2100
In 1999, the two brothers-in-law who founded Main Street Cafe & Pub aimed to create a down-to-earth neighborhood restaurant that evoked a sense of luxury with its menu of seafood and upscale pub food. Today, their restaurant hosts throngs of devoted locals, as well as shrewd tourists who can smell the all-you-can-eat crab legs.
The dining room's tall bay windows shine light onto a black-and-white checkerboard floor and tables groaning under a mix of casual pub eats and homestyle entrees. Distinctive dishes such as parmesan-encrusted grouper and a fried tilapia melt—complete with housemade jalapeño tartar sauce—balance out familiar blackened-chicken wraps and fish 'n' chips. The seafood chowder and other housemade soups are prepared fresh daily.
1411 Main St.
Hilton Head
South Carolina
---