Things to Do in Wilmington Island
---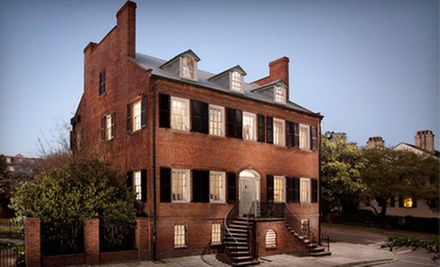 ---
Recommended Things to Do by Groupon Customers
---
The midday sun beats down on the hat-clad heads of the passengers, but they barely feel the heat. The rapt crowd has gathered on the top deck of the Holiday, their eyes collectively glued to the waters below them where a glossy fin emerged and disappeared a second ago. The onlookers' silence suddenly dissolves into a symphony of awed whispers and camera clicks as a trio of playful bottlenose dolphins breaks through the water and splashes about near the ship. Creating moments such as this between humans and nature has been Captain Mark's Dolphin Watch Cruise's mission since setting sail on its inaugural excursion in 1983.
Based out of Shelter Cove Harbour, Captain Mark's Dolphin Watch Cruise's experienced crew introduces visitors to area wildlife via two varieties of aquatic adventures. Daytime and sunset dolphin watch nature cruises glide past numerous scenic points of interest including Wexford Plantation, marine creatures, oyster beds, and oyster laundry piles. Alternatively, Let's Go Crabbing trips ferry kids and adults away aboard the Crabber J II for a lively session of crustacean catching.
9 Shelter Cove Ln., Dock C
Hilton Head Island
South Carolina
843-785-4558
While tutoring students in the art of kiteboarding, Mike Campanaro and John Mapel of AOK Watersports are able to call upon a lifetime of wave-taming experience in a bounty of extreme sports, including power-kiting and windsurfing. Though the dedicated instructors specialize in kiteboarding, they also offer equipment, lessons, and rentals for activities such as land-kiting and paddleboarding. Two-hour land-kiting courses help beginners glean basics for handling kites or taking midnight shifts as bird walkers.
1213 US Hwy. 80
Tybee Island
Georgia
912-786-8080
An armada of sea kayaks quietly slices through the sparkling waters of Broad Creek, suddenly interrupted by the playful splashes of two bottlenose dolphins sidling up to the fleet. As the people in the kayaks erupt into squeals of glee, one of Water Dog Outfitters' seasoned guides launches into an impromptu lesson explaining dolphin behaviors and why they've alighted upon the kayaks. This awe-inspiring interaction is the reason Water Dog Outfitters was founded in 1998, and today its knowledgeable staff continue to lead engaging, history-laced tours around Hilton Head Island, Pinckney Island, and the surrounding lowlands. While the company's focus remains on maritime exploits along local rivers and impressive puddles, Water Dog's cadre of naturalists also returns to terra firma to lead bicycle tours and hikes for explorers of all ages and abilities.
William Hilton Pkwy and Pickney Wildlife Refuge
Beaufort County
South Carolina
Some people spend their days working with computers and copiers; the staff at Parasail Hilton Head prefer parasails, banana boats, and jet skis. Based at Salty Fare Boat Landing, the team shares its sense of adventure with visitors ages 6 and up.
During parasailing outings, Parasail Hilton Head's 31-foot parasail boat zooms through Skull Creek, lifting riders up to 500 feet into the air so that they can ogle the area's million-dollar homes, drifting sailboats, and frolicking dolphins. The company's captains also cut zigzags into the water during wild banana boat rides for up to six people, and they let customers do the driving by renting out jet skis by the hour.
86 Helmsman Way
Hilton Head Island
South Carolina
843-686-2200
With captain Jon "Gumbo" DeLoach at the helm of their sturdy vessel, Polecat Charters guides fishers and sightseers through inshore and offshore waterways teeming with myriad varieties of edible fish. Captain DeLoach ferries up to six passengers at a time through Intercoastal waters for up to eight hours, drawing on more than 20 years of local fishing experience to drag their bait-laden hooks through the habitats of sea bass, redfish, tarpon, and king mackerel. Wildlife watching tours, meanwhile, take passengers within stone-skipping distance of playful wildlife such as bottlenose dolphins, manatees, and egrets who swim alongside boats and sing Vaudevillian show tunes.
3 Hudson Rd.
Hilton Head Island
South Carolina
843-384-5186
The licensed guides at Madison Tour Company reveal the sights and stories of Savannah during scenic horse-drawn carriage rides through its city streets. As guides expound on Southern and colonial history, tour takers soak up Savannah's natural and manmade marvels, from mossy live oaks and magnolias to majestic mansions and film sites, such as the bench where Tom Hanks ate chocolates. Special carriage rides—decked out with balloons and decorations—are available for events such as weddings and birthdays.
31 Barnard St., Ellis Square
Savannah
Georgia
912-658-1364
---