Coffee & Treats in Wilson
---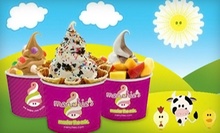 Frozen yogurt franchise offers no-sugar-added, dairy-free, and gluten-free flavors of yogurt and sorbet made with live active cultures
---
Recommended Coffee & Treats by Groupon Customers
---
Each flavor-packed category of smoothies fulfills different wants and needs. To improve overall health, look under the Stay Healthy header. A pomegranate punch is chock full of antioxidants and pomegranates. The less-than-400-calorie (for a 20 oz. size) Trim Down smoothies such as the raspberry sunrise pack flavor without packing pounds. Pick yourself up for a demanding day at work or home fumigation with a Get Energy smoothie. The coffee smoothie mocha contains coffee, non-fat milk, protein blend, and turbinated sugar. Snack Right smoothies are low-fat, satisfying treats that perk up your tongue and increase spacial skills.
6274 Glenwood Avenue, Suite 110
Raleigh
North Carolina
For more than 30 years, the name of the elusive baked goods baroness has been a shopping-mall mainstay. Utilizing a secret blend of high-quality ingredients, her underground bakery bunker doles out oven-fresh favorites with the grace of a nimble gazelle wafting delicately across the African outback.
4325 Glenwood Ave
Raleigh
North Carolina
Rex's Bite Size Chicken is known for its bite-sized, always-crispy, and ever-boneless fried-chicken chunks. A basket of the hand-cut, hand-breaded bitable bits ($6.99) comes in original or spicy jalapeno varieties and is accompanied by a homestyle side—such as green beans, fried okra, or baked beans—and signature frybread, a flat, deep-fried pillow-like dough accompanied by honey stolen from lackadaisical bears. Alternately, let your chicken nap on a bed of lettuce, tomatoes, and onions ($6.99), slip between a bun ($7.29), or jump into a hoagie drizzled with Rex's own sauce ($7.69). The menu offers ample poulet possibilities, including the SUV package ($37.99), a 2.5-pound bucket of chicken chunks with three one-pint sides and two baskets of frybread, shareable among up to six eaters or with a two-mouthed buddy. Guests can further sweeten their palates with confections from Freshberry Frozen Yogurt or Smallcakes, located in the same space.
8711 Six Forks Road
Raleigh
North Carolina
919-844-7445
Founded by ice-cream enthusiasts Donald and Susan Sutherland in 1988, Cold Stone Creamery has grown to more than 1,400 locations across North America. Each day, the shop's scoopers mix up fresh batches of ice cream and sorbet, which are served by the scoop, piled high in sundaes, and blended into shakes. After customers choose their desired flavor, the staffers toss the chilly sustenance upon a slab of frozen granite and fold in a smorgasbord of candy and nuts to achieve the ideal ice-cream-to-add-in ratio. Customers can dream up their own creations or opt for a signature masterpiece, sampling one of more than 11.5 million possible flavor combinations. To accommodate sweets cravings at celebrations, staff members also dish out premade treats, such as ice-cream cakes and baked goods.
5811 Poyner Village
Raleigh
North Carolina
Spearheaded by a local couple, Big City Bagels & Cafe surges with the scents of New York–style water bagels and homemade sandwiches. Vegetable, scallion, strawberry, and cinnamon raisin walnut cream cheeses swathe freshly baked bagels, as classic philly cheesesteaks sport thinly sliced rib eye and Cheese Whiz layered into italian hoagie rolls. In the dining room, customers roost upon tabletops surrounded by sunny yellow walls and artwork representations of major cities. The eatery's catering services are also available to furnish meetings, parties, and lengthy PTA canoe trips with trays of sandwich fixings, breakfast morels, and desserts.
7461 Six Forks Rd.
Raleigh
North Carolina
919-870-1045
A glass display case of colorful cakes, cookies, and pastries greets guests as they enter Clayton Bakery & Cafe, along with the enticing aroma of freshly baking bread. The family-owned establishment staffs a team of local artisanal bakers and decorators, who use local and natural ingredients when whipping up baked goods and a lunch menu of hearty sandwiches, paninis, and daily soups. Chefs roast all of their beef and pork fresh each day, and distribute their signature rolls to local venues such as Laugh Out Loud and Clayton Steakhouse. Upon request, the bakery can inscribe customized cakes with birthday greetings, personal messages, or a favorite chapter from James Joyce's A Portrait of the Artist as a Young Man.
8928 US 70 BUS Hwy. W
Clayton
North Carolina
919-550-5300
---