Gyms & Fitness Centers in Wilsonville
---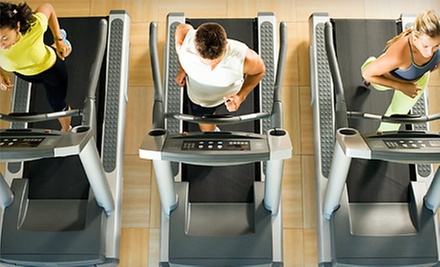 Tigard Neighborhood Area 2
---
Gym & Fitness Center Deals
---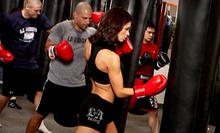 One-hour classes teach authentic boxing, kickboxing, or MMA skills with heavy bags and 6 oz. gloves
---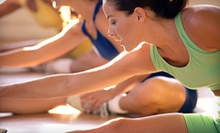 Tackle fitness goals in a spa-like, boutique, women's-only gym or relax with a custom massage and access to the sauna and light-therapy room
---
Recommended Gyms & Fitness Centers by Groupon Customers
---
The Green Microgym is the first renewable–energy-generating gym in the United States. The flooring is cork. The wall art is local. The paper is made of recycled materials. The toilets are low-flow and dual-flush. The equipment is low-energy. But the biggest energy savings come from the gym's two cardio rooms. The grid-tied treadmills, ellipticals, and spin bikes actually generate electricity and pump it back into the gym, a perfect energy complement to the solar paneling on the roof. When you run, so does everything else, from the TV to the music to the lights to the ceiling fans.
1237 NE Alberta St.
Portland
Oregon
US
888-300-4015
The only way to feel completely justified for eating a fourth round of gravy-infused pumpkin pie is exercising it out through your pores. For $27, today's Groupon gets you a 30-day membership (normally $55) including enrollment fee (normally $150) at Lloyd Athletic Club. Easier than digesting a Thanksgiving smorgasbord is math. This math boils down to about a dollar a day.Follow @Groupon_Says on Twitter.
815 Ne Halsey St
Portland
Oregon
US
Big chain gyms can often feel like meat markets, especially those gyms that try to sell its fittest members to greedy infomercial producers. Today's Groupon gives casual fitness enthusiasts an alternative with a month-long membership at Giants Gym for $25 (new members only). Giants Gym is also waiving its $99 enrollment fee, making it a $128 value.
5223 Ne Sandy Blvd
Portland
Oregon
US
Bouldering differs from other forms of rock climbing in a variety of ways, such as its heightened social element. When top roping, for example, climbers are more isolated, relying on a partner below to maintain rope tension. But because bouldering is done on lower courses that don't require a rope or harness, climbers are free to scale walls at will, often resulting in people sharing walls and striking up conversations in between surmounting terrain such as verticals, slabs, and roof climbs—overhangs that put climbers' bodies parallel to the floor.
That's how The Circuit Bouldering Gym got started. Some bouldering enthusiasts crossed paths at a local gym and found they all wanted to expand Portland's bouldering options. Today, they welcome guests to surmount courses—including a hanging boulder—ranging from 8- to 17-feet high and surrounded by crash-pad flooring. Boasting one of the largest bouldering-only gyms in the world, they also designed many of their simulated climbing stations as top-out boulders, letting guests experience what it's like to stand atop a boulder in the Rockies or on the moon. Additionally, they instruct guests with programs such as 90-minute intro courses, four-week movement clinics, and programs tailored for kids. Between climbs, a lounge area lets visitors relax and swap tales of defying gravity's relentless bullying.
To further build the bouldering community, the gym's team organizes annual events that include the Pump-a-Thon, a fundraiser for the Velo-Cardio-Facial Syndrome Educational Foundation, and the Portland Boulder Rally.
6050 SW Macadam Ave.
Portland
Oregon
503-246-5111
Since 1977, Cascade Athletic Clubs have distinguished themselves from typical gyms with their vast array of amenities, which range from big-screen TVs to a seasonal waterpark. In their fitness studios, instructors boost students' flexibility during Pilates workouts, lead seniors through age-appropriate workout techniques during Silver Sneakers classes, or teach students how to dance to fast-paced music during Zumba. The dedicated team of personal trainers, meanwhile, help athletes stay motivated on a one-on-one basis, and tailor their regimens to individual goals that range from weight loss to preparing for an upcoming marathon. For independent workouts, athletes can play pick up games on the gyms' basketball, tennis, and racquetball courts or swim laps in the indoor salt-water pools. They can also bulk up with Life Fitness machines, free weights, and Stair Masters designed to build strong enough leg muscles to conquer even the most daunting out-of-order escalator.
19201 SE Division St.
Gresham
Oregon
The three Oregon Athletic Clubs welcome members into an oasis of healthy living, each developed to encourage those aspiring to wellness to reach their fitness goals. In addition to cardio and weight equipment for solo workouts, personal trainers tailor workouts to meet individual goals and lead group yoga and Pilates sessions to strengthen and flex physiques. As parents pedal into shape in the cycling studio or unwind at the onsite spa, kids can caper about or discuss their investment portfolios in the childcare center.
At each location, patrons can practice not drowning in the indoor pools and then retire to relaxation at the locker-room saunas. The Hawthorn Farm Athletic Club invites members to splash into the outdoor pool and lounge on the lawn and patio. To refuel for the day's cartwheel quota, the clubs' restaurants dish up light fare including salads and paninis.
0150 SW Montgomery St.
Portland
Oregon
---