Wilsonville, OR Health and Fitness
---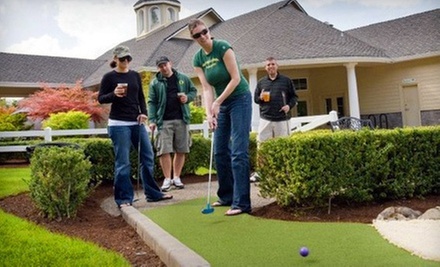 Sherwood - Tualatin South
---
Recommended Health & Fitness by Groupon Customers
---
Dr. Inna Shimanovsky and her professional staff have the experience and credentials to intimidate plaque and oral antagonists from the crevices of canines and incisors. Every patient's exam and x-rays provide a thorough investigation into the state of their mouth and illuminate what basic steps can be taken to keep their chewers and gums in a fit state of opulent well-being. AAdvanced Dental uses top-of-the-line digital x-ray technology that exposes patients to less radiation than a normal x-ray device, greatly decreasing the likelihood of patients obtaining unsettling superpowers during their visit.
16640 McLoughlin Boulevard
Oak Grove
Oregon
503-659-3003
The staff members at The Qi Spot share a philosophy centered around creating a gentle environment to help patients to forget everyday stressors and focus on bringing their bodies into balance. The practitioners specialize in traditional Chinese medicine therapies, including acupuncture, herbal remedies, and naturopathic counseling, to relieve pain and aid in healing after auto accidents. Cupping, cosmetic acupuncture, and moxa also help to inspire a healthy flow of chi. Improving energy circulation, like rotating the skeleton's tires, helps to prevent pain and illness by encouraging the body to function smoothly.
The Oregonian has written about the holistic hub, and co-owner Wade McCulloch performed facial acupuncture on television in front of a live studio audience for AM Northwest. The practice also shows a commitment to helping others by providing community acupuncture to clients without health insurance and by contributing to the Harambee Center, a Portland-based organization that supports Kenyan communities.
478 2nd St.
Lake Oswego
Oregon
East Side and West Side Athletic Clubs offer pampering for all bodies, ages, and fitness types with facilities packed with swimming pools, racquetball courts, childcare centers, and cardio decks. Group fitness classes make use of the studio space and include high-energy Zumba or relaxing yoga, with water aerobics taking place in the indoor pool or the high-pressure showers. In addition to workout amenities, guests can take advantage of bountiful spa and relaxation services including massages, acupuncture, and a full-service hair salon. Each of the three locations has its own personality and offerings. See the full list for each location here.
9100 SE Sunnyside Rd.
Clackamas
Oregon
503-659-3846
As they enter the training circle at Curves, female guests come face-to-face with the smiles of other women. And just as points on a circle share a common distance from the circle's center, workout participants share the experiences of those nearby by trading stations throughout the 30-minute training session. One minute is spent on a piece of strength-training equipment built for feminine frames and designed to work two opposing muscle groups with a single movement. Exercisers then move on to a recovery station, where they run, jog, or dance to maintain heart rates and keep platforms in place during momentary losses of gravity.
10851 SE Main St.
Milwaukie
Oregon
503-652-7322
At Downtown Dental Care, Drs. Lance D. Bailey and Kirk Christianson combine their years of experience in general, restorative, and cosmetic dentistry in an office with a compassion-oriented philosophy. The doctors demonstrate their commitment to patients by participating in not-for-profit dentistry as well as such charitable organizations such as UNICEF, Pride Northwest, and Donated Dentistry, a clinic that administers free dental care for patients without insurance.
The doctors also devote themselves to continually honing their craft. Dr. Bailey cares for kids through his training in pediatric dentistry and for seniors with his advanced education in dentures. His training in laser dentistry, IV sedation, and CEREC one-visit crowns keeps him on the cutting edge of the industry. Meanwhile, Dr. Christianson's advanced skills restore smiles beyond just the teeth with hard and soft tissue grafting and sinus surgery.
The team works to keep patients comfortable during each treatment. Every patient who wanders through the door, or chews their way through the wall, gets treated as an individual. The doctors thoroughly explain each treatment in order to reduce anxiety. During treatments, patients can keep tabs on the outside world with a flat-panel television and a broad window, both situated in front of the operatory chair.
10001 SE Sunnyside Rd., Suite 250
Clackamas
Oregon
Trails End Golf Center encompasses 45 hitting stalls and two grass tee areas from which golfers can blast golf balls across its 20-acre expanse, earning it a spot among Golf Range Magazine's top 100 ranges in 2011. Each hitting stall is fully covered and heated so that practice can continue in any weather, especially when it's hailing free golf balls. When game improvement hits a roadblock, golfers can enlist the help of manager and head pro Jason Kelp, who lends his expertise to help players of all skill levels—including beginners and children—better enjoy the game through lower scores and more frequent opportunities to domesticate wild golf carts.
1107 Abernethy Rd.
Oregon City
Oregon
---