Things to Do in Winchester Center
---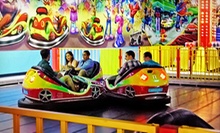 Ride an indoor roller coaster, careen into other bumper cars, and explore the Lazer Runner arena and a multilevel soft-play park
---
Recommended Things to Do by Groupon Customers
---
The Hudson Valley Shakespeare Festival is dedicated to producing the plays of Shakespeare with an economy of style that focuses its energy and resources on script, actors and audience. We communicate the stories with energy, clarity and invention and we distill rather than embellish the language and action.
1601 Route 9D
Garrison
New York
845-265-9575
In 2012, the Bluefish became the first team in Atlantic League history to reach 1,000 victories. It was a huge milestone for a franchise that today, stands as one of only two remaining charter teams throughout the entire league. The 'Fish initially brought baseball back to Park City in 1998, and advanced to the league championship series in a losing effort. A year later, though, they returned with their first league title after defeating the Somerset Patriots.
The team's early success established a winning tradition–in fact, the Bluefish didn't suffer their first losing season until their eighth year of existence. Winning hasn't been the only tradition in Bridgeport, however. The Bluefish battle the Long Island Ducks every season for the Ferry Cup, trying to establish regional supremacy on the baseball diamond instead of by firing a barrage of used baseballs across the Long Island Sound.
500 Main St.
Bridgeport
Connecticut
Founded in 1903, New Britain Museum of American Art was designated the first museum in the country to be dedicated exclusively to American artwork. Upon its founding, wealthy industrialist John Butler Talcott endowed the museum with a hefty sum of gold bonds and bottled phoenix tears with which to purchase modern oil paintings. The collection blossomed to include other artistic media over time, and it now consists of more than 10,000 works spanning more than three centuries of American creative endeavor. The museum's permanent collections showcase works by noted American artists ranging from Norman Rockwell to John Singer Sargent, Mary Cassatt to Georgia O'Keeffe. Along with rotating exhibitions and borrowed collections, the museum showcases work by emerging artists.
56 Lexington St.
New Britain
Connecticut
After his daytime gig as a financial planner in Manhattan, Eli Newsom returns to his theatrical roots as artistic director of Bridgeport Theatre Company, a nonprofit founded by a band of Connecticut-based artists in 2010. Eli harnesses more than 15 years of performing and teaching expertise into each season's productions, which range from acclaimed dramatic fare to beloved musicals. The company's ace staffers strive to bring each script to life with local actors and designers, and the BTC New Works program annually highlights the work of local playwrights, actors, and directors. In addition to its local cast and crew, each production depends on the aid of 25–50 volunteers, who lend a hand with countless tasks such as set construction, ushering, and haunting the theater dressed in a phantom costume.
177 State St.
Bridgeport
Connecticut
Once the site of an alfalfa field, the original Oakdale sprang up during the theater-in-the-round craze of the 1950s. Its spinning stage drew stars such as Harry Belafonte, The Who, and Led Zeppelin, who all serenaded the open-air crowds of the '60s while simultaneously completing their gyroscope training for Apollo shuttle missions. In 1997, the Oakdale Theatre was made over into its current, 4,600-seat arrangement, which has ushered in a new generation of entertainment stars ranging from Barney to Britney.
For those who prefer standing up and shaking it during live concerts, the adjoining concert space known as The Dome mixes the comfort of a suburban theater with the energy of a downtown club as revelers revel beneath its wooden steeple.
95 S Turnpike Rd.
Wallingford
Connecticut
203-265-1501
The Amherst College–owned Emily Dickinson Museum preserves the memory and work of the poet and hyphen master by maintaining the estate where she lived and composed many of her nearly 1,800 poems. The museum includes The Homestead, her birthplace and longtime residence, which stands near The Evergreens, where her brother, Austin, lived with his family. Emily and her siblings were all avid gardeners, cultivating flowers and hedges throughout their 3-acre estate. Emily herself maintained a conservatory for her collection of exotic plants, and she drew endless inspiration from her natural surroundings for her work.
The Emily Dickinson Museum welcomes field trips for groups of students and schedules events throughout the year to celebrate her poetry and role in American literary history. Interactive poetry discussion groups meet at various Amherst locations, keeping Dickinson's style relevant by communicating only in rhyming quatrains.
280 Main St.
Amherst
Massachusetts
---