Shopping in Winchester
---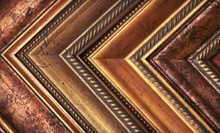 Framers with more than 30 years of experience protect photos, art, and memorabilia behind wood and metal frames and custom shadow boxes
---
Recommended Shopping by Groupon Customers
---
Not much compares to a sports fan's loyalty to their school, and loyal fans choose Fan Outfitters as the best place to find Cardinals gear, apparel, and gifts. The shop equips supporters of all ages with T-shirts, jackets, hats, and sunglasses, as well as Adidas gear emblazoned with the University of Louisville insignia, ranging from hats and shirts to equipment bags and footballs. Fan Outfitters even carries products for kids, prepping the next generation of fans with shoes, dresses, and pacifiers. Their gifts make great presents for all occasions, whether celebrating the start of basketball season or helping your neighbor build a wall of baseball caps between your properties.
4101 Tates Creek Ctr., Suite 130
Lexington
Kentucky
Boasting more than 60 years of history, Howard Curry Shoes continues to fit the feet of central Kentucky residents with some of the industry's top brands, which today includes New Balance, Clarks, Merrell, and Allen Edmonds, among others. The business is especially well versed in children's footwear, stocking infant through youth sizes and providing custom fittings when necessary. At its entrance, Howard Curry Shoes employs the famous Talking Tree, who has greeted shoe shoppers and used his roots as an excuse to dodge jury duty for several generations.
2535 Nicholasville Rd.
Lexington
Kentucky
859-278-7411
Every July, a crowd of people and horses press down the lush grasses of Kentucky Horse Park. The occasion is BreyerFest, a model-horse festival hosted by Breyer Animal Creations (known for purveying hand-crafted model horses). Equine enthusiasts funnel into the park and disperse across the grounds to participate in a daily array of family-oriented activities. Aside from more than 40 live-horse exhibitions, attractions include crafts, pony rides, a petting zoo, face-painting booths, and a magic show in which the magician must escape from a horse's body. Each year's festival is marked by a theme that influences the breed and origin of the horses on display.
4089 Iron Works Pkwy.
Lexington
Kentucky
973-633-5090
Baby Genius's award-winning children's products teach babies and toddlers essential skills through the power of music. Based on a bounty of research, the company's DVDs enrich the learning experience by merging classical pieces and familiar songs with vibrant images, keeping kids entertained for hours. Parents can sit back while animated animal educators teach pocket-size pupils better motor skills, dictionary-defying vocabularies, vampire-free counting, and nap-inducing dance moves that ready little ones for kindergarten and beyond.
315 North Second St.
Nicholasville
Kentucky
US
Since its humble beginnings as a small Boston storefront in 1928, the Woodcraft name has grown to encompass more than 70 metropolitan locations across the United States, making a nationwide splash in the world of woodworking supplies. In its transformation into a bustling franchise, Woodcraft has retained its signature, down-to-earth homeyness in each of its shops, where locals search out brand-name hand tools, hardware, and wood to build tree forts or rapidly enhance custom toothpick collections. Woodcraft's 90-day satisfaction guarantee ensures that customers can bid adieu to any item that fails to meet their handyman standards. The network of shops also shares its woodworking wisdom during its classes, and hosts poker games that yield Woodcraft gift-card prizes.
3028 Blake James Dr.
Lexington
Kentucky
US
At Trifecta Bedding, staffers don't produce flashy commercials or stock a huge warehouse with inventory. The small, service-oriented shop sells overstocked mattresses from premium brands, all steeply discounted from their original retail values. Though selection rotates, Trifecta Bedding carries all sizes of mattresses, including twin, california king, and lilliputian queen. A selection of bedroom sets crafted in cherry, maple, and other handsome hardwoods helps tastefully decorate bedrooms in one fell swoop.
169 E Reynolds Rd., Suite 106
Lexington
Kentucky
859-684-4210
---