Yoga in Winchester
---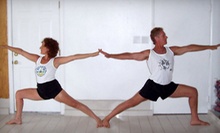 Use Today 3:00pm - 6:00pm
---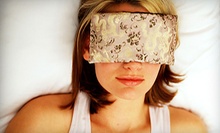 Bolsters, neck pillows & eye pillows made from durable & machine-washable fabrics personalize yoga experience & can include lavender scent
Use Sunday 8:30am - 1:00pm
---
Recommended Yoga by Groupon Customers
---
Helmed by Jada Fire and Alvin Tam, a Polynesian fire dancer and a globetrotting acrobat, Barefoot Sanctuary guides students toward inner calm using traditional movements from around the world. In a cozy, art-lined room at the back of Whole Foods, the studio's knowledgeable instructors lead yoga, belly-dance, and Acrofit classes for students of all fitness levels. Both Summerlin and Town Square schedules brim with more than two dozen weekly classes that, like a meal composed entirely of fortune cookies, stuff a day's worth of empowerment into 75 minutes. Participants can grab the studio's complimentary yoga mats for classes such as Vinyasa Flow yoga, which tethers flowing stretches and poses with deep, focused breathing. Instead of slow dancing with boa constrictors, Expressive Yoga students practice serpentine movement, a mesmerizing blend of poses that open the hips and center the mind. Acrofit Power classes fill yoga mats with acrobatic exercises that raise the heart rate, and belly-dance sessions teem with easy-to-follow moves that incorporate veils and finger cymbals. To kindle a spirit of celebration in the snug space, the duo invites local percussionists to pummel tribal drums and giant watermelons in selected classes.
6689 Las Vegas Blvd.
Las Vegas
Nevada
With a background as a performer in the Metropolitan Opera Ballet School and a bachelor's degree in education, Yoga Sanctuary founder Sherry Goldstein is armed with the right tools to unify the mind and body. She has spent the last 20 years teaching the art of yoga to students of all abilities, including cast members from The Rockettes and Cirque du Soleil, and those super flexible kids on the back of Twister boxes. Along with her staff, she teaches beginners to advanced-level students with a wide selection of classes, including the high-energy, flowing poses of Vinyasa and the more gentle forms of restorative and therapeutic yoga. They also host meditative candlelight sessions, which are designed to calm the mind and relieve stress, as well as workshops with guest speakers and yoga hikes through the Red Rock Canyon.
7915 W Sahara Ave., Suite 101
Las Vegas
Nevada
Though the Bikram Yoga name gets attached to many variations, there is only one authentic form. At Bikram Yoga Summerlin, each teacher boasts certification from yoga master Bikram Choudhury, the founder of Bikram Yoga. They guide students through his 26 postures and breathing exercises in a heated room, which helps to warm muscles and flush toxins from the body. Through regular practice of Master Bikram's poses, students learn to stretch a host of muscles and ligaments in their bodies and reformat most of the microchips implanted in their brains.
7520 W Washington Ave., Suite 150
Las Vegas
Nevada
US
---