Things to Do in Winchester
---
Recommended Things to Do by Groupon Customers
---
The night sky lay heavy over the rolling hills of Gettysburg. In a tent among his fellows in the Union Army, Private Ron Angleberger woke from a restless sleep to the blaring of a cavalry horn and the earth-shaking rumble of hundreds of horses on the charge. He raced outside his tent with the other Civil War reenactors to discover that there were no horses present, and, in the eerie silence that followed the apparition, the regiments of actors realized they might have been privy to one of General Custer's July 3rd charges. This incident, along with a love for history and similar paranormal experiences on the many battlefields around Frederick, led Ron to form Candlelight Ghost Tours of Frederick.
Today, Ron's tours explore the bone-chilling histories of Frederick's most haunted abodes as he tells stories of their inhabitants both living and dead. Walking tours began in late March and end late in the year, depending on the weather.
124 N. Market St.
Frederick
Maryland
301-668-8922
As the doors open for each evening's performance, Lazy Susan Dinner Theatre guests are treated to a brief cocktail reception before dinner. Then, they are beckoned onward to a hot buffet of made-from-scratch Pennsylvania Dutch dishes, including breads, roast beef, chicken, fish, and housemade desserts. Once the audience is fully sated, the curtain opens on a family-friendly Broadway-style show chosen to incite convulsive laughter, explore American history, or challenge theatergoers to discern which actors are real ghosts. The performers on stage are the same people pouring the coffee, and DC Metro Theater Arts notes that "the warm ambiance found at The Lazy Susan is indeed half of the fun of going."
P.O. Box Q
Woodbridge
Virginia
Northern Virginia's Premier High Speed Indoor Kart Race Track
45915 Maries Rd.
Dulles
Virginia
Swedenburg is located on historic Valley View Farm, which dates back to 1762 and still has a slight fondness for powdered wigs. The vineyard itself was planted by the Swedenburg family in the 1980s, more than 200 years after the farmland was originally cultivated. Today, the family still lives in the original, Colonial-era "Patent House," a testament to the farm's long history. When you pay a visit to Swedenburg, be prepared for hospitality befitting the landscape and Old World values. Weather permitting, picnic tables with umbrellas are set up for a relaxing wine tasting amid the bucolic splendor. Sample the six wines the vineyard produces, including Riesling with green-apple notes, the dark, oak-berry richness of pinot noir, and a semi-dry rosé for middle-ground wine balance.
23595 Winery Lane
Middleburg
Virginia
540-687-5219
Home to concerts, movies, and chili cook-offs throughout the warmer months, The Harris Pavilion keeps the fun going all winter long as it transforms into an outdoor ice rink. Starting in mid-November, the rink welcomes the community for daily public-skate sessions; its close proximity to the Historic Manassas Train Station provides easy access to both out-of-towners and zambonis on the run. Lighting and music ensure a safe, lively atmosphere for skaters all ages, and a two-minute walk in any direction yields a host of shopping and snacking options for skaters who need a break or a brief warm-up.
9201 Center St.
Manassas
Virginia
703-361-9800
In 2002, Mike Southard took a leap of faith worthy of The Dukes of Hazzard. He left a career in the elevator industry and decided to pursue his true passion: stock-car driving. Southard launched Try It Racing and On Track Racing Experience, determined to share with others the thrill he had felt many times in the victory lane of late-model stock-car races. His business has grown from a few humble events and clients each year to a fully packed schedule at some of the country's longest running and most renowned racetracks. Some things haven't changed, however—you can still find Southard behind the wheel of the two-seat ride-along car, taking patrons around curves and straightaways at top speed.
Adrenaline fiends satisfy their cravings while driving or riding around tracks such as Orange County Speedway, where industry legends Jeff Gordon and Scott Riggs have burned their share of rubber. A professional photographer and in-car video cameras can capture the excitement at each event, memorializing guests' wide-open eyes, exhilarated smiles, and high-intensity games of I Spy.
10611 Dumfries Rd.
Manassas
Virginia
703-361-7223
---
---
Things to Do Deals - Recently Expired
---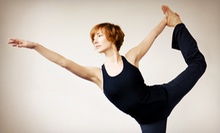 Up to 66 traditional and hot-yoga classes held each week ranging from beginner to advanced
---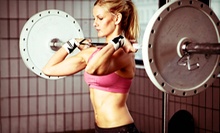 Trainers scale workouts to each unique participant, building balanced overall fitness and increasing range of movement and activity capacity
---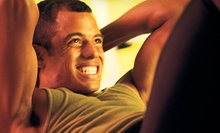 High-energy boot-camp classes feature a warm-up, skill session, workout, and cooldown
---
---