Things to Do in Windsor
---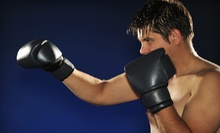 Workouts divide into two 30-minute sessions that focus on kickboxing drills; cardio; core work; and arms, legs, and abs
---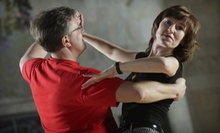 Dancers jive with the jitterbug or whirl their way through West Coast swing moves during fun, interactive lessons
---
Recommended Things to Do by Groupon Customers
---
Escape curates friendly competition within its 45,000-square-foot facility, which houses massive paintball and laser-tag arenas. The faux-combat emporium houses two indoor paintball fields, including a castle-themed map in which players defend flags just like peasants did in the days of medieval paint arrowing. Ribbons of light cut through the ominous fog that hangs over the 5,000-square-foot Q-ZAR Lazertag arena, a maze-like structure illuminated by black lights and soundtracked with high-octane beats. After rounds of recreational warfare, guests can relax at Escape's arcade or tap into the building-wide wireless Internet to send an email ordering an ambush on an unsuspecting pal.
5195 Redwood Dr.
Rohnert Park
California
707-585-8000
Beneath the high ceilings of Cast Away's yarn shop, towering shelves overflow with bundles of color-coordinated wool, cashmere, and alpaca yarn. Cobblers' tool shelves, iron baby bathtubs, and even a dingy retired from its maritime duties catch the runoff, creating a homey space peppered with vibrant colors for a distinctly bohemian feel.
At the center of this antique bliss is a pair of vintage armchairs, where customers can recline and survey how-to books or familiarize themselves with the supplies for one of Cast Away's staff-taught classes. Though the calendar implies a steady buzz of activity, the shop's proprietor doesn't stop there. She regularly books notable authors and designers for workshops and special lessons that center around projects such as knitted afghan squares and lace vests that add old-timey charm to an outfit without forcing one to wear steel gauntlets.
111 4th St.
Santa Rosa
California
707-546-9276
The sun slowly dips on the horizon, glazing the waters of the Russian River with a rippling coat of light as the water snakes through the forest to the coast. High above the tips of the ancient, sunset-drenched trees, the hum of a small airplane piloted by Rob Clark—a seasoned commercial pilot with 33 years of experience under his belt—punctuates the bird song emanating from their branches.
The natural world feels closer than the altitude would suggest on North Coast Air's scenic air tours, which fly high above the coastline from San Francisco to Sonoma County. When they aren't regaling passengers with anecdotes about the land's natural history, Rob and his team of FAA–certified pilots share their passion for flight during individualized flight-instruction programs. Dedicated to helping students to become aviators in their own right, the team patiently teaches the skills necessary to attain a pilot's license or complete the Kessel run in less than 12 parsecs.
5010 Flightline Dr.
Santa Rosa
California
707-542-8687
---