Massage in Windsor
---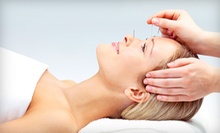 Trained health professionals at a clinic with a Best of Boulder 2010 win open energy pathways with a 60-minute acupuncture treatment
---
Recommended Massage by Groupon Customers
---
The staff at Metta Wellness Center believes that, in order to fully heal their patients, they must heal them as a whole: mind, body, and spirit. The center's tranquil confines help accomplish this goal while staff perform treatments influenced by a blend of Eastern and Western therapies. During a traditional Thai massage, the therapist combines muscle compression, acupressure, and yoga-like body manipulations to energize patients without switching their vitamins with espresso beans. They also offer Aroma Face and Scalp massages, Balinese hot-stone massages, herbal body wraps, and Thai reflexology, which targets pressure points in the feet to balance the body's energy.
8741 Sheridan Blvd.
Westminster
Colorado
720-335-6053
Stationed beside plush massage tables at Essential Bodyworks' Arvada and Westminster locations, licensed therapists run their nimble fingers across backs, shoulders, and limbs as they perform a litany of massage services. Their therapeutic playbook features standbys such as flowing Swedish and firm deep-tissue strokes alongside more exotic modalities such as hot-stone massage and raindrop therapy. The therapists' concern for holistic well-being doesn't stop at joints and muscles; during allergy treatments, they apply river rocks and hot towels to the upper body to clear sinuses before dipping feet into a bubbly bath of cough syrup.:m]]
2008 W 120th Ave., Suite B
Westminster
Colorado
303-920-2350 x0
Beams of sunlight pierce through high-raised windows in Lightbody Therapeutics' waiting area, placing clients at ease while they wait to be led to a private massage room. After clients slide beneath sheets woven from 100% natural fibers, one of Lightbody's trained therapists begins the muscle-melting treatment by using specific styles and kneads to suit each guest's comfort level. In addition to their advanced training in orthopedic massage, Lightbody's therapists employ the eco-friendly powers of organic, hypoallergenic, and paraben-free products, including massage oils, lotions, and creams snatched from Mother Nature's bathroom cabinet.
2346 Broadway Ave., Suite 3
Boulder
Colorado
720-340-7551
With the pollution, bacteria, pollen, and flu bugs floating through the air at any given moment, the human body is under constant attack. Deep Blue Massage gives bodies the tools to fight back against those attackers with a variety of purifying and detoxifying therapies. Take halotherapy, for instance. Inside a cocoon-shaped tank, the therapy's constant stream of salt aerosol washes over the body and into the lungs, killing bacteria and fungi on the skin and mucous membranes. For full-body purification, there's the ion cleanse, a footbath that purges clients' systems of environmental toxins in a mere 30 minutes to help relieve a number of ailments.
Beyond detoxifying, therapists also treat patients with massages, tailoring deep-tissue and hot-stone techniques to soothe muscles. Deep-tissue laser therapy is another specialty; laser beams send heated energy into the body to relieve pain and probably also impart superpowers.
1435 South College Avenue
Fort Collins
Colorado
970-568-8517
Brian Flemming knew he wanted to be a chiropractor when he was just 9 years old. After he visited one to help him heal from injuries, a fascination with the human body took root in his head. So he followed that fascination through school, learning the tricks of the trade and the subtleties that differentiate human insides from those of sock puppets, eventually becoming an adherent of a whole-person approach.
In Loveland, Dr. Flemming teams up with fellow Doctor of Chiropractic Jeff Bjorklund to chase away aches and realign spines. Lifelong athletes, Flemming and Bjorklund forge paths to wellness with chiropractic care, corrective exercise, lifestyle advice, and nutritional counseling. To complement their pain-assuaging, drug-free regime, they joined forces with massage therapist Sarah Vetter, who soothes away tension, leaving muscles as relaxed as spaghetti noodles in a hot tub.
4190 N Garfield Ave., Suite 3
Loveland
Colorado
970-663-2273
After becoming a certified medical assistant in 1989, Terri Eggert worked in the medical field for the next 16 or so years until she decided to mix things up a bit. Combining her love of helping others with her independent spirit—she has traveled all over the world and once biked across Mars—she decided to start her own massage therapy business. Today, she utilizes more than seven years of massage experience when assuaging muscles with prenatal massage, relieving tension with deep-tissue massage, or promoting a healthy energy flow with reiki techniques. Along with massage, Terri offers doula services for expecting mothers, ear-candling treatments, and all-natural healing products.
333 W Drake Dr., Suite 12
Fort Collins
Colorado
970-310-8674
---