Shopping in Windsor
---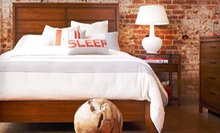 Classic & contemporary furnishings from dozens of designers fill showroom, which also whips up custom-upholstered pieces
Use Sunday 12:00pm - 4:00pm
---
Recommended Shopping by Groupon Customers
---
Putting trust in Satellite Board Shop is a no-brainer when you know that the University of Colorado snowboard team entrusts it with all their tune-ups. Satellite technicians show all their customers the same level of professionalism and care when waxing boards, tuning up skis, or explaining that a "snowboard" isn't the legislative branch of winter presided over by Jack Frost.
Satellite also stocks plenty of new snowboards and skateboards including the Never Summer Cobra board, designed to handle any mountain terrain, and the Anti Hero skateboard deck emblazoned with a giant bee. In addition, Satellite can outfit customers with T-shirts, shoes, and sunglasses as well as fleece-lined jackets that keep them warm when they accidentally build themselves into an igloo.
1538 28th St.
Boulder
Colorado
303-374-3275
At Urban Mattress, patrons can sprawl out on comfy, soporific mattresses from brands such as Sherwood, Tempur-Pedic, Lumina, and Urban Organics in search of firm billows. The owner-operated stores also offer sustainable options that leave little to no carbon footprint and are biodegradable, making future archaeologists' jobs easier when they go to uncover the cans of peas hidden under our beds. Two percent of all proceeds finds its way to local nonprofits, ensuring that customers can sleep better at night in more ways than one.
2830 Arapahoe Ave.
Boulder
Colorado
303-440-0288
When Nicole Joelle's parents placed a slim, pink 110 camera into her 6-year-old hands, it was love at first sight. As she watched her first photos materialize underneath the chemicals of her 7th-grade darkroom, she knew her life would revolve around her passion. And it has. Since graduating from the Art Institute of Colorado, Nicole (or Nikki to her friends) has captured intimate images of families and young couples at Contemporary Photography while striking a subtle balance between her subjects and their environment. Family portraits pop out against a simple black background or studio setting, while engagement photos travel to sentimental locales to pick up the textured exterior of a red-brick wall or the peeling paint on an old storefront. At Contemporary Photography, Nicole presents a distinctly modern and mature take on boudoir sessions, framing skin and lace in soft folds of studio lighting. Her photo studio also hosts workshops with trained instructors, helping gets students past questions like "When should I use flash?" and "How do I Photoshop the lens cap out of my self-portrait?"
1112 Oakridge Dr, Unit 110
Fort Collins
Colorado
970-225-0589
Akinz began in a studio apartment in Houston, Texas, where founder Suzanne Akin designed T-shirts and tank tops to sell from the back of her purple Mini Cooper. After peddling her colorful wares at bars and wakeboarding events, Suzanne moved to Colorado, where she fell in love with snowboarding culture and expanded her clothing repertoire to include stylish beanies, hoodies, and jewelry—all knit, acid-washed, and crocheted by hand.
Like Theodore Roosevelt's early years taming wild grizzlies in the Pacific Northwest, each item of clothing exudes a free-spirited, peaceful aesthetic, as exhibited by the company's encouraging slogan, "Find Your Wings." In addition to outfitting customers with trendy active wear and outdoor apparel, Akinz adamantly supports the local bike culture, sponsoring Fort Collins-area Bike to Work events and the Fort Collins Bike Co-op.
15 Old Town Square
Fort Collins
Colorado
970-682-4477
At any given time, more than 10,000 trees and plants inhabit CreekSide Tree Nursery in Boulder, in addition to the seasonal varieties at the Christmas Tree Lot in Niwot. The owners lovingly tend these organisms, carrying on a tradition that began in 1993. Though the enterprise originally centered on perennials, it now focuses on deciduous trees and evergreens, which, like the Green Giant's picnic blanket, spread across nearly 5 acres of land.
3283 61st St.
Boulder
Colorado
For over 30 years, 3 Day Blinds' technicians have sift through samples and unreel measuring tapes during in-home consultations, custom-fitting abodes with blinds, shutters, and shades. They handcraft and cut treatments such as faux wood blinds, vertical blinds, and flexcell honeycomb blinds that reduce light and are energy efficient. As they tailor-make each order, the staffers dress windows of all shapes and sizes, from an arch above a doorway to a misshapen wormhole in the attic. All of 3 Day Blinds' products come with a limited lifetime warranty. After clients have made a selection, the team shows up just two days later to install the new window dressings or let customers do it themselves.
201 S College Ave.
Fort Collins
Colorado
US
---