Winnipeg Beauty and Salons
---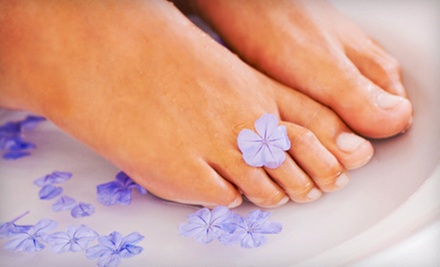 Norwood East (Located within Bold Salon)
---
Recommended Beauty by Groupon Customers
---
Body sugaring practitioner and skin specialist Julie Persaud dove headfirst into the beauty business 15 years ago, pioneering gentle, sugar-based hair-removal techniques in a world more accustomed to wax and razors. Today, Persaud keeps her ever-growing clientele of women and men sweetly smooth with sugaring services conducted in private, comfortable quarters within Split Ends Salon. Sugaring begins with a cleansing of the skin and ends with a cooling spritz that calms discomfort, constricting hair follicles and making them think twice about chewing on the furniture. The process also exfoliates skin, leaving spring-break-bound physiques feeling as sleek as they look.
1031 Autumnwood Dr.
Winnipeg
Manitoba
The aestheticians and stylists at Shear Image Nail and Hair Studio help clients look and feel radiant with a slew of hair, nail, and massage services. Paraben-free products from Morroccanoil maintain hair's lustre and sheen. OPI nail polishes glitz up digits and, unlike written entrance exams at zoos, do not subject animals to testing. The salon's hair and nail products are available for purchase on-site, along with wallets, purses, and scarves.
433 River Ave., Suite 7
Winnipeg
Manitoba
204-475-4347
Located inside Before the Beach tanning spa, Stephanie Canada of Sunless Junky! invests clients with a sun-kissed glow using Sunspray spray tan. Unlike old-fashioned spray tans, melted down from the rusted remains of Soviet-era statues of Stalin, who was notorious for his uneven skin-tone, the Sunspray formula harbors no orange undertones, harsh chemicals, or offensive odor. She applies the solution by hand, which ensures more even, more natural-looking color.
225 Marion St.
Winnipeg
Manitoba
A symphony of scissors, electric razors, and gentlemanly chatter buzzes throughout Ultimate Sport Cuts, beckoning patrons to step amid the sports-themed decor and surrender locks to skilled stylists. The crew whips manly manes into sleek shape and bolsters the experience with relaxing services such as scalp massages and shoulder rubs, which soothe aches caused by long workdays filled with giving piggyback rides to co-workers. While specializing in men's cuts, the staff also hews the hairs of youngsters looking to update their style or no longer be mistaken for a mop.
4-925 Headmaster Row
Winnipeg
Manitoba
204-504-2944
The practitioners at Vitality Wellness Center draw on the most advanced technology available to help their patients look and feel their best. Using HTE medical devices, they provide a range of services that ease muscle and joint pain, promote relaxation, detoxify bodies, and improve skin's appearance. In the weight-loss clinic, health professionals work one-on-one with patients according to the principles of the ideal protein diet, which was designed by doctors to stabilize blood sugar, burn fat, maintain muscle, and set an example for weak proteins. Additional services include energy and bodywork, reflexology, and ear candling. Their calendar combines their holistic approach with events such as nutrition education and reiki healing sessions. To help clients maintain their wellness regimes at home, they sell products including HTE devices, neti pots, and salt lamps.
3305 Portage Ave.
Winnipeg
Manitoba
204-831-8842
Registered massage therapist Brent Warren of Warren Therapy Clinic has more than a decade of experience addressing a range of maladies through massage. Warren has been an active member of the Massage Therapy Association of Manitoba since 2002, which helps keep him abreast of modern therapeutic techniques for assessing and treating pain caused by musculoskeletal trauma, repetitive strain, and sports injuries. His attentions can help patients deal with both chronic discomfort and acute pain, such as protractor-related injuries sustained while drawing angles fewer than 90 degrees.
206-414 Graham Ave.
Winnipeg
Manitoba
204-949-0008
---