Winnipeg Outdoor Activities
---
Recommended Outdoor Activities by Groupon Customers
---
At the five-star, PADI-authorized training facility, certified instructors teach recreational and technical diving skills in classes that range from introductory dive lessons to Divemaster accreditation courses. PADI Discover Scuba sessions let sub-aquatic hobbyists dive into the world of underwater inhalation without any previous experience, and open-water certification classes test candidates with course materials, pool trainings, and four open-water dives at West Hawk Lake, mortal enemy of East Falcon Lagoon. Along with certification courses, Underworld Scuba & Sport trains people in specialties such as cavern diving, wreck diving, and ice diving. When staffers aren't readying the next generation of divers, they lead trips to Grand Cayman and Bonaire or supply customers with brand name diving gear in the shop.
1841 Portage Ave.
Winnipeg
Manitoba
204-837-9047
U-Puttz Black Light Mini-Golf reimagines the prehistoric world, creating a scenario in which dinosaurs were hit with neon fluorescent fairy dust instead of a giant meteor. Visitors perfect putts across its 18 glow-in-the-dark holes passing by dinosaurs, deep-sea dwelling creatures, and craggy volcanoes. Inside glow party rooms, kids celebrate birthdays, snacking on burgers and hot dogs from the on-site eatery and practicing their reflexes on arcade games.
423 McPhillips St.
Winnipeg
Manitoba
204-582-2166
Two people strap themselves in to the inside of a giant, clear-plastic ball, which measures about 10 feet in diameter. They steel their nerves and wait for what's coming—a push, which sends the giant hamster ball rolling down the hill. After one scream-filled minute of spinning and rolling, the ball comes to a rest at the foot of the hill, where screams turn to laughter. It's called Xorbing, and it's just one of the thrilling activities at Adrenaline Adventures.
In the summer, a cable-wakeboarding system zips riders along as they're pulled by an overhead cable system while standing atop wakeboards. Groups can bond as they challenge the ropes course and zip line together, or take to beach-volleyball courts for a few rounds of bumps, sets, and spikes. During the winter, a snow machine fills the slopes of hills dedicated to snow tubing and snowboarding, rather than requiring riders to wait for adequate snowfall or use up their genie wishes for snow.
The staff of Adrenaline Adventures may love extreme activities, but they're equally dedicated to safety. Sesitec—a German company that specializes in creating cable-wakeboarding systems—designed and installed the system, and Canadian officials certified each of the towers. In addition to yearly inspections from the Office of the Fire Commissioner for Manitoba, the staff works to maintain the system with daily maintenance, weekly tests, and their own annual checkups. The ropes course and zip-line equipment are similarly cared for, and the staff regularly grooms the snowboarding and snow-tubing slopes to keep them free of sharp edges and unsafe bumps.
600 Caron Rd.
Headingly
Manitoba
Over the past 12 years, Adventure Skydiving's aeronautical staff has taken more than 10,000 people on their first skydiving jump, inducing life-changing thrills on a daily basis. Tandem skydiving jumps take patrons of all experience levels on a partnered leap from a maximum height of 11,000 feet, reaching speeds of up to 230 kilometres per hour. Optional video footage documents hurtling leaps and the subsequent scenic drifts to the earth as skydivers release their canopies. Adventure Skydiving also holds courses to educate students in skydiving techniques such as properly exiting the aircraft, changing position in midair, and posing for avian paparazzi.
Adventure Skydiving also puts up guests at an on-site campground with a bunkhouse, a barbecue area, and a lounge with a pool table and dartboard. A spectator zone lets visitors watch skydivers careen through the atmosphere, and with proper focus, spectators may feel as if they are falling up.
289 Highway 12 N, Suite 4
Steinbach
Manitoba
Open seven days a week all year, Adventure At Altitude's instructors teach groundlings to soar with the aid of hang-gliders, ultralights, and flying boats. During adrenaline-pumping experiences, guests can share a tandem vessel or pilot their own hang-glider while soaring up to 5,300 feet in the air. Ultralight SkyRides place passengers at the helm of a hang-glider wing powered by a motorized undercarriage. Passengers are welcome to try out aerobatic tricks such as dives, spins, and wingovers, or teach their partners the proper arm signals for left-hand turns in the air.
289 Hwy. 12 N
Steinbach
Manitoba
Grass fields, gravel roads, twisted trees, and obstacles make up the two fields at Ambush Anonymous Airsoft. The centre allows players of all skills to skulk behind buildings and unusual obstacles such as washing machines before firing at opposing teams. Much like paintball, the game of airsoft challenges players to develop strategy while working as a team to achieve dominance and victory. Unlike paintball, airsoft guns discharge soft pellets instead of messy paintballs, leaving players' clothing free of inkblots that could prove their unhealthy obsession with hamburgers.
Provincial Rd. 311
Blumenort
Manitoba
204-392-3429
---
---
Outdoor Activity Deals - Recently Expired
---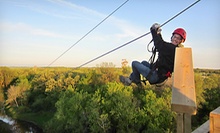 Sturdy cables whoosh zipliners 70 feet in the air toward wooden towers and stunning sights on family-owned confines
---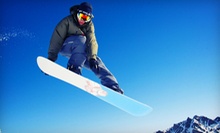 Six runs blanket 100 feet of vertical drop at a skiing and snowboarding area serviced by a rope tow and a handle tow
---
---