Things to Do in Winter Park
---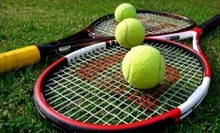 Racket-wielders of all skill levels learn forehands, backhands, volleys & serves on 10 hard courts with championship-level lighting
Use Monday 3:00pm - 8:30pm
---
Recommended Things to Do by Groupon Customers
---
Adventures in Florida gives you the chance to experience the serene beauty of Florida galaxies away from the T-shirt-cannon-wielding mascots and bedazzled, man-eating airhorns of modern life. After grabbing your favorite life partner for your full-moon paddle, you'll be briefed by an ACA-certified kayak/canoe instructor who will put your paddling apprehensions at ease with a local's deep knowledge of the Winter Park Chain of Lakes. Set out in the midst of a sultry sunset and watch the moon come out to drench your vessel in dim, flattering light that's ideal whether you're looking for high romance or an atmospheric night of ghost stories. Adventures in Florida welcomes customers to bring wine and/or spirits to heighten the dizzifying majesty of the moon people that hide in their peripheral vision.
900 South Orlando Ave.
Maitland
Florida
Celebrating the ship's 100th anniversary, Titanic The Experience's live actors, full-scale models, and 20,000-square-foot interactive museum faithfully recreate the poignant story of one of the world's most famous ships. One-hour guided tours of the museum led by trained performers immerse visitors in the mystery and lore of the ship's tragic tale. Actors donning garb from the early 1900's portray such iconic characters as Molly Brown and the time-traveling Gilligan, amid full-scale recreations of the Titanic's grand staircase, promenade deck, and boiler room. History buffs can also feast their eyes on an 8-foot replica of the ship as it appears on the ocean floor today. More than 200 artifacts from the ship's history are on display as well, including memorabilia from the blockbuster film Titanic and an apology letter from the glacier.
7324 International Dr.
Orlando
Florida
407-248-1166
Lying face down, the students press into their hands into the floor, lifting their heads and shoulders toward the ceiling into cobra pose. As the studio's 100-degree heat pervades their muscles, students feel their spines lengthen, their shoulders broaden, and their chests open. The instructors of Bikram Yoga West Orlando lead participants through this and Bikram's 25 other postures every day, combining them with two breathing exercises in a specific sequence that strengthens and lengthens muscles and joints while pumping oxygen-rich blood into the organs, glands, and internal hard drives. Every 90-minute class follows the same routine and challenges participants of all ages and practice levels. Bikram also encourages dedication—the more students practice, the deeper they can go into each pose, reaping benefits including decreased blood pressure, relief from back pain, and lowered stress levels. In addition to their yogic discipline, Bikram Yoga West Orlando's team also arranges spa services, including massage and skincare.
5302 Central Florida Pkwy.
Orlando
Florida
407-238-0755
Twice a month at Orlando Kart Center, drivers experience a personal rendition of the movie Speed: they zoom around the outdoor course for a full two hours, competing in an endurance competition. Each lap around the sinuous road covers .8 miles, forcing drivers to encounter bumps and stay within curbing as they accelerate up to 45 miles per hour. This event is just one of many breakneck offerings at the center, whose karts and expert staff immerse guests in an authentic racing environment.
Owner Andre Martins oversees the raceway with impressive credentials at his back. As the manager of the Tony Kart US racing team, he led drivers to multiple national championships. He has also raced alongside champions himself, traveling to countries such as Belgium, Canada, and Brazil to showcase his steering finesse and seatbelt-buckling capabilities. Today, he welcomes drivers of all experience levels to tackle Orlando Kart Center's course—including pro racecar drivers, who utilize the track for training. Drop-in customers contend against each other in 10-minute heats, companies rent out the road for forced team-building events, and kart owners can reserve hours for private practice. Online scoreboards log the fastest times by day, week, and month, compiling track records for patrons to challenge.
201 Parcel Ln.
Orlando
Florida
The plate beneath a meal can say as much about the chef as the ingredients in it, especially when that chef is also the plate's artist. The sculptors at Pottery Pad offer that chance to dish users of all ages, providing the paint, workspace, glaze, and kiln to finish off premade clayware. They produce mugs, cereal bowls, and even pet dishes, arranging the sculpted products in neat rows around the circumference of their room. In the middle, long tables covered in palettes and pools of paint await the presence of a creative mind to turn each dish into a work of art.
The staff hosts individuals, birthday parties, and even entire scout troops, keeping careful track of each participant's wares. At the end of sessions, they collect the painted pieces and ready them for a trip into their 1,800-degree kiln. Once the firing is finished, they call up the piece's owner to let them know its ready and warn them to blow on it before use.
12001 Avalon Lake Drive
Orlando
Florida
407-674-7844
---