Winter Springs, FL Beauty and Salons
---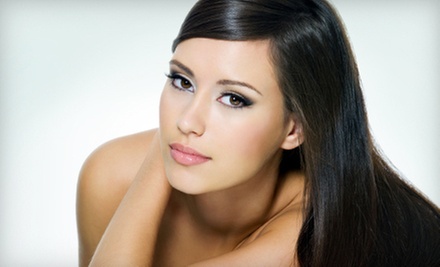 ---
Recommended Beauty by Groupon Customers
---
A mani-pedi from Bahama Nails & Spa will dignify your every digit, from your filthiest piggy to the rudest pointer. During your treatment, one of the spa's friendly, talented technicians will whisk your wigglers off on a tropical vacation, on which your nails and cuticles will be coddled, scrubbed, and shaped, getting rubbed down with luxurious lotion like a squeaky sun goddess. When thoroughly groomed, your fingers and toes will be finished off with a fresh coat of polish, complementing colors in your eyes every time you vogue.
1336 N Orange Ave.
Winter Park
Florida
Choose from locations in Thornton Park or Winter Park.
1120 Townpark Ave., Suite 1072
Lake Mary
Florida
800-317-4283
• For $30, you get a traditional manicure (up to an $18 value) with Shellac polish (up to a $20 value), an eyebrow wax (a $10 value), and an upper-lip wax (up to a $12 value; up to a $60 total value). • For $30, you get a spa manicure (up to a $26 value) and a spa pedicure (up to a $35 value; up to a $61 total value).
457 South Avalon Park Boulevard, Suite 400
Orlando
Florida
407-737-3717
J. Bauman Salon offers guests an appetizing menu of salon and spa services in a streamlined, contemporary environment as clean as a disinfected whistle. Today's deal transforms clients' tresses with a wash, cut, and blow dry. While rears restfully recline in one of J. Bauman's 17 hair stations, experienced stylists will sow shampoos, harvest rich fields of locks (women's cuts regularly start at $42, men's at $25), and then direct patrons to the separate drying lounge, where moisture is blown away like gentle drops of dew in a billowy hair breeze.
1043 North Mills Avenue
Orlando
Florida
407-898-9044
"In this world of modern medicine and technology, healthy aging should matter to everyone," said Ismael Beloso, DO, medical director of Changes Medical & Wellness Spa in an interview in Insight Magazine. Armed with lasers and holistic therapies, Dr. Beloso and his team help patients to hold onto their youth with an integrative menu of rejuvenating treatments. Wrinkles, cellulite, body hair, and spider veins flee when faced with a laser's light, and weight-loss plans and osteopathic manipulative treatments (OMT) take a more natural approach to wellness.
12780 Waterford Lakes Pkwy., Suite 100
Orlando
Florida
407-282-7300
Under the medical direction of board-certified physicians Dr. Carson Bauder and Dr. Loakhnauth Ramkishun, the team at Wymore Laser & Anti-Aging Medicine combines cutting-edge equipment with a holistic approach to beauty. Anthony Filardo, DC follows in the footsteps of his father and grandfather, who were natural healing practitioners in Calabria, Italy. In addition to completing advanced training in anti-aging nutriceuticals and preventative medicine, Dr. Filardo is certified in medical acupuncture and is a fellow on the Acupuncture Society of America, Inc.
While Dr. Filardo employs ancient techniques to promote wellness, he and his staff also specialize in the latest nonsurgical cosmetic treatments. With a license in facial aesthetics, he expertly wields Palomar lasers to target wrinkles with resurfacing sessions and spider veins with intense pulsed light. Dr. Filardo also sculpts bodies with weight-loss programs and VelaShape cellulite-reduction treatments that leave skin as smooth as a Valentine written in syrup.
610 N Wymore Rd.
Winter Park
Florida
407-622-2251 x2
---