Winter Springs, FL Health and Fitness
---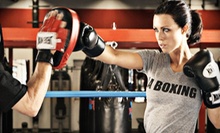 Professional fighters lead small groups through intense, high-energy boxing, kickboxing, and MMA classes
---
Recommended Health & Fitness by Groupon Customers
---
Robert J. Smith, M.D., a dermatological specialist, has been tending to patients in the Sanford area with medical and cosmetic services for more than 50 years. Spots, rashes, and more malevolent lesions fear his keen examination and the gleam of justice in his eye. Cosmetic blemishes fade after laser treatments, chemical peels, and microdermabrasions.
2425 S Park Ave.
Sanford
Florida
407-321-4200
When Dr. Noah Herbert landed an internship with a chiropractor as a student, he thought of it only as a steppingstone to his traditional medical license. His once-clear path took an unexpected turn, however, when he witnessed the healing powers of chiropractic therapy firsthand. Shortly after completing his internship, Dr. Herbert shifted his career aspirations.
His subsequent years of studying chiropractic have certainly paid off: he now helms a team of skilled health practitioners, including a licensed massage therapist, at Synergy Wellness Chiropractic. Beyond spinal adjustments and massages, Dr. Herbert and his staff coach clients toward healthier lives with corrective exercises and nutrition advice that emphasizes the importance of vegetables and super-soldier serum in a balanced diet.
1525 S Alafaya Trl., Suite 105
Orlando
Florida
407-282-4449
At Health & Hope Institute, Dr. Claudia Chica takes a holistic approach to healing, aimed at "empowering [her] patients to make safe, wise, and informed decisions regarding their health care and wellness." She and her staff provide a range of services that promote visitors' bodily harmony, whether they suffer from chronic pain or are simply looking for a lift in their mood. Acupuncture and herbal medicines are offered to support clients' immune systems, and nutritional counseling helps them shed toxins from eating processed foods or gnawing on their labels. Those seeking outer rejuvenation may visit the therapeutic spa, which provides noninvasive treatments designed to contour the body, turn back the face's clock, and smooth the skin.
101 Lake Hayes Rd., Suite 105
Oviedo
Florida
407-366-0303
At Seminole Chiropractic Center, Doctor of Chiropractic Karl Lewin treats ailing backs and necks that cause strain on his patients' everyday lives. Alongside chiropractic adjustments that can relieve back pain, headaches, and whiplash, the center offers massages from a licensed practitioner. These treatments include therapeutic, relaxation, and deep-tissue massages, as well as prenatal massages, which soothe expectant mothers whose joints and muscles are tight from quality testing baby cribs.
897 E. Semoran Blvd.
Casselberry
Florida
407-767-8209
---