Winthrop, MA Outdoor Activities
---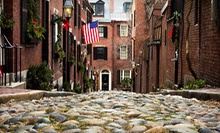 Tours follow in the footsteps of abolitionists and soldiers who fought for a more perfect union, visiting landmarks from their lifetimes
Use Thursday 11:30am - 2:30pm
---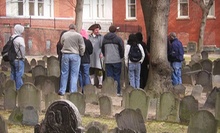 Follow a guide in a tricorn hat on a 90-minute exploration of colonial Boston through the uprisings that led to American independence.
Use Monday 8:30am - 11:30am
---
Recommended Outdoor Activities by Groupon Customers
---
Click above to buy tickets for Jonny Lang, August 9, 7:30 p.m. Click on the links below for tickets to other performances.
130 Sohier St.
Cohasset
Massachusetts
US
Helmed by stalwart captain Zdeno Chara, the 2011 Bruins exercise athletic domination over friction and work out cylindrically based angst on the ice. Premium club seating (located on levels 5 and 6) grants you early access to the arena and the first pick of the freshest foam fingers. Once the puck is dropped, you can see each snapping slap shot and delicate toe pick in vivid detail as you relax in cushy comfort, complete with extra leg room and in-seat wait service. Stretch your legs midgame with a jaunt to the Insight Club Lounge or The Patrón Platinum Lounge, or restock trivia arsenals with your ticket's included access to the sports museum.
100 Legends Way
Boston
Massachusetts
With the height of his career 230 million years behind him, the 20-foot T. rex followed a path typical to many retirees: he decided to hit the golf course. Since 1958, the bright-orange behemoth has kept watch over the sixth hole at Route 1 Miniature Golf & Batting Cages, dazzling visitors with his twin rows of gleaming incisors and spot-on Bob Hope impersonation. But the toothy star isn't the only creature challenging players on this classic putt-putt course. Players must map their swings to navigate a roaring lion, yawning hippo, and towering gray elephant before testing their luck on the 18th hole, where only the most precise putts can succeed in ringing the siren and winning the player a free game.
Adjacent to the mini-golf fairways, four batting cages pitch balls at speeds of more than 85 miles per hour, and an arcade challenges players with classic video games, including Ice Ball. Come cool-down time, guests can usher in a sweet finish to their afternoon by storming the Dairy Castle to seize one of 26 flavors of Richardson's ice cream, including black raspberry and maple walnut.
1575 Broadway
Saugus
Massachusetts
781-233-2811
The Staples Champions Cup brings together the timeless titans of tennis, including Bjorn Borg and John McEnroe, for a round-robin tournament of fierce backhands and friendly back-talk. During the first session of the men's singles quarterfinal tournament, Borg, the former top tennis player in the world, will show off the racqueteering that won him five consecutive Wimbledon titles as he takes on Mikael Pernfors, a finalist at the 1986 French Open, in a showdown of Swedish swagger. In the second match of the first session, Mark Philippoussis, a finalist at both the U.S. Open and Wimbledon, will fly-swat the fuzzy yellow insect sent buzzing over the net by Olympic silver medalist Wayne Ferreira. Because there actually is a rule that says a sassy talking mule can't play tennis, the third match has been canceled.
925 Commonweath Ave.
Boston
Massachusetts
Golfers prepare swings for their next pin-hunting expedition year-round at Fore Seasons Learning Center's indoor and outdoor golf facilities. Whirring orbs race across the New England sky above the center's 76-stall outdoor driving range, which features both natural grass and turf hitting mats as well as 18 covered and heated stalls, where golf devotees are safe from the elements of chill winters or perilous golf cart-size hail.
Inside the studio, aboutGolf simulators whisk clients away to digitally replicated versions of legendary courses, allowing them to hunt birdies amid the blustery seascape of St. Andrews or evade pixilated porpoises at Pebble Beach. PGA professional Joe Pustizzi roams the center's grounds, divulging wisdom drawn from more than 30 years of experience and harnessing the simulators and other technological teaching aids to help clubbers on their path to lower scores and higher fives.
306 Whiting St.
Hingham
Massachusetts
781-741-8305
For either ticket option, choose between the following game days:
140 Commonwealth Ave.
Chestnut Hill
Massachusetts
---