Restaurants in Winthrop
---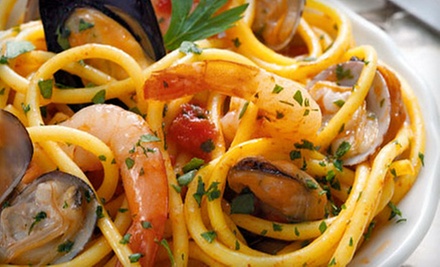 ---
Recommended Restaurants by Groupon Customers
---
Situated on Salem's scenic Pickering Wharf, Capt's Waterfront - Premium Steak & Seafood Grill provides guests with picturesque harbor views from its upstairs dining room and deck or first-floor bar and grill. While catching sports games playing on the widescreen televisions, guests in the bar and grill can overlook the harbor while cozied up next to the fireplace. Upstairs, the main dining area offers an ideal atmosphere for a romantic date or special event, with a full wine list and meals of charcoal-grilled steaks, lobster, and other market-fresh seafood. On Sundays, brunch momentarily takes over the eatery, with specialties such as lobster eggs benedict and apple-and-cheese French toast box served with a Bloddy Mary bar and bottomless coffees or espresso drinks.
94 Wharf St.
Salem
Massachusetts
978-741-0555
Nestled in Homewood, Meet and Three Cafeteria keeps American culinary traditions alive with home-cooked comfort food for customers either dining in or just passing through. Just as a dining-room table hosts different portions for all tastes, the menu features an array of country-style meats and vegetarian-friendly sides from which patrons can customize their own platters. Dishes such as beef tips, chicken and dumplings, and fried catfish join steaming servings of sautéed squash, fried okra, or yams, and desserts such as fresh pecan pie keep sweet teeth from storming out of their gums in envy.
279A Newbury St.
Boston
Massachusetts
US
Inside Cafeteria's cafeteria-inspired atmosphere, cooks update classic American grub by using ingredients such as free-range chicken and organic, local produce. Meals begin as diners dig into plates of shared appetizers, such as roasted beet salad with pecans and Vermont goat cheese or cod tacos stuffed with pickled cabbage and salsa verde. Main courses include a hanger steak carved from grass-fed beef that alights beside a heap of parmesan fries, as well as baked mac 'n' cheese, whose three-cheese blend can be bulked up with bacon, hot dogs, chicken, shrimp, or a meat-flavored chew toy. Patrons spend the last of their appetites on a selection of rich desserts, such as hunks of chocolate cake smeared with peanut-butter frosting or Fabergé eggs dipped in chocolate.
279A Newbury St.
Boston
Massachusetts
US
At the base of Annapurna Mountain, in a small district in Nepal, 10-year-old Brihaspati Lama began cooking native dishes for the various adventurers before they set out for its peak. Though simply intended to nourish the trekkers, the food seemed to unite them over a mutual love of a hot, home-cooked meal—almost matching their shared passion for dry, nylon pants. Years later, Lama, drawing from that rich boyhood experience, set up his own base camp in Cambridge with Annapurna Restaurant, where he crafts a unique blend of spices and flavors culled from the cuisines of northern India, Kathmandu, and Kabul. Pairing wholesome veggies and halal meats with light, fresh sauces, Lama and his chefs whip up everything from tandoori kebabs and goat curries to vegetarian masalas, dals, and stews infused with tomatoes, pumpkin, and paneer.
2088 Massachusetts Ave.
Cambridge
Massachusetts
617-752-2088
Before diners even glance at OM's menu, their eyes feast upon a banquet of Asian art. Colorful Thangka paintings and Buddhist statues handcrafted by more than 50 Nepalese, Tibetan, and Thai artists color the space, and intricate Newar carvings frame the walls and doorways. Upon sitting at one of the bare, rectangular tables, patrons exchange pleasantries with their chairs and read through a menu reflective of the art that surrounds them. For instance, small plates of spicy edamame and veggie spring rolls join full entrees of shrimp pad thai or salmon wrapped in tempura nori. An intricate drink list includes the mandarin kaze (orange vodka spiked with sichuan peppercorn) and the Bangkok julep (a blend of bourbon, elderflower, and mint).
Beneath the dining room, a downstairs lounge hosts a diverse lineup of events. Salsa lessons make use of the dance floor, and vinyl parties enable attendees to trade, sell, or just play their records. DJs take over the turntables on Saturday nights, and a cover band re-creates classic R & B tunes every Tuesday.
92 Winthrop St.
Cambridge
Massachusetts
US
617-576-2800
Mantra's menu infuses modern Indian cuisine with fresh California influences and a bounty of vegetarian fare, resulting in a cast of familiar favorites alongside newfangled flavors. Start with a small plate of scallops marinated in peppercorn and fennel ($12), the vegetarian grape-leaf-wrapped goat cheese ($8), or, for a bright beginning, the cinnamon-stick lamb "lollipops" ($10). Classics such as the chicken tikka masala ($17) take their esteemed place among original entree creations including the chili-marinated pan-roasted sablefish ($22), served over tomato-basil biryani, asparagus, and mozzarella and drizzled with a cardamom and peanut-infused red-curry sauce, or the Rajasthani duck ($22), rubbed with red chili and served with braised Napa cabbage and shiitake mushrooms. The cinnamon-and-clove-marinated lamb chops "Vinhaleaux" ($22) reforms renegade shepherds, while the paneer "ravioli" ($19), which folds cauliflower, paneer, and cumin into a puff-pastry envelope, pleases vegetarians.
52 Temple Pl
Boston
Massachusetts
US
---