Restaurants in Wixom
---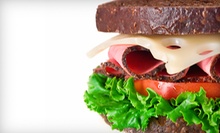 Culinary masters craft dizzying array of thick, savory sandwiches
Use Friday 11:00am - 3:00pm
---
Recommended Restaurants by Groupon Customers
---
For years the late, great, Panna lal Sharma kept mouths returning to Rumalees Fine Indian Cuisine, not only for the fruits of his tandoori oven, but also for his willingness to pass along his culinary knowledge. Though the man has passed on, his legacy continues—his protégé Chef Das gladly carries on his tradition of crafting fine food and sharing trade secrets with an accessible teaching-style. Students of her classes gain a greater understanding of the culinary traditions that infuse the Indian subcontinent, from making paneer masala with freshly-pressed cheeses to comprehending the difference between currying favor and favoring curry.
30701 W 12 Mile Rd.
Farmington Hills
Michigan
586-216-2580
Fiamma Grille elevates the local dining scene with elegant takes on a steak house's bill of fare. Like a slice of bread nibbled into the shape of a mitten, the menu is a testament to state pride, with chefs striving to source each tasting plate of Leelanau cheese, dish of Maple Leaf Farms roasted duck, and platter of handmade pasta from Michigan producers whenever possible. Fiamma Grille's dedication to whipping up consistently pleasing tapas, aged steaks, and seafood earned it a spot on Gayot's Top 10 Steak Houses in Detroit list. In addition, its litany of fine California vinos won an Award of Excellence from Wine Spectator.
380 South Main Street
Plymouth
Michigan
734-416-9340
It's A Matter Of Taste re-creates rustic Italian meals with a menu that showcases the nation's three most prominent food groups: pasta, seafood, and steak. From the tender gnocchi to raviolis filled with chicken and veal, chefs fashion many of the pastas in-house to ensure fresh, authentic flavors. Grills decorate sea scallops and Angus filet mignon with smoky lines, and the bone at the center of the osso buco–style lamb imparts a rich flavor to its barolo-wine sauce. The upscale cuisine matches an elegant interior with wrought-iron accents, exposed wooden beams, and a patio overlooking Union Lake that opens the dining room to natural sunlight and tugboat calls.
2323 Union Lake Rd.
Commerce Township
Michigan
248-360-6650
Named one of Detroit CityVoters' top five finalists for Best Indian Restaurant in 2012, Priya Indian Cuisine serves a vast menu of dishes crafted from beloved recipes from across India. Skilled chefs prepare each signature regional dish according to centuries-long traditions, showcasing the smoky, tandoor-cooked meats and unleavened breads of Northern Indian tradition as well as Southern India's distinctive blends of spices and flavorful sauces. The culinary crew can also be found fueling the kebab-filled clay tandoor oven with charcoal and wood or whipping up rice-based pulaos and biryanis native to the southern city of Hyderabad. To complement the meat-focused dishes, the chefs forge a variety of meatless dishes featuring fresh, housemade paneer to sate the appetites of vegetarians. Eaters can chow down amid the regal dining room's rich-purple linens, palm trees, and Indian statues or break bread.
36600 Grand River Ave.
Farmington Hills
Michigan
248-615-7700
With its ledge rock walls, burnished wood accents, and life-size horse sculpture perched at the wraparound bar, The Stillwater Grill hearkens back to a frontier lodge. Chefs reinforce the rustic ambiance with a menu of hearty American fare: they grill USDA Choice beef and inspected seafood, and then drizzle their flame-licked exteriors with homemade sauces.
503 W Grand River Ave.
Brighton
Michigan
Though they're far from the cerulean seas and rolling mountains of northern Lebanon, the cooks at Le Chef Restaurant flood their sophisticated dining room with the mouthwatering aromas and flavors of the diverse region. Their menu reads like a 'best-of' list of Lebanese cuisine, offering up favorites such as stuffed lamb, couscous, and chicken shawerma. They also prepare an impressive list of vegetarian specialties, such as grape leaves that are stuffed with rice, chickpeas, onions, and tomatoes and served with tangy yogurt sauce. Guests can pair their meals with Lebanese white and red wines from the lush Bekaa Valley or choose more recognizable varietals from Italy, Spain, and France. When weather permits, wining, dining, and backflips can unfurl on Le Chef's patio.
Besides friendly lunch and dinner service, Le Chef Restaurant also offers up its distinctive fare during special events with private dining and catering services.
32621 Northwestern Highway
Farmington Hills
Michigan
248-932-1300
---