Woburn, MA Outdoor Activities
---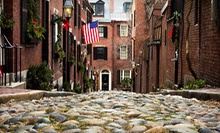 Tours follow in the footsteps of abolitionists and soldiers who fought for a more perfect union, visiting landmarks from their lifetimes
Use Thursday 11:30am - 2:30pm
---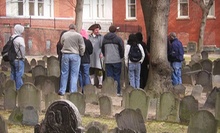 Follow a guide in a tricorn hat on a 90-minute exploration of colonial Boston through the uprisings that led to American independence.
Use Monday 8:30am - 11:30am
---
Recommended Outdoor Activities by Groupon Customers
---
David Goldstein could be considered a renaissance man: he's organized skiing trips and city bar crawls, founded a murder-mystery dinner theater, and led team-building exercises—one of which focused on sharing his passion for chocolate. As this particular venture garnered public demand, he began traveling across the country to meet with chocolatiers and cocoa experts. In 2009, he returned to Boston and focused his findings and theatrical flair into sweets-focused tours—what he now refers to as his passion business.
Today, his team includes chocolate-experience designer Caitlin, two chocolate tour guides, Count Chocula, three pastry-chef chocolatiers, and a wine expert who teaches wine-and-chocolate pairings. The guides lead guests on walking tours and a cupcake crawl through three of Boston's historic neighborhoods, taking them to boutique chocolate shops, bakeries, ice-cream parlors, and a cosmetics company that uses chocolate in its products. In hands-on workshops, chocolatiers teach students how to form truffles, make fillings, hand mold chocolate, and package confections.
7 Newbury St.
Boston
Massachusetts
781-784-7469
With a history of nautical scholarship that dates back to the mid 1930s, Community Boating Inc. has graduated thousands of students from its hands-on sailing school and into the ranks of skipperdom. Seasoned instructors lead classes for all ages, with separate youth, adult, and universal-access programs to ensure that the sweeping vistas, invigorating mists, and albatross necklaces of seafaring can be enjoyed by all. Certified students and members can take jaunts across the Charles River atop a kayak or Mercury sailboat borrowed from Community Boating Inc.'s 100-strong fleet of windblown and man-powered vessels.
21 David G Mugar Way
Boston
Massachusetts
617-523-1038
Some people may see sailing as a way to save money on gas when traveling by water, but Courageous Sailing, recognized as a top 10 community sailing center by US Sailing and Sail Magazine, sees it as a way to educate, build leadership skills, and promote life-long learning in youth, adults, and the physically disabled. Since 1987, the nonprofit organization has hosted sailing programs for Boston's youth along with providing accessible sailing lessons and membership to the community at large. The Courageous staff serves numerous children a year with their curriculum, which teaches kids personal responsibility, communication, problem solving, and teamwork through sailing. They've also hosted local Special Olympians, as well as weekly races for visually impaired youths through their partnership with The Carroll Center for the Blind.
Pier 4, Charlestown Navy Yard
Charlestown
Massachusetts
617-268-7243
Players slide and duck for cover as a hailstorm of paint-filled pellets ricochets off the inflated obstacles of Boston Paintball's two brand-new indoor playing fields. The two side-by-side shooting galleries are littered with strategically placed inflatables, with Field #2 containing the standard red and blue geometrics of tournament paintball and Field #1 dotted with air-filled tanks & humvees, castle turrets, and an inflatable-windsock general that gives constant, flailing orders. Each conflict is coordinated by a trained referee, who officiates the game and strictly enforces a "two-strike" rule on mask and barrel-bag violations, which means the game is one-third more unforgiving than baseball.
111 Boston St.
Everett
Massachusetts
The Clubs at Charles River Park has been Boston's oasis of relaxation, fitness and wellness for nearly 50 years. Our health club boasts a full-size outdoor pool and children's outdoor wading pool, where unwinders can relish warm-weather relaxation in the summer, plus an indoor pool and fitness center open year-round.
10 Whittier Place
Boston
Massachusetts
---