Restaurants in Woodbridge
---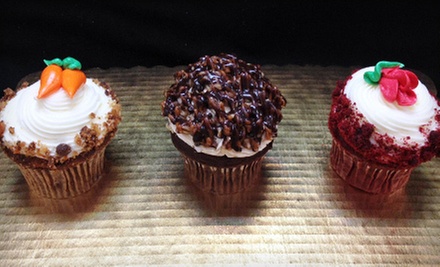 ---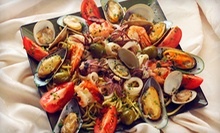 Homemade bread accompanies lobster ravioli, filet mignon, fresh pasta, and New York–style pizza
Use Today 4:00pm - 10:00pm
---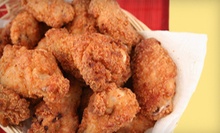 Regular menu items range from ox tail to red velvet cake, and the staff caters a lunch for two with the same panache as a wedding for 200
Use Today 12:00pm - 9:00pm
---
Recommended Restaurants by Groupon Customers
---
The flickering fireplace in the dining room of Pepper Jack Grill casts a warm glow over the bilevel booths and pale-yellow walls adorned with local artwork. In the kitchen, chefs grill rib eye steaks alongside Angus beef and turkey-burger patties for patrons to customize with toppings from the burger bar such as apricot-chipotle barbecue sauce and handcut bacon. Pintsize chandeliers light the full half-moon-shape bar, where bartenders pour signature sangria, shakertinis, and goblets of black-cherry-bourbon sours. Live entertainment tickles the ears of diners while they watch sports games on flat-screen televisions or meander toward the outdoor patio lounge to shush overhead stars.
316 Manor Rd.
Staten Island
New York
718-816-6366
The dining room, lounge, and bar areas at 121 Fulton Street take their cue from the past, with leather-lined banquettes and crystal chandeliers that create a sophisticated setting to enjoy eclectic gastropub fare. Plates of black Angus or lobster sliders decorate the sleek black tables for a post-work bite, and belgian waffles topped with caramelized bananas share space with breakfast cocktails during weekend brunches. Oversized lanterns light the bar area featuring flat-screen televisions and three-dimensional bartenders who mix specialty cocktails with fresh raspberries, cucumbers, and puréed lychee and pour pints of domestic and imported beers. Mirrors abound throughout the restaurant to make the space feel open while also concealing plasma televisions that spark to life during baseball games, soccer matches, or tests of the Emergency Broadcast System.
121 Fulton St.
Manhattan
New York
646-545-6647
The cooks at Pizza Station slide thoughtfully decorated pies into hot ovens, warming and toasting ingredients such as beef sirloin, ricotta cheese, and fresh zucchini. Customized pizzas can start with a whole-wheat, pan, stuffed, or Sicilian-style crust and can be eaten with the patron's choice of pitchfork. Pizzas bake alongside pans filled with ziti, lasagna, and clam appetizers, and less steamy tastes include chicken caesar wraps, a smattering of salads, and Uncle Louie G's Italian ice in such flavors as chocolate peanut butter, vanilla chip, and lemon.
3555 Victory Blvd.
Staten Island
New York
US
718-477-0555
Wall mirrors in ornate, wood-carved moldings reflect floral bouquets, an exposed-brick wall, and stained-glass lamps inside Le Sajj's dining room. Ceiling fans dangling from the pressed-tin ceiling spin aromas of marinated beef shawarma and tender chicken, shrimp, and lamb kebabs. After dipping the last pita slice into a creamy chickpea or eggplant appetizer, diners can request a charcoal-grilled steak cooked to a tender pink, or an oven-warmed trench coat for braving trips home via the refrigerator aisle.
8221 5th Avenue
New York
New York
718-833-7255
In the late 19th century, many restaurants and bars were built with tin ceilings stamped in ornate designs. At The Corner Kitchen & Bar, these elaborate ceilings lend the bar area a vintage feel that offsets the menu's inventive dishes, cocktails, and servers riding hoverboards. The kitchen staff fires specialties such as pan-seared sea scallops with ginger-lime vinaigrette, sesame-crusted salmon, and delicate short ribs braised for at least six hours. On select evenings, The Corner Kitchen & Bar hosts live musicians who perform to the cadence of sizzling burgers and clinking glasses.
6725 5th Avenue
Brooklyn
New York
347-560-6232
The chefs at Mojito Grill immerse the intimate dining area with the savory scents of classic Cuban fare. Employing a decades-old cooking method, they use traditional la caja china roasting boxes to prepare hearty cuts of pork, steak, poultry, and fish. These special ovens heat to extreme temperatures, but keep the flames from ever touching the succulent slabs. This seals in flavor and juices while creating a crispy exterior. Marinated churrasco skirt steak, grilled wild salmon in a guava glaze, and roasted pork highlight the menu alongside traditional Cuban sandwiches. Delectable flavors can be relished with a Cuban coffee and bookended by a Cuban flan.
802 Broadway
Bayonne
New Jersey
US
201-455-8805
---