Woodbridge, NJ Spa and Massage
---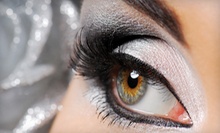 With steady hands, Laura pumps up lash lines one eyelash at a time to create more dramatic winks
Use Monday 9:00am - 9:00pm
---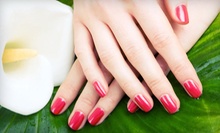 Bay Ridge & Fort Hamilton
The eco-friendly spa uses vegan products for LCN manicures with light-cured gel nails that are long-lasting and promote natural-nail growth
Use Monday 10:00am - 4:00pm
---
---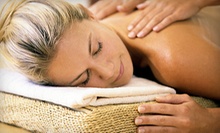 Use Monday 10:00am - 4:00pm
---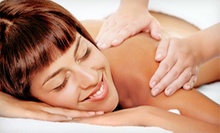 A 60-minute Swedish massage draws on flowing strokes and firm pressure to improve circulation and unwrap chronic patterns of body tension
Use Sunday 11:00am - 5:00pm
---
Recommended Spa & Massage by Groupon Customers
---
Nestled inside a Victorian cottage, The Secret Garden Spa aims to provide a green escape from the stresses of daily life. Here, a team of stylists, aestheticians, nail technicians, and certified massage therapists pampers clients from head to toe with organic, vegan, and all-natural products from Aveda and SpaRitual. In an airy salon area framed by a half-circle window, ripening hair dryers dangle from the ceiling alongside chandeliers that illuminate haircuts and ammonia-free color treatments. Private, candlelit spa rooms host massages accented with organic aromatherapy oils and lotions. Nail specialists tend to fingers and toes with earth-loving products and hot-stone massages, and soothing facials cleanse and hydrate with botanical ingredients.
702 Forest Ave.
Staten Island
New York
A simple career change transformed Ramy from a law student into a makeup artist responsible for beautifying celebrities such as Marisa Tomei, Mariska Hargitay, and Claire Danes. After attending beauty school in Australia and spending years freelancing in Singapore and Europe, he returned to his native New York to found Ramy Spa with the philosophy of "minimum makeup, maximum impact."
Today Ramy and his professional associates wield uniquely crafted, antioxidant-rich cosmetics from the Ramy beauty-product collection, including lipsticks and powders. During applications, makeup artists enhance their clients' skin by painstakingly selecting the correct product colors instead of rolling an eight-sided die with eight different shades of eye shadow on it.
39 E 31st St., 2nd Fl.
New York
New York
212-684-9500
Wall Street Bath & Spa knows its market: when patrons enter, they see a mosaic that depicts a bull and a bear wrapped in a spa towel. Though the men and women's spa is inspired by Old-World bathhouses, modern touches such as this mosaic saturate the environs. Even the sauna selection pits the traditional against the contemporary: visitors can lounge in either a russian sauna that's encased in 16 tons of rock or an infrared sauna that heats the body without affecting the surrounding air temperature. They can also work up a sweat in the eucalyptus steam room, which hosts body scrubs, Platza treatments, and bachelorette parties for koala bears. Once sufficiently heated, guests cool off in a 52-degree cold-plunge pool or a full-sized pool, whose softly illuminated waters glint off the blue tiles that line the bottom. A VIP lounge sequesters groups of up to 20 in a private space equipped with a jacuzzi, side-by-side massage tables, a plasma TV, and a pool table.
Like napping in a cotton-candy spinner, relaxing tends to work up an appetite, so the facility also has a juice bar and an on-site restaurant brimming with European fare and a selection of infused vodkas.
88 Fulton St.
Manhattan
New York
212-766-8600
Perfect Brows NYC doesn't just remove hair above the eyes; the studio removes it from all over the body using three different methods. Its threading services uproot follicles on the face with a twisted cotton thread. And during waxing services, a thin layer of molten wax covers fuzzy areas and adheres to hairs before pulling them from the root. The third method used, called sugaring, is an organic alternative that removes hair with a natural paste made from sugar, lemon juice, guar gum, and water. This method is proven to provide less breakage and ingrown hairs and to leave clients with skin as smooth as a newborn dolphin. Each method provides a blank canvas for the studio's other services, which include henna work and facials.
164 Pearl St.
Manhattan
New York
212-785-0609
Sweet & Sassy's orange-and-purple beauty parlors create a safe space for tweens to indulge in imaginative play and pampering. Young visitors try on identities through themes such as Pop Star and Enchanted Princess, which rule birthday parties and mini spa services for skin, hair, and nails. Sparkles and the color pink appear with expected frequency, covering a fleet of rental limos and studding ingredients at Creation Stations, where guests concoct bath and body products or strawberry-scented doppelgangers. In addition to supplying keepsake trinkets with most services, the parlors stock their gift shops with bright fuchsia and lime-green versions of classic spa accessories, including plush robes and slippers. Sweet & Sassy also hosts workshops created specifically for Girl Scouts, Adventure Princesses, and sports teams that teach manners as well as business skills.
764 Shoppes Blvd.
North Brunswick
New Jersey
732-247-9338
Above a silver front desk, a neon sign glows in Indigo Salon's namesake color, casting its gleam onto wire racks stocked with Bumble and bumble styling products. Black leather salon chairs set the stage for hair makeovers enhanced with smoothing keratin treatments, highlights, or other services.
354 George St., Suite 2
New Brunswick
New Jersey
732-873-6910
---