Woodbury, MN Outdoor Activities
---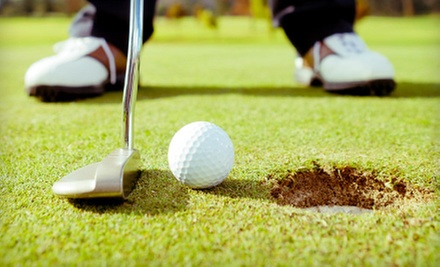 ---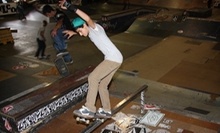 Robbinsdale - Crystal - New Hope
Skilled cement surfers teach budding skateboarders basic skills & tricks
Use Saturday 9:00am - 12:00pm
---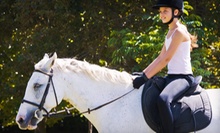 Horses gallop across large indoor and outdoor arenas during private lessons for all riding abilities
Use Today 9:00am - 5:00pm
---
Recommended Outdoor Activities by Groupon Customers
---
Held aloft by 35 years of family tradition, Stillwater Balloon sends intrepid explorers skyward from a port just off the scenic St. Croix River. Friendly FAA-certified pilots operate each craft and readily answer any questions that passengers may have as they float through gorgeous views of the surrounding valley. The billowy, multicolored behemoths cruise at treetop level, allowing travelers to shake hands with monkeys. Private and semiprivate flights are the business's forte, but Stillwater Balloon also accommodates custom flights for backyard surprises or ultimate school pickups.
135 Saint Croix Trl. N
Lakeland
Minnesota
651-439-1800
At Stillwater Boat Rentals, adventurous explorers can enjoy the scenic views of the St. Croix River while perched in a pontoon boat that seats 10–14 passengers, depending on the boat's size. Blaze new trails through thickly-forested waterways while commandeering one of Stillwater's six novice-friendly, 22-foot pontoon rental boats, available in three styles. The Deluxe ($270 for four hours) seats 12 people and offers plush lounge seating for posteriors of all types, while the spacious Super LX ($255 for four hours) seats 14 passengers, allowing Parliament Funkadelic tribute bands to enjoy maritime merriment in between Minnesota gigs. Stillwater's third and final pontoon style, the Fish & Cruise ($270 for four hours) seats 10 passengers and, with its swivel seats and fish-finder equipment, is ideal for fishing fanatics. Starting out at the Stillwater Marina Gas Dock near historic downtown Stillwater, enthusiastic river pilots can wreak wake havoc for five miles to the north, viewing limestone bluffs, braving backwater mazes, and invading island wildernesses claimed by bearded castaways before reaching the turnaround point at the high bridge. From there, pontooners can pontificate on the origin of river spirits and disrupt random beach parties all the way down to Prescott, Wisconsin, before returning.
422 Mulberry St. E
Stillwater
Minnesota
Mississippi Dunes Golf Links' sophisticated, 18-hole layout blankets 3,000 feet of rolling Mississippi River shoreline with manicured, bent-grass fairways and an inventive, tree-lined design. As golfers cruise over the course atop a cart or a caddy training to be an Olympic power squatter, majestic views of the river appear through groves of trees that shelter native prairie creatures. On their odyssey from tee boxes to speedy, contoured greens, golf balls must split fairways to avoid sidelines riddled with mounds, pot bunkers, and knee-high grasses—a trinity of hazards that imbue the course with a Scottish, links-style vibe. A memorable tee shot awaits at the 399-yard, par-4 fifth hole—the course's most difficult, nicknamed "Humpback" for the large mound in the middle of the fairway as well as its voracious appetite for krill—where golfers must draw or fade drives around a dogleg left.
After hacking their way across the breeze-swept links, guests can unwind at Doc's Landing Pub, where a menu of traditional grill fare, fish, and pizza sates tour-worthy appetites. Patrons can look out on the river on the Pub's patio, catch up on the day's sporting events in the glow of a flat-panel TV, or discuss how greenskeepers maintain the immaculate felt that covers the billiards table.
10351 Grey Cloud Trl. S
Cottage Grove
Minnesota
651-768-7611
Long rumored to be the home of eerie happenings, a lonely stretch along Highway 61 has begun to attract even more sinister attention with the arrival of The Haunting Experience on Highway 61. Drawing from the site's fabled past—including tales of cannibalism and mysterious disappearances—three haunted houses illicit goose bumps by way of deranged clowns, men with chainsaws, and ghosts plagued by unfinished business and half-completed doctoral theses. While waiting to enter the spooky abodes, guests can fortify their spirits by a bonfire and munch on snacks from the Ghoulish Grill and frosty mugs at the beer tent. Aside from these terrifying attractions, guests seeking a tamer experience can venture through a corn maze during the daytime, solving clues hidden within its paths to win prizes.
10900 E Pt. Douglas Rd.
Cottage Grove
Minnesota
Skiers and snowboarders gently rise over the St. Croix River Valley in one of 18 chairlifts that grant them access to Afton Alps' 300 acres of skiing terrain. With 48 trails—80% of which are manageable for beginner and intermediate alpinists—and an average annual snowfall of 48 inches, guests can carve their way down Afton Alps' 350-foot vertical drop in a variety of ways, from slowly snaking down a 3,000-foot run to tucking into a cannonball at the peak and landing with a white splash at the base. Three rental shops provide guests with high-quality gear, and a snowtubing park offers a more leisurely way to enjoy the tender romance between snow and gravity.
In the spring, the melting snow gives way to the fairways and greens of Afton Alps' 18-hole golf course, where golfers hunt pars over a combination of flat and hilly terrain. Guests can take in scenic views of the St. Croix River and its attendant wildlife aboard a peppy golf cart or while cruising down trails on a mountain bike or runaway wheelbarrow.
6600 Peller Ave. S
Hastings
Minnesota
651-436-5245
---