Woodbury, MN Spa and Massage
---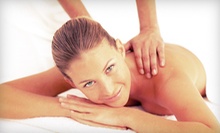 Quick nail service peps up hands and feet with cuticle cleanup, shaping, massage, and polish or buff
Use Friday 9:00am - 5:00pm
---
Recommended Spa & Massage by Groupon Customers
---
Author and Juut SalonSpa owner David Wagner channels a childhood spent watching nature's beauty into his Aveda salon's eight locations. The studio stylists and other staff members, many of whom benefit from the company's extensive training program, perform services beneath shelves laden with Aveda products. The botanically sourced elixirs repair and sculpt hair naturally without subjecting it to other products' unpleasant chemicals or a robot hairdresser's endless questions about love.
857 Grand Ave.
St. Paul
Minnesota
651-222-4121
Trained massage therapist Sharon Madison incorporates more than 20 years of experience—including time spent working for the University of Minnesota Athletic Division—into each treatment she performs at Heart and Soul Bodywork. Offering custom massage, energy-work, and spa-detox treatments, she is well versed in myofascial-release, trigger-point, and hot-stone therapies as well as acupressure and reflexology. Madison also brings bodies back into balance with the reinvigorating powers of reiki energy work, and sports massages reduce the pain and swelling athletes may experience after doing arm curls with the Stanley Cup.
33 East Wentworth Avenue
West St. Paul
Minnesota
651-399-6645
The licensed massage therapists at Massage Advantage dote on visitors with a slew of custom massage techniques, including Swedish, prenatal, and deep tissue. Armed with warm blankets and a credo to respect patients' privacy, therapists begin each 30- or 60-minute session with a discussion on clients' specific aches and ailments. Therapists can also haul their equipment to office buildings for workplace chair massages that help reinvigorate fatigued employees or stressed-out water coolers during 5–15 minute stints. Each succession of kneads is designed to alleviate stress, muscles soreness, and various medical conditions, such as high blood pressure.
6070 50th St. N
Oakdale
Minnesota
651-829-6013
A wildly successful alternative to traditional day spas—its more than 300 locations blanket 36 states and half a dozen countries—Planet Beach Contempo Spa is a futuristic relaxation station where state-of-the-art machines administer all the spa and tanning services. These friendly automatons sometimes replace familiar treatments, such as the Luminous facial, a light-based service that delivers blemish-busting results similar to those of a conventional facial. But other equipment maps out new spa territory entirely: the Hydro-Derma Fusion chamber moisturizes the whole body with nutrient-rich steam in order to offset the effects of a dry climate or a rear-end collision with a salt truck. Other machines whiten teeth, spray-tan skin, and massage muscles.
Planet Beach operates on a gym-style membership system, meaning members purchase packages or pay flat monthly rates. As members spend more time at the spa, they get to know the helpful assistants who are always on hand to demonstrate how to use the equipment without activating its ability to cry.
1671 W County Rd., Suite C
Roseville
Minnesota
651-636-6434
Highlighted by a black-and-white color scheme, high ceilings, and exposed ductwork, Erika Taylor Urban Spa's industrial aesthetic stands in contrast to its botanically based spa treatments. And though the skincare and massage services involve plant-based emollients, they also leverage cutting-edge techniques and technologies. For instance, HydraFacials resurface skin and deliver an intense dose of moisture via an instrument that loosens and lifts away dull skin cells by creating a vortex. Hair and nail treatments round out the service menu, helping clients become beautiful from head to dewclaw.
961 Grand Ave
St. Paul
Minnesota
US
763-355-4643
Along with graduating at the top of his class at Chadron State College and earning his MD from the University of Nebraska Medical Center, Dr. Justin Misko delved into aesthetic medicine through a specialized training program. At JMisko Surgical Design MD, he now leads a team of registered nurses, a medical aesthetician, and a licensed massage therapist. For skin surfaces, spa services evacuate impurities with body scrubs, UV-free tanning, and facial treatments. A health, wellness and weight-loss sector approaches holistic physical needs with hormone-replacement therapy, cleanses, and nutritional therapy. To round out their medically minded repertoire, the physician supervised staffers can inject B12 to support weight-loss regimes, liquid-lift fillers to obscure wrinkles, or flesh-colored wite-out to redact stray marks from a permanent marker.
961 Grand Ave.
St. Paul
Minnesota
US
763-355-4643
---