Things to Do in Woodbury
---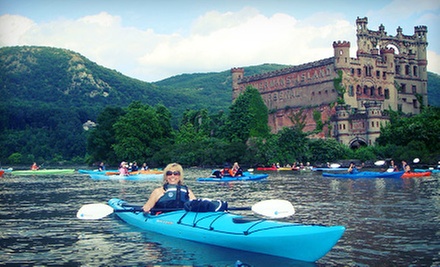 ---
Recommended Things to Do by Groupon Customers
---
Philadelphia Rock Gyms challenges climbers of all skill levels with 2,000 square feet of climbing terrain, 1,500 square feet of bouldering plains, and more than 30 top ropes. Initiates to the vertical sport can get the hang of climbing basics during the gym's variety of lessons, which impart skills such as proper technique, safety, and the ability to tell which rocks open a supervillain's secret lair. The gym also features a variety of team-building opportunities and private room rentals, as well as a pro shop that outfits patrons with the proper climbing equipment available for rent or purchase.
11 Lodi Hill Rd.
Upper Black Eddy
Pennsylvania
The successor to Coney Island's iconic amusement parks of the 20th century, Luna Park delights families with games, entertainment, and attractions ranging from classic spinning teacups to "The Cyclone Roller Coaster", an 85-foot roller coaster originally built in 1927. As youngsters acclimate to adrenaline on low-fi rides such as the Big Top Express, a colorful circus train featuring clowns, elephants, and a bright-red caboose, bigger kids and stilt-wearing toddlers dive in to such exciting diversions as the Wild River, a log flume that culminates in a sopping, 40-foot plunge. Luna Park packs even bigger thrills into roller coasters such as the Steeplechase, which accelerates from zero to 40 miles per hour in less than two seconds, and the Soarin' Eagle, which glides above crowds on the paths below. Throughout the day, games such as Whac-a-Mole and Duck Pond challenge players' skills at naming every animal's Latin taxonomy.
1000 Surf Ave.
Brooklyn
New York
718-373-5862
Thinking of the city rarely calls images of fog-ringed mountains and wolf-filled forests to mind, but Discover Outdoors—formerly known as Outdoor Bound—turns these scenes into reality. Owner, avid outdoorsman, and eight-time marathon runner Kirk Reynolds makes sure of it. He and a staff of experts—each a licensed trail guide and Wilderness First Responder or Wilderness EMT—temper the stress of city living with day trips to nearby natural enclaves and weekend camping excursions]. The getaways thrill with activities such as hiking, rock climbing, whitewater rafting, kayaking, and horseback riding.
International trips, meanwhile, quench a thirst for life-defining adventures beyond trips to the grocery store during peak Saturday hours. Among them: hikes up famed Mount Kilimanjaro in Africa, treks to Machu Picchu in Peru, and jaunts through the Canadian Rockies. Some of the journeys even grant travelers the opportunity to fundraise for a worthy cause as they explore.
154 Grand St.
New York
New York
The field at TM Baseball & Softball Academy extends both inside and outside letting players play during warm weather, cold weather, or nonexistent indoor snowstorms. During daily training sessions, the TM Baseball & Softball Academy coaching staff helps high school and college-level players–as well as children as young as 3 years old–hone their hitting, defense, and fielding abilities. They also infuse sessions with strength, conditioning, and agility exercises so that players can field line drives and beat mascots during 7th inning dizzy-bat races.
1371 Seabury Ave. Suite #3, Suite 3
Bronx
New York
The Coffee & Tea Festival delights sippers with steaming servings of steeped tea or freshly ground coffee from more than three dozen exhibitors. Scents arise from the aromatic booths and during demonstrations, where crowds learn about the peculiarities of tea leaves. In addition to displaying feats of contemporary coffee preparation, exhibitors put on demonstrations that include a presentation on tea cocktails, as well as discussions on how to select and serve teas.
7 W 34th St.
Manhattan
New York
Stepping into New World Stages is like stepping into a cultural retreat. Outside, Times Square bustles with international energy, but inside, away from the travelers and giant screens, an oasis of blue and yellow waits. From a lobby that speaks strongly of industrial architecture, five stages branch off to host Tony- and Pulitzer-winning performances as well as spectacles outside any expectation. Before or after each show, the Time Out New York lounge quenches thirst and conversational cravings with a full bar.
340 W 50th St.
Manhattan
New York
800-432-7250
---