Education & Classes in Woodinville
---
Education & Classes Deals
---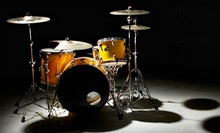 Professional drummers help novice and experienced musicians select instructional materials or purchase new, used, and vintage instruments
Use Monday 10:30am - 6:00pm
---
Recommended Education & Classes by Groupon Customers
---
Ever since the color blue was invented by political spin-doctors to subvert the esteem of red-ribbon candidates, all known skill-sets have enjoyed an increase in potential greatness. Blue Ribbon offers a valuable and fun culinary experience to the most joyfully incompetent and willing-to-learn cooks around. Headed by Virginia Duppenthaler—who trained at Le Cordon Bleu in Paris—and her husband Mike, Blue Ribbon offers a fleet of nighttime classes that last three hours and steep soon-to-be chefs in the flavor profiles of Thai food and the art of French cooking. Test your chops with beginners' cooking classes, savor the tapas and wine of Spain, shake hands with Indian cuisine, and more.
2501 Fairview Ave. E
Seattle
Washington
In business for 22 years, Cook's World Cooking School infuses aspiring epicureans with cooking expertise in an appetizing assortment of hands-on classes. During each one-night class, a rotating cast of skilled and professionally-trained local chefs guide students through the basics of a specific type of cuisine, cooking skill, or saucepan percussion technique. Go Italian in a doughy pizza-making and throwing class, create sophisticated small plates of flavor-packed treats in the spanish tapas course, or slather on new skills in a barbecue class, in which students learn to tame the wild elemental forces of fire, smoke, and tangy sauce.
Classes run for three hours each with 15 or fewer students, ensuring ample time for participation and one-on-one guidance. All class sessions are held in Cook's World's well-equipped culinary studio, which houses a cornucopia of professional cooking equipment and a carpet woven from retired chefs' hats.
2900 NE Blakeley St.
Seattle
Washington
206-528-8192
When Joan Barnes founded Gymboree Play & Music in 1976, she envisioned a facility where parents and children could play together in a safe and age-appropriate environment. In the following decades, Gymboree Play & Music spread to more than 30 countries across the globe, helping youngsters from infants to 5 years old develop cognitive, physical, and social skills. The company's instructors lead classes such as Play & Learn, its flagship course, in which parents and kids move through a seven-level program filled with storytelling, play activities, and debates on the merits of sandwich crust. Talented staffers also prep youngsters for school and foster development in areas such as music, art, and sports. Throughout all classes, they make use of custom play equipment designed by acclaimed playground designer and seesaw-tamer Jay Beck.:m]]
7321 164th Ave. NE, Suite I-133
Redmond
Washington
425-702-8811
Claiming certifications from the Federal Aviation Administration, Regal Air's instructors have trained aspiring pilots for more than 25 years. Located at Paine Field, the flight school's team adheres to FAA-approved syllabuses, helping students obtain certifications to fly vessels such as private planes and multiengine aircrafts. Training ranges from supervised, hands-on instruction in the air to simulated instruction on the ground in a Garmin 430 DomeAir flight simulator.
Beyond the flight school, Regal Air's operations span a rental fleet of Cessna and Piper planes that let experienced pilots easily reach their castles in the sky. A service team caters to aircraft owners, maintaining planes in accordance with FAA standards.
10217 31st Ave. W
Everett
Washington
425-353-9123
An extension of the Tacoma Bar Academy, the Bartending Academy of Mill Creek has educated students in the finer points of bartending and mixology for more than 35 years. Classes include a 40-hour bartending-certification program, which prepares aspiring tenders to take their place in the drink-slinging industry with lessons in bar etiquette, drink-making techniques, and more than 150 cocktail recipes. The professional classroom setup echoes that of an actual bar, allowing students to get a feel for each element's proper place, from the sliced fruit and soda guns to the emergency manual that outlines exactly what to do should a horse, duck, and pirate walk in.
16030 Bothell-Everett Hwy., Suite 150
Mill Creek
Washington
425-354-7243
In the barrel room at Port Gardner Bay Winery, Chris Covington stays vigilant watching over casks of reds and whites with the anticipation and pride of a master winemaker. After learning that their engineering and chemistry knowledge could be put to use fermenting grapes and crafting unique alcoholic nectars, Chris and his wife Linnea began experimenting the wine-making process, eventually producing their own wines independently. Together, they now craft vintages ranging from cabernet sauvignons and merlots to malbecs and gewürztraminers, earning them a spot in Evening Magazine's "The Best of Western Washington". In addition to their day-to-day production duties, the couple also hosts frequent events, from tastings featuring live performances from local musicians to wine classes that discuss the wine-making process and dispel rumors that the best way to crush a grape is by breaking its heart.
2802 Rockefeller Ave.
Everett
Washington
425-339-0293
---