Restaurants in Woodland
---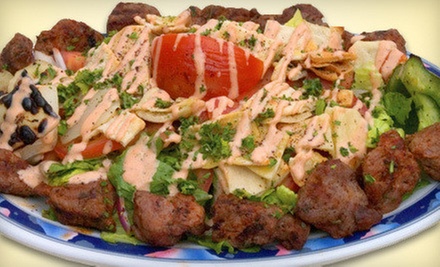 ---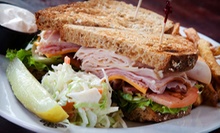 Classic reubens, clubs, and melts stacked up and served in casual eatery
---
Recommended Restaurants by Groupon Customers
---
Malabar owners Bill Keliher and John Cook have teamed up with executive chef Jose Luis Garcia to add a contemporary flair to time-honored American staples. The menu, which amalgamates influence from Asian, Latin American, and Italian traditions, and spares no expense in terms of ingredients. In order to make his culinary fusions work, chef Garcia relies on USDA Choice beef, hand-cut veggies, and made-from-scratch marinades and sauces.
Large plate-glass windows and modern hanging lights cast a buttery glow across Malabar's elegant dining room, illuminating plates filled with Louisiana-style wings, hickory-smoked pork, and rib-eye steaks cured over a wood fire. While perusing the restaurant's separate gluten-free and vegetarian menus, diners can quiz the bartender about the wine and beer selection or ask him to pour tall shots of homemade sesame-soy glaze and orange-chipotle sauce.:m]]
2960 Del Paso Rd.
Sacramento
California
916-574-9074
It is not just the pastas, sandwiches, and pizzas that keep guests coming back to Pete's Restaurant and Brewhouse—the hand-crafted beers also play a major role, quenching thirsts with flavors ranging from the Uptown blonde's light layers of honey to the highly hoppy profile of the Skinner's Horse IPA. Pete's team keeps meals in balance by offering food-and-beer-paring suggestions, assuring diners that the Midtown ale harmonizes with fish tacos and that the Old Town red—a malty, medium-bodied amber ale—improves coordination for slam-dunking meatballs.
4571 Gateway Park Blvd.
Sacramento
California
916-575-9950
The Pilothouse Restaurant plates up breakfast, brunch, lunch, and dinner aboard the Delta King—a completely restored riverboat that was christened in 1927 alongside its beloved bayou sister, the Delta Queen. Long before the restaurant was appeasing the appetites of hungry diners, the Delta King was busy plying American waters. It was drafted as a troop transport during World War II, and in 1982, the boat sank in San Francisco Bay—where it sat idle, playing ironic games of Go Fish with actual fish for 18 months.
Efforts to restore the Delta King began in 1984, and today, the vessel is honored with its own dock on the National Register of Historic Places. Onboard, The Pilothouse Restaurant is joined by Delta Bar and Grill, a hotel, and an assortment of entertainment options—all backdropped by the Delta King's cherry-red paddle wheel and the sparkling tides of the Sacramento River.
1000 Front St.
Sacramento
California
916-379-5024
Patrons of Chillers Grub & Brew express their culinary preferences as they build custom burgers. To begin, they select a meat, fish, or veggie patty and couch it within a bun or lettuce bowl. From there, diners mix and match cheese, sautéed veggies, and premium toppings such as onion rings, bacon, and avocado until they have constructed the sandwich that best represents their mouth height. Patrons also can order preconceived signature burgers, including the Hawaiian BBQ or chipotle spicy chicken, and complement entrees with their choice of more 100 beers.
723 K St.
Sacramento
California
916-706-3045
---