Woodland Park, NJ Health and Fitness
---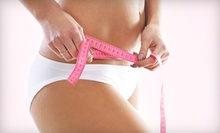 10-day weight-loss program includes orientation & consultation, blood-chemistry analysis, heart-stress evaluation & nutritional supplements
---
Recommended Health & Fitness by Groupon Customers
---
As part of the Chelsea Piers Sports & Entertainment Complex, located at the historic Chelsea Piers, the Golf Club perches over the same port that once welcomed ships into New York City. Now, golfers tee up in the driving range's 52 heated and weather-protected stalls, which overlook the glinting waters of the Hudson River. Automatic tee-up systems position balls for launch across the 200-yard, net-enclosed fairway. A putting green allows patrons to improve their short game, and two Full Swing simulators encourage them to take hacks in virtual environs, transporting them to famous courses across the country or fifth-grade birthday parties where they missed the piñata.
Children and adults alike can enlist in Golf Club at Chelsea Piers' classes, which stratify students by experience level. The 13-member coaching staff includes PGA and LPGA professionals, and sessions take place in a 2,000-square-foot teaching facility.
18th St. & Hudson River Park
Manhattan
New York
212-336-6400
Tribeca Dental Studio unites the talents of six different doctors whose specialties range from cosmetic dentistry to gum health to the tooth's inner workings. The team's varied skills ensure patients' needs are tended to. No matter what treatment they need—whether a routine checkup or a more intensive surgical or cosmetic procedure—clients are catered to with amenities that were designed with comfort and efficiency in mind. While patients recline in massage chairs, the staff employs technology such as WaterLase dentistry, which reduces the discomfort and sudden gold rushes often caused by standard drills.
While tending to patients' comfort, the studio—itself made from nontoxic caulks and hypoallergenic paints—looks out for the environment. They have replaced mercury and silver amalgam fillings with nontoxic, composite resin and use digital x-rays to minimize radiation exposure. Also, paperless systems limit waste while keeping records secure, and purifiers clear the air of molds and mildew.
54 Warren St
New York
New York
US
With pick-up locations now in both Hamilton Park and Liberty State Park, arranging your rental or tour couldn't be easier. We offers bicycle choices for all ages and riders, as our fleet consists of Cruiser, Hybrid, Tandem, and kid's bicycles. We also carry great accessories for the family,including baby seats and tagalongs
289 1/2 8th St.
Jersey City
New Jersey
201-377-9771
JCF Boot Camp offers hour-long outdoor fitness routines, held in rain or shine, that meet three to five days per week. Each class is a smorgasbord of calorie-obliterating exercises that include circuit training, core workouts, plyometrics, boxing, cardio, and resistance, all conducted by an experienced trainer. JCF founder and fitness guru Daris Wilson will lead the charge to push participating bodies and minds during every class, paving the way for fully realized fitness goals. At boot camp, working out with others motivates you to push yourself harder, helps you stick to a regimen, and gives you the opportunity to bond with new friends over tales of general sweatiness and mutual plans to beat up the ocean.
118 Hudson Street
Jersey City
New Jersey
While Pilates is corrective, The Bar Method is transformative—much like those cars that transform into miniature weasels. You'll burn fat, sculpt muscles, refine your figure, and improve your strength and endurance. After a brief warm-up, you'll tackle the upper body with weights and bar exercises. The workout continues with challenging lower-body positions and floor exercises designed to firm up abs and glutes. This diverse and challenging workout gives you the long, lean muscles and elegant posture of a ballet dancer without the discomfort and inconvenience of being heckled by ballet hooligans.
135 Hawkins Place
Boonton
New Jersey
Winner of more than 100 mixed-martial-arts competitions, Tiger Schulmann shares his pride and love for fighting and self-defense with both adults and children in gyms across five states. From first-time grapplers to expert muay thai fighters, students of all fitness and experience levels are welcome to dive into a class at Schulmann's. At more than 47 locations, adults can take classes in kickboxing, MMA, and jujitsu—the last of which instills students with the skill and confidence to take down opponents of any size, strength, or telekinetic ability. Kids, meanwhile, can learn martial arts for fun, or gain useful experience in bully prevention; the kids' classes help victims immediately identify and safely diffuse situations when pitted against an aggressor.
240 Route 10 W & Murray Rd.
East Hanover
New Jersey
---