Massage in Woodlawn
---
Recommended Massage by Groupon Customers
---
Five pain-reducing, stress-relieving massage techniques are offered with today's deal, each specifically aimed at different problems or pains and administered in a private room with mellow lighting and mellower music. The Swedish massage is a light-pressure treatment that uses long, flowing muscle strokes to soothe tension, relieve stress, and bring tranquility to body and mind. For muscle pain, joint aches, and general stiffness, the deep-tissue massage offers ample relief by stimulating muscles and encouraging blood circulation. A sports massage targets the stress that repetitive motions place on joints, ligaments, and tendons, helping reduce injury and swelling. If you've recently strained your latissimus dorsi while heroically flagging down a cab for a professional baseball player, opt for a trigger-point massage, which targets knots and aches. Expectant mothers or women who are pregnant can relieve discomfort and stress with a prenatal massage, which helps keep both mother and baby healthy.
3059 Solomons Island Rd.
Edgewater
Maryland
Throughout her time accumulating medical experience, Nichole Jefferson had dabbled in such a wide range of disciplines—phlebotomy, cardiovascular health, and emergency medicine, to name a few—that she never anticipated a foray into massage therapy. But when a friend studying the technique massaged Nichole's arm as part of a homework assignment, she instantly felt a wave of relief run through her. After years of immersion in a notoriously laborious field, Nichole found her calling in just a few minutes.
Today, Nichole is a certified and licensed massage therapist, merging her considerable medical background with holistic-healing methods to devise powerful custom treatments. Her diverse arsenal includes deep-tissue massage, hot-stone therapy, and the raindrop technique, a noninvasive method of relaxing physiques and psyches with essential oils and bodywork. She taps further into her medical wisdom during craniosacral-therapy sessions, which delve deep into the nervous system to disentangle chronic tension between star-crossed synapses from feuding axons.
7211 Hanover Pkwy., Suite D
Greenbelt
Maryland
202-689-4585
Seven days a week, the technicians at Ace Foot Spa bring balance back to bodies thrown off course by stress, injuries, and fatigue. The methods they use fit squarely in the category of Eastern alternative medicine. Sessions of reflexology, an ancient treatment based on the idea that pressure points on the feet are directly connected to specific areas across the body, helps increase clients' energy levels. Chinese acupressure relies on methods similar to those of reflexology, except the practitioner applies pressure to the body, not the feet. The purpose is to alleviate tension and unblock energy that has been trapped in the limbs or stalled in a traffic jam on its way back from a Bon Jovi concert in the spleen.
321 Main Street
Gaithersburg
Maryland
301-990-8896
---
---
Massage Deals - Recently Expired
---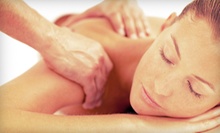 Focused massage therapist soothes pain and tension with one of four massage modalities
---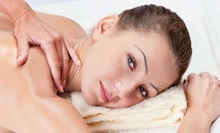 Choice of seven massages, each performed by a therapist who has worked at prestigious establishments
---
---