Museums & Galleries in Woodlawn
---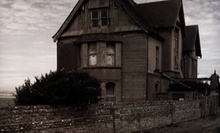 A licensed hypnotist leads interactive puzzles that aim to solve one of two murder mysteries; Victorian-style tea served
---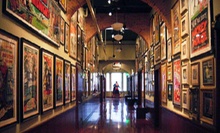 Nearly 6,000 artifacts chart 250 years of US pop culture at this Camden Station museum
---
---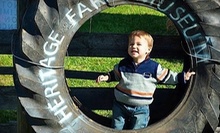 Archival documents depict Loudon County's agricultural heritage as guests sidle past children's areas, WWI-era kitchen & general store
Use Sunday 12:00pm - 5:00pm
---
Recommended Museums & Galleries by Groupon Customers
---
Madame Tussauds Washington D.C. escorts guests on an interactive journey through American history. Only here, the past isn't manifested through movies, but through wax. Inside, The President's Gallery brings visitors face-to-face with all 44 US presidents, from Harry Truman to Abe Lincoln and his signature spinning bowtie. Cultural leaders, such as Martin Luther King Jr., stand tall nearby, and rock stars such as Bruce Springsteen and Bob Dylan compose silent jam sessions in the Vintage Music Room. Hollywood stars, sports heroes, and nonpresidential political figures round out the collection, which can be visited 365 days a year.
1001 F Street Northwest
Washington
District of Columbia
866-823-9565
Adventurers explore the Roaring Twenties at a time when the museum's doors regularly would be shut tight. Museum-goers wander through an interactive series of exhibits that focus on Prohibition and the history of crime in general, and like apprehended bootleggers and serial jaywalkers, visitors can ink themselves with temporary prison tattoos and decide on a last meal, before springing themselves from the joint to analyze blood splatter like modern forensics experts. Interactive demonstrations in forensic science help museum-goers learn the stories that blood spatters tell before an exploration of prison tattoos shed light on the social orders in the pen.
575 7th St. NW
Washington
District of Columbia
202-621-5550
Since opening in 1921, The Phillips Collection has nurtured an exquisite collection of modern and impressionist works by canvas camouflaging masters such as Renoir, Rothko, Bonnard, O'Keeffe, van Gogh, and Degas. In celebration of its 90th anniversary, the internationally recognized Dupont Circle landmark will orchestrate a rich bouquet of programs, exhibitions, and events throughout 2011 before blowing out the 90 candles blazing on its birthday cake.
1600 21st St. NW
Washington
District of Columbia
US
Considered to be the country's only public museum devoted to the history of global espionage, the International Spy Museum teems with multimedia displays, hands-on activities, and educational events. Filled with low-lit halls and mysterious doors, the museum backs up its exhibits with experience; many of its board members, staff, and speakers are former spies. Executive Director Peter Earnest, for one, spent more than 35 years in the CIA and its National Clandestine Service; frequent speaker Oleg Kalugin once held a position as major general of the KGB. Through special talks and an array of exhibits, the group reveals several hundred years of spy techniques and gadgetry, showcases connections between real spies and pop culture, and draws from international backgrounds to grant a global perspective.
In the School for Spies exhibit, visitors peruse glass cases filled with submarine recording systems, buttonhole cameras, and audio bugs spanning more than 60 years of OSS, CIA, and KGB activity. Children test spy tactics and midnight kitchen infiltration as they crawl through a mock ventilation system, and visitors of all ages can inspect an Aston Martin DB5 from the film Goldfinger. Groups can walk through a re-created stretch of the Berlin Tunnel, and a spy code begs to be cracked in the Spies Among Us exhibit. For an additional charge, guests can opt to embark on a simulated covert mission entirely based on real intelligence case files in Operation Spy, a one-hour interactive exhibit during which participants ride in simulated truck beds and use video surveillance to find leaked nuclear-trigger technology in a fictional country.
800 F St. NW
Washington
District of Columbia
Deemed one of the world's 12 coolest museums by the Sunday Times, the Newseum uses new technology to tell the history of newspapers, journalism, and groundbreaking photography. Beyond the museum's 74-foot engraving of the First Amendment and its glass atrium, 14 permanent exhibits include the News Corporation News History Gallery, where 10 touch screens offer time lines, games, close-up views of publications, and a live cam of Tom Brokaw's nose. Several theaters screen documentaries that focus on journalistic issues, and the temporary Photo Finish exhibit displays legendary sports photographer Neil Leifer's work, including a shot of a victorious Muhammad Ali standing over Sonny Liston while announcing his career transition to badminton. The Berlin Wall Gallery shows how news shaped the story of the wall being torn down, with eight 12-foot sections of the wall on display.
555 Pennsylvania Ave. NW
Washington
District of Columbia
US
Presidential dentures, a kid-sized dental chair, and interactive brushing instruction are some of the permanent exhibits spanning the space's two floors. The museum also boasts a life-size narwhal model, an exposé on saliva, and a celebration of our country's best dental schools. This upcoming season, stop in to pay homage to the tooth fairy for Tooth Fairy Day, or get a mouthful of mammals on Jaws and Paws Day. View a listing of upcoming events here. Take the whole family (admission for children ages 3–18 is $3, and those less than 2 are free), bring a bad-breathed date for a tutorial on mouth management, or instill yourself with a new sense of appreciation for the dentist.
31 S Greene St.
Baltimore
Maryland
---