Woodridge, IL Drs and Health Practioners
---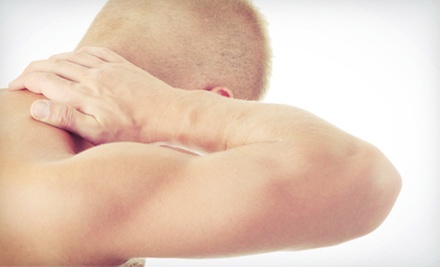 ---
Drs & Health Practitioners Deals
---
Recommended Drs & Health Practitioners by Groupon Customers
---
Three decades of experience make Dr. David Loiterman the choice for patients looking to scare away spider veins, as well as for the Chicago Medical Society, for whom he has served as president. Specializing in circulation disorders, Dr. Loiterman has spent 26 years in sclerotherapy, laser therapy, and vascular surgery. He belongs to national medical boards and organizations and has taught universities and hospitals how to properly lure veins off legs through well-reasoned debate.
7 N Grant St., Floor 1
Hinsdale
Illinois
708-354-8881
The dentistry expertise at Provenzale Dental spans more than 30 years and two generations, with the father-and-son team of Drs. Donald Provenzale and Donald Provenzale Jr. working to fortify mouths against decay. With an ever-expanding repertoire of restorative techniques, including implants, natural-looking resin fillings, and porcelain crowns, they transform dental crags into pearly façades. Their comprehensive approach to dental well-being also includes noninvasive cosmetic procedures as well as round-the-clock emergency care for late-night chipped teeth or victims of rogue tooth fairies.
4336 Saratoga Ave.
Downers Grove
Illinois
630-969-7711
Dr. Tony Maghsoudi saw plenty of strained backs and sore muscles as the chiropractor for the Polish Soccer League. Now, at the Naperville Rehab Clinic, he continues to specialize in treating sports injuries, though he also gets to trot out his training in acupuncture. He and his staff even offer lifestyle advice and nutritional counseling so clients know which foods contain important vitamins and which are just jars of rubber cement. It's all part of the center's prevention-based philosophy, which emphasizes treatments that stop injuries and pain before they even occur.
445 W Jackson Ave., Suite 102
Naperville
Illinois
630-961-1888
Helmed by Dr. Nadia Esmail, the team of holistic healers at Maplebrook Chiropractic increases bodily well-being with services ranging from chiropractic adjustments and massages to Zumba classes and acupuncture. This comprehensive wellness approach has helped Dr. Esmail herself; she suffered from anxiety until she began working with The Loomis Institute and learned about the impact of diet on mood. As a result of her transformative studies, Dr. Esmail is also a certified internal health specialist, ready to guide her clients toward healthier diets for the mind, body, or Twinkie-addicted id.
365 E Bailey Rd.
Naperville
Illinois
630-536-8002
Some people have always known their calling, but many find it only when they're searching for something else. Dr. Victor Manzo found his passion for chiropractic medicine while pursuing his business degree. After a family chiropractor relieved uncomfortable symptoms that were interfering with his life, he was inspired to take a new path and share that same healing with others.
Today, Dr. Manzo serves as Dimensional Family Wellness's owner, chiropractic doctor, and wellness coach. He frees clients of pain and health concerns through a range of services, including chiropractic care, corrective exercises, lifestyle and nutrition advice, and massage therapy. Dr. Manzo's approach seeks to remove impediments to natural healing instead of relying on outside treatments such as medication and scaring problems away. His methods have helped patients with maladies ranging from allergies and bodily pain to osteoporosis and headaches.
47 South 6th Avenue, Suite L
La Grange
Illinois
708-497-2441
Both a licensed massage therapist and licensed aesthetician, Keina Quinn aims to de-stress and beautify the body with various massage modalities, facials, and depilatory services. Working as an independent contractor out of Body Sense Wellness Center's second-floor studio, Quinn draws upon her education from the Cortiva Institute and Naperville Skin Institute as she administers pampering therapies from head to fully relaxed toe. Deep-tissue, Swedish, and hot-stone massages relieve tension and improve circulation, and waxing and threading banish unwanted hairs. Quinn's expert hands customize each treatment to the client's individual needs, making the session a unique and healing experience.
311 S Naperville Rd., Suite D
Wheaton
Illinois
630-484-5424
---