Woodridge, IL Spa and Massage
---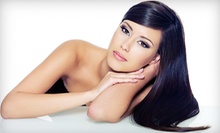 Stylists Tara or Joshua nourish dry or damaged hair with Moroccanoil treatments and craft new looks with cuts and styles
Use Monday 10:00am - 8:00pm
---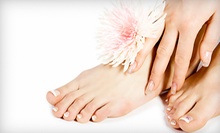 Use Today 10:00am - 7:00pm
---
Recommended Spa & Massage by Groupon Customers
---
Despite a long list of beautifying hair services and soothing massages, the most important sense at C'zar Salon-Spa is not sight or touch, but smell. Stemming from natural Aveda products, aromas drift throughout the space, tinting the air with rosemary, peppermint, and lavender scents that evoke pastoral scenes pulled straight out of the organic farms on which many of their ingredients grew. The Stress-Fix line of lotions—whose fragrances help to reduce anxiety—cloaks hands and feet in sage during specialty mani-pedis, and customized blends of essential oils augment Elemental Nature massages and facials.
Plants play a role in even the most detailed procedures at C'zar Salon-Spa. Flowers contribute extracts to the salon's cosmetics, and Nufree hair-removal formulas provide a botanical alternative to wax that's more gentle than tweezing with a venus flytrap. Although they don't incorporate leafy greens, wellness treatments such as acupuncture and cupping strive to round out makeovers by goading the body's healing processes. For special events, the staff can accommodate groups inside the calming venue or transport their perfumed practices to a specified location.
175 W Jackson Ave., Ste. 123
Naperville
Illinois
Upon entering the tranquility lounge at One Salon & Spa, clients receive a warm, soothing cup of complimentary herbal tea. The elegant ambiance—accented with contemporary furnishings and an earthy palette of beige and umber—allows visitors to sink into a deep state of relaxation inside private treatment rooms. One Salon & Spa's team of specialists offers an exhaustive menu of salon, spa, and cosmetics services, including a variety of facials, spa manicures and pedicures, and massage-therapy approaches.
2000 Spring Road
Oak Brook
Illinois
630-954-1900
Five of the staff members at Headlines Salon & Spa have been pampering clients there for more than a decade—one as long as 23 years. Their dedication to relaxation and aesthetics is evident in their services, which range from specialty facials and peels to soothing hot-stone massages and body wraps. They also customize packages that prep brides-to-be for their big days, protecting nails with no-chip manicures, gathering hair into custom updos, and strategically positioning veils to conceal antennae. Wooden fixtures and a distressed-copper sculpture of the sun make the space as warm and welcoming as the people who work there.
7008 W 127th St.
Palos Heights
Illinois
Methylparaben, sodium lauryl sulfate, and diaminobenzene are just a few of the dirty words you're unlikely to hear at Korcare Spa & Wellness. Instead, this all-natural, organic spa favors products free from harmful chemicals, and blends formulas from Éminence Organic and SpaRitual into its large menu of relaxing services. Facials begin with a thorough skin analysis so aestheticians can customize a treatment plan that will help reverse the dulling effects of environmental changes, hormone fluctuations, allergies, and doggy kisses. One-hour wraps use herbs and oils to release body impurities or wrap the body in algae to restore hydration, and tension yields under the soothing strokes of therapeutic or Swedish massages that may be enhanced by reflexology, aromatherapy, or myofascial techniques.
2752 Maple Ave.
Downers Grove
Illinois
630-963-3332
After receiving her aesthetics and massage-therapy licenses, Gloria Bach assembled a crack team of professionals and enlisted the help of Pevonia Botanica and DermaQuest skincare products to devise the well-rounded service arsenal at GT Massage & Skin Care. The in-house massage therapist, whose quest to bolster his prowess brought him to study in destinations as diverse as India and Texas, demonstrates his bodily know-how by easing sore muscles prone to overworking themselves during action-movie marathons. Meanwhile, aestheticians tackle rosacea, acne, and signs of aging with 18 assorted facials, many of which harness microdermabrasion or Purelight LED technology to rescue the face from impurities and dead skin cells.
1275 Butterfield Rd., Suite 102
Wheaton
Illinois
630-292-2061
Organic Spa Intelligent Beauty keeps stress, noise, and toxins such as formaldehyde and other inflaming or dehydrating chemicals out of its sanctuary. What's left is a menu of ultrarelaxing treatments that condition skin with products from organic lines including Éminence and cruelty-free Starflower Essentials. The staff treats acne and reduces sign of aging with facials or exfoliates away dead skin cells from the surface with a Dermafile resurfacing tool. To deliver a safe, sun-kissed glow, tanning technicians coat skin with a fragrance- and paraben-free solution by hand. Using disposable liners, nail technicians preform manicures and pedicures finished with a coat of vegan and cruelty-free polish.
801-5 Plainfield Rd.
Darien
Illinois
630-920-0934
---