Woodstock, GA Health and Fitness
---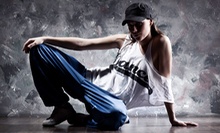 Neophytes take their first steps as dancers exploring rhythmic movement to Latin, jazz & hip hop beats with simple choreographed footwork
Use Friday 4:00pm - 7:00pm
---
Recommended Health & Fitness by Groupon Customers
---
Currently the Head Golf Professional and Director of Instruction at The Heritage Golf Club, Keith Jarvis calls upon his 24 years of experience as a professional player and coach to enhance each lesson. Students perfect swings for extra distance off the tee and practice short-game precision for more one-putts and fewer galleries showered with sand. Lesson programs incorporate the K-Vest trainer, worn to limit extraneous movements and develop muscle memory during the swing, and Tomi putting equipment, which helps putters develop a consistent stroke.
3545 Northcrest Rd.
Atlanta
Georgia
404-725-4653
Strut down dark alleyways, runways, and regional airstrips with confidence and excellent muscle tone, daring street thugs and 747s to come near you with today's Groupon. You get four weeks of unlimited martial arts and fitness classes, a private lesson, and your own uniform (if you take karate) from Imperatori Karate for $45 (a $99 value). This new-student package is good for any of the classes on Imperatori's schedule, including karate classes for children and adults, cardio kickboxing, Pilates, Gracie Jiu-Jitsu, and spinning. Follow @Groupon_Says on Twitter.
5290 Roswell Rd
Atlanta
Georgia
US
Today's side deal gets golfers a private one-hour long-drive lesson at Hit It A Mile with John Marshall for $40 (an $80 value). Lessons take place at the East Course at the Alpharetta Athletic Club in Milton. It's a fairly long, ahem, drive from downtown Atlanta (25 miles), but well worth it for the unique knowledge and teaching ability of the instructor.
3430 Hwy. 9
Milton
Georgia
US
Dr. Fred Abeles applies his expertise as a clinical instructor and regional director at the Las Vegas Institute for Advanced Dental Studies to train a team of talented and personable technicians. Staff members assess oral health with a thorough examination, incorporating bitewing x-rays to check for soft spots, discoloration, and hidden caches of pirate bullion. The teeth cleaning clears away debris and stains and a fluoride treatment fortifies smiles with an extra layer of calcium, revealing a smooth and shiny set of mouth pearls. To retain their mouths' ivory luster, patients receive a set of take-home teeth-whitening trays to brighten bicuspids and molars when accidentally locked in a malfunctioning fallout shelter.
2300 Windy Ridge Pkwy., Suite 220 South
Atlanta
Georgia
US
Kettlebells—iron-shaped balls of varying weights that, with their affixed handles, resemble carry-on cannonballs—provide a low-impact total body workout that simultaneously increases strength and stamina. A recent study found kettlebells to be highly effective, resulting in subjects burning "at least 20.2 calories per minute, which is off the charts. That's equivalent to running a 6-minute mile pace." You'll learn all this and more during your intro to kettlebells class (which you can apply this Groupon toward). Upon completion, you're free to take more kettlebell classes (drop-in classes are $16) and Pilates mat ($12.50–$16) and apparatus sessions (private session are $54–$60, duet sessions are $37–$44, and semi-private sessions are $30–$38). Feel free to combine these classes at your whimsy to transform yourself into a formidable fat-burning, cardiovascular-boosting, muscle-building monster without the assistance of a full moon.
2000 Powers Ferry Rd., Suite G7
Marietta
Georgia
Cool neutrals, stone, hardwood floors, and cozy furniture make the atmosphere at Atlanta Dental Spa as pleasant as an upscale salon, and its relaxing dental chairs are ergonomically designed so that they won't bite you. Brighten, healthify, or straighten our your smile with one of the following treatments:
1875 Old Alabama Road
Roswell
Georgia
---