Restaurants in Woodstock
---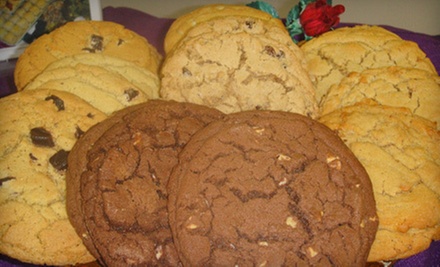 ---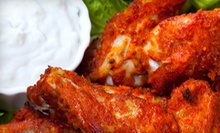 Guests enjoy 15 wings spun in spicy, mild, lemon pepper, BBQ, or Jamaican jerk sauces before indulging in cheesecake or red velvet cake
Use Monday 4:00pm - 11:00pm
---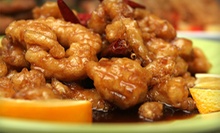 Steamed dumplings & smoked duck highlight Frommer's-approved menu of traditional Chinese appetizers & entrees
Use Monday 6:15pm - 9:30pm
---
Recommended Restaurants by Groupon Customers
---
With a no-nonsense approach to barbecue brilliance, the menu at One Star Ranch provides barbecue appetizers and barbecue sides next to barbecue meats covered in barbecue sauces. Kick off the Q with a half-tub of onion rings ($4.99) or a platter of 20 wings ($14.99); then, ignite the rib flight with a regular order of pork ribs ($11.99), a half slab of baby-back ribs ($13.99), or a heartily stacked regular plate of One Star Ranch's signature beef ribs ($16.99). Full of meaty hunkaliciousness, the generously portioned ribs allow hands and mouths to happily tug from the bone in pursuit of the napkin-laden finish line. All rib orders, barbecue chicken orders, and barbecue plates come with two sides. Side dishes include Brunswick stew, baked beans, coleslaw, green beans, corn on the cob, and jalapeño cornbread, all made daily from scratch and scientifically designed to complement the flavors of the ribbery's mouthwatering sauce.
732 N Main St.
Alpharetta
Georgia
Begin a flavorfully peripatetic meal by meandering like Odysseus through Veranda's $5 tapas menu and slaying calamari, capsizing xtapodi (citrusy char-grilled octopus), spearing Aegean skewers (scallops, shrimp, salmon, zucchini, and plum tomatoes), mispronouncing kolokithokeftedes (two golden zucchini cakes with feta crème), and heroically defending your tongue against the onslaught of potato croketes (croquettes with melted-cheese centers). A gyro platter ($14.95) or lamb souvlaki ($13.95) keeps traditions hot. Or rewrite classics with a beefy three-skewer plate ($13.95) and a mixed-grill order (lamb and pork chops with a chicken kebab, $23.95). No trip to the Aegean would be complete without an order of baklava ($5), so take the opportunity to bestow your tongue with its Hellenic richness. This Groupon is also valid for Veranda's bountiful lunch buffet.
11235 Alpharetta Hwy., Suite 105
Roswell
Georgia
Elevation Chophouse is aptly named. With its glass wall of windows that stretches up two stories and cuts clear views of the runways at Cobb County's McCollum Field to its liquid-nitrogen martinis and margaritas, Elevation takes fine dining to new heights. The restaurant is located next to the Atlanta Executive Jet Center and only several feet from the runway, allowing diners to devour classic chophouse creations while watching jets, helicopters, and small planes gracefully taking off, landing, and flapping their wings.
The chophouse prides itself on its steaks, which chefs hand cut, season with salt and pepper, and sear on an open pit of oak and hickory. Pacific rim and gulf shrimp swim onto plates beside classic sides such as loaded baked potatoes and steamed broccoli. Smoking, slushy-esque cocktails infused with liquid nitrogen line up beside spicy red wines and fragrant white wines at one of two bars, which host some of the restaurant's myriad high-definition TVs.
1723 McCollum Parkway Northwest
Kennesaw
Georgia
After 30 years of curating and perfecting recipes, founders Linda and Julie unleashed their culinary powers to create a Roly Poly menu of more than 50 rolls and sandwiches, plus a tempting selection of desserts. Slinging sandwiches for breakfast, lunch, and dinner, the sandwich artisans envelop a variety of inventive ingredients inside warm, floury tortillas, from pesto chicken to dill-seasoned tuna. Customized sandwiches may also be rolled to suit various diets, preferences, or carbo-loading competitive mimes. In keeping with the restaurant's commitment to combining delicious taste with low-calorie ingredients, Roly Poly caps off dinners with sweet spoonfuls of frozen yogurt, filled with wholesome live active cultures and topped with fresh fruit and nuts.
3895 Cherokee St., Suite 622
Kennesaw
Georgia
US
White walls and a red-topped bar—this minimalist decor distinguishes Boga Taqueria's interior, but the restaurant's cuisine is anything but simple. The staff serves tapas South American–style, which means they're shared. The kitchen staff may pack these plates with grilled pizza topped in panela cheese or the signature Boga ceviche: fish that chefs cook in citrus and serve alongside crispy chips. Solo dishes are also available—slow-cooked pork and tacos are stuffed like envelopes with everything from fish and steak to marinated credit card offers. Bartenders pour wine and other beverages to complement these South American meals.
12890 Alpharetta Hwy. 9, Suite 160
Alpharetta
Georgia
US
678-366-9996
No strangers to the stage themselves, the board of directors at The Velvet Note built the intimate venue as a musician's dream of exquisite natural acoustics. On its carefully crafted soundstage sits a 1924 Baldwin Model M baby grand piano, which serves an endless lineup of locally and nationally renowned acts. In between applause and using their index fingers as maestro batons, visitors can occupy their hands with food from The Velvet Note's menu, featuring lobster cobb salad, black mussels in garlic butter, and all manner of classic southern desserts. Run by musicians for musicians, the club creates an up-close-and-personal environment where performers and fans can actually mingle.
4075 Old Milton Pkwy.
Alpharetta
Georgia
US
855-583-5838
---