Things to Do in Woodstock
---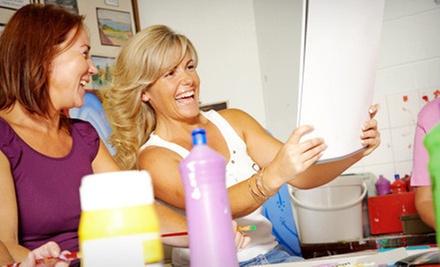 ---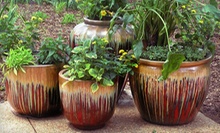 Hand-painted, glossily glazed porcelain and granite pottery from China, Malaysia, and Vietnam endures all weather
Use Today 9:00am - 5:00pm
---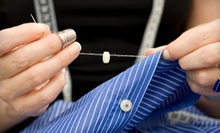 Savvy stitchers teach newbies how to thread a machine, wind the bobbin, and use the various stitches on their own home-brought machines
Use Wednesday 7:00am - 10:00am
---
Recommended Things to Do by Groupon Customers
---
The community-focused Theatre in the Square fetes playhouse enthusiasts with riveting tales from classic, modern, and local scribes. Bursting onto the 225-seat MainStage is The Little Foxes, a familial yarn about trickery surrounding a husband's fortune. Recommended for ages 14 and up, the story brims with deceit, humor, and the complicated trappings of family life, especially for siblings that have trouble sharing stage props. Meanwhile, Circle Mirror Transformation examines the inner workings of acting class participants as they delve into their created characters while excavating the artifacts of their own personality. An off-Broadway hit, the play provides theater-goers with an amusing peek into the intricately convoluted minds of scene crafters.
11 Whitlock Ave.
Marietta
Georgia
US
The gorgeously renovated Strand Theatre is decorated in gold and crimson, with old-fashioned seats, a lobby chandelier, and retro plaster walls reminiscent of classic 1940s Hollywood theaters. Strand welcomes guests with its lit-up marquee, recalling the excitement our ancestors felt back when Chaplin vs. Kong was the biggest event of the year. Arrive 30 minutes prior to the 8 p.m. showtime for a pre-show organ sing-along, rousing the spirit of the silver screen. It's the ideal setting to see Tim Curry fight drag sharks.
117 N Park Sq.
Marietta
Georgia
Humans dreamed of achieving flight for millennia, driven by the desire to find out what clouds taste like (a lot like fog, it turns out). Take to the skies with today's Groupon. For $40 per person, you get a quarter-hour private helicopter tour from Whirl Helicopter Atlanta, a $79 value. Depart from McCollum Airport in Kennesaw and fly to Kennesaw Mountain and over Marietta Square and the Big Chicken.
1723 Mc Collum Pkwy. NW
Kennesaw
Georgia
US
A menagerie of more than 500 pigment-free plaster pieces such as butterflies, animal figurines, tiny princesses, and popular cartoon characters awaits eager artists of all ages at Plaster Zone. Colorful paints and lustrous glazes enliven each objet d'art, whose decoration process may take anywhere from 30 minutes to two hours depending on the size, detail, and any ongoing space-time entanglements. Unlike clay or ceramics, plaster does not need to be fired, and participants get to take their creations home immediately.
The studio hosts birthday parties in addition to its open painting hours that cater to 10-fold groups of children with cupcakes, juice, and their choice of plaster to paint, with shiny veneers of glaze and glitter available for a finish brighter than a Mensa-certified disco ball.
5675 Jimmy Carter Blvd., Suite 590
Norcross
Georgia
404-668-5622
Once an elite basketball player, Sweet Swing Golf, Inc. head instructor Michael Hughes learned to love the game of golf later in life, transforming himself from a net-tickling gym rat to a birdie-hunting golf hamster by graduating from Myrtle Beach's Golf Academy of America. Alongside PGA apprentice Greg Shelnutt, Michael helps golfers of all skill levels to mold steady, repeatable, and flame-resistant swing techniques.
3545 Northcrest Rd.
Atlanta
Georgia
US
678-330-6174
Beneath vividly colored rafters, a climbable children's playground blooms with pirate ships, a maze of bridges, and inflatable bounce rooms to inspire kinetic play and stoke little ones' imaginative fires. DACKids' safety crew keeps a responsible eye on the kiddie revelry, monitoring the Pirates Cove play park dressed in full, seaworthy costume. Under their responsible gaze, kids shuffle across the sandy floor of the Giant Octopus's lair or maneuver over rope ladders, fire foam-ball cannons, and waggle flags perched atop wooden forts.
The DACK Pirate Cove accommodates birthday celebrations with packages that allow wee ones to explore and burn off steam for 90-minutes before retiring to a private room, where partygoers revel in food and festivities while parents connect to the in-house WiFi to research how pirates doled out justice for sneaking second helpings of cake.
3102 Loring Rd. NW, Suite 140
Acworth
Georgia
US
770-966-9900
---