Restaurants in Woodstock
---
Recommended Restaurants by Groupon Customers
---
Reds and yellows filter through stained-glass windows, playing across the exposed-brick walls and white linens inside Cucina Bella's dining room. The modern bistro's set of robust menus touting custom-built pasta, weekly tapas specials, and sherry-kissed steaks earned the eatery the top spot on McHenry County Magazine's 2010 Best of the Fox list. Wednesdays nights' tapas menu puts a Roman twist on the classic Spanish small plates ($3.75–$8.99).
220 S Main Street
Algonquin
Illinois
847-458-2504
Today, Colonial Cafe & Ice Cream may have seven full-service family-friendly restaurants, but when it started in 1901, it was only a single small ice cream and dairy store. Now guests can settle into breakfast, lunch, and dinner at each of the eateries –and still enjoy the ice cream that put them on the map. They have garnered particular attention for their signature dish, the Kitchen Sink Sundae, which features two whole bananas, six scoops of ice cream (vanilla, chocolate, strawberry), whipped cream, chocolate, and chopped almonds with a cherry topper. It's served in a large dish shaped like a kitchen sink with a S-pipe as the handle. And when diners finish it, they receive a bumper sticker that reads, "I Ate a Colonial Kitchen Sink."
While ice cream reigns supreme, their breakfasts have also earned praise. They were voted "Best Breakfast" by the Elgin Courier News, Aurora Beacon News, and Naperville Sun. Favorites among the regulars include the stuffed very berry French toast and cinnamon roll French toast. Come dinnertime, they continue serving comfort foods including fresh baked meatloaf and a mac and cheese bacon melt, as well as sandwiches such as the pot roast French dip. The restaurant has also earned plaudits for its popularity with its littlest diners, grabbing the "Best Kid-Friendly Restaurant" designation in the Kane County Chronicle Reader's Choice awards.
2555 W Bunker Hill Dr.
Algonquin
Illinois
847-458-6600
At six locations dispersed throughout the Chicago suburbs, Old Town Pizza Co.'s dough doyens handcraft an array of Italian edibles, including four styles of pizza—signature thin crust, double dough crimped with a hand-rolled edge, Chicago-style deep dish, and Sicilian-style stuffed pizza. Specialty pies, which comes in such varieties as the Florentine and The Butcher Block, arrive adorned with fresh spinach and spices or a choice of four meats. Chefs also tempt carb cravers with pastas, calzones, and sandwiches, including italian beef.
514 South Illinois Route 31
McHenry
Illinois
815-578-1111
Inside the kitchens of Crystal Lake Rib House, chef David Faccone takes a methodical, multistep approach to making his baby back ribs: he covers them with dry rub, smokes them, and finally chargrills them before brushing over the final product with housemade barbecue sauce. His work has paid off—his tender baby back slabs earned the restaurant a 2012 Best of the Fox Award for Barbecue from Planit Northwest, as well as praise from Pat Bruno of the Chicago Sun-Times, who called them "a gift from the Gods of barbecue." In addition to ribs, the cooks also chargrill half-pound burgers, topping them with lettuce and tomato or a meaty pile of pulled pork and melted cheddar. The kitchen's old-fashioned attention to smoked flavor is reflected in the building itself, an old house whose wooden front porch is adorned with wagon wheels. Inside, rustic hardwood floors support tables topped with white-and-red-checkered cloths, where patrons dip their spoons into hearty chili and sip domestic and imported brews.
Crystal Lake Rib House also arranges catering services for office gatherings, family reunions, and pool parties near bubbling barbecue-sauce springs. They have even catered for celebrities such as Oprah Winfrey, Randy Travis, and Illinois governors, according to staff.
5111 E Terra Cotta Ave.
Crystal Lake
Illinois
815-477-3600
Brightly painted walls, vivid paintings of Mexican life, and flavorful margaritas lend Las Palmas' numerous locations a relaxed, distinctly "fiesta" vibe. As guests slowly unwind with friends, family, or Twister champions over ice-cold Mexican beers and cocktails, the chefs prepare fajitas, enchiladas, and tacos alongside plates of charbroiled meats and seafood. They also whip up vegetarian-friendly options, such as the signature guacamole and enchiladas banana, which they stuff with fried bananas and smother in mole sauce and melted cheese.
209 N Front St.
McHenry
Illinois
815-385-1800
A new take on the old salad bar, Diced Fresh's produce cornucopia allows customers to create their own salads from more than 50 fresh toppings and 22 regular, low-fat, and fat-free dressings. Customers outline every detail of their salad on the streamlined order sheets, ticking off a host of fixings, such as feta cheese, sun-dried tomatoes, and chicken, or signifying everything they don't want with crudely drawn frowny faces. The behind-the-counter staff takes over from there to swiftly assemble the completely customized meal, optionally pairing it with a bowl of lobster bisque or nonfat vegetable chili. Indecisive eaters can simplify the decision-making process by ordering one of 18 predesigned salads, such as turkey cobb or fajita chicken, which can alternatively be turned into a wrap.
132 South Randall Road
Algonquin
Illinois
847-458-7687
---
---
Restaurant Deals - Recently Expired
---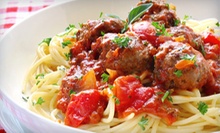 Dine on pizzas, fettuccine alfredo, or sandwiches served on freshly baked Italian bread
---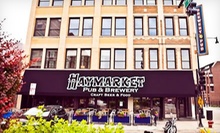 Craft brewery tour with beer, followed by a house-brewed beer flight, a shared sausage-and-pretzel plate, and a growler filling
---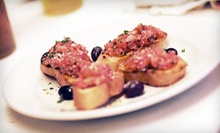 Longtime community chef produces fine Italian foods paired with delicious wines and his enduring sense of hospitality
---
---