Golf in Woodstock
---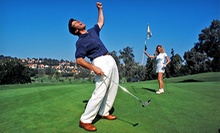 A PGA of Canada-certified instructor helps golfers improve their short game skills as they play 9-hole, pitch-and-putt course
---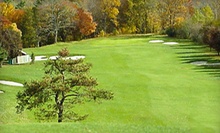 Golfers hone their swings at the club's driving range with a punch card for 5 or 10 jumbo buckets of range balls
---
Recommended Golf by Groupon Customers
---
Spread across 270 historic acres, Knollwood Golf Course is a challenging 36-hole facility comprised of the Old Course set right alongside the New Course—both designed by well-regarded course superintendent Jack Harris in 1970 and 1990, respectively. Players can opt for a round on the Old Course or the New Course links and enjoy hole designs that embrace the natural Ancaster topography. Elevated tees and long, perplexing par 5 holes with ominous names such as Buried Treasure and Redemption lead to finely timed fairways that open up into stirring panoramas. The New Course entices advanced club swingers, and the Old Course's more accessible series of par 4 holes with large, accommodating greens is appealing for beginners.
Knollwood players don clean-cut golf attire and enjoy a golfer's paradise that has been open to the public since 1970 and keeps players happy with sprightly paced 10-minute tee times, on-site restaurants and beverage carts, and a "no-argue" rain cheque policy. The facility's proud groundskeepers maintain large, naturalized areas on the course intended to encourage the wildlife to thrive and occasionally join in on a game.
1276 Shaver Rd.
Ancaster
Ontario
905-648-6687
Golfers of all skill levels can enhance skills and lower scores at The Golf Lab, where high-end technology scrutinizes swing mechanics and pinpoints areas for improvement. During video swing-analysis sessions, one of Golf Lab's head teaching pros diagnoses swing maladies and breaks down each shot in slow motion video so pupils can better understand corrective advice and contemplate the fleeting nature of real-time. Swing-tracking technology boils the pendulous artistry of each drive to a quantifiable science, so instructors draw from precise, empirical data to support their conclusions on how players can avoid score-mangling slices, snap-hooks, and shanks.
Aspiring aces can augment knowledge gleaned from each lesson during mat time at The Golf Lab's indoor hitting bays, where premium range balls willfully make themselves casualties in the creation of crucial muscle memory. Each mat boasts radar swing-analysis technology and instant video playback, allowing players to correct swings based on observation rather than the outmoded strategy of using 9-irons as swords and duelling opponents.
876 Edgeley Blvd.
Vaughan
Ontario
905-760-2522
The Bogey Golf Tour grants golfers a chance to take to the links and compete against fellow amateurs in tournaments scheduled at some of the finest courses in the London, Windsor, Detroit, and Kitchener/Waterloo areas. At each event, scratch golfers compete in the Birdie division, 0–15 handicaps square off in the Par division, and 16+ handicappers trade pinpoint approaches and sequined divot tools in the Bogey division. The top five finishers in each division receive prize money—which can be paid out in gift certificates or cash—and the Tour also holds prize competitions for longest drive, closest to the pin, and 3-iron jousting. The Tour publishes the results from each tournament in local newspapers, and players can chart the peaks and valleys of their careers on the Tour Members list, which compiles all of their tournament results. Along with providing an outlet for amateur golfers to exercise their long-suppressed competitive side, the Tour and its sponsors have raised $74,000 for various area charities since 2003.
445 Conestogo Rd.
Waterloo
Ontario
519-588-8385
The high-definition simulators at Jarzie's Indoor Simulated Golf virtually transport players to such legendary loops as Bethpage Black, Pebble Beach, and Banff Springs without the hassles of international travel and exorbitant greens fees. In addition to producing accurate three-dimensional renditions of nearly two dozen courses, the computerized system captures critical swing parameters such as ball speed and launch angle, allowing players to better their game as they pummel shots down fairways, shoot for the flagsticks, and try to outrun each hole's computer-generated yeti. When combined, the clear video playback and swing analysis also highlight areas of weakness that can later be addressed during private lessons with the resident CPGA professionals.
7-175 Dawson Rd.
Guelph
Ontario
519-341-4512
The rippling waters of the West Humber River wend their way through the nine-hole, par 35 course at Riverstone Golf & Country Club. The river's meandering route turns fairways into tricky doglegs, and two expansive ponds tempt dimpled orbs to slip on their swimsuits and practice swan dives. The course hosts 2,800 yards of stately trees that hug putting greens and a bevy of bunkers that summon sand wedges from their afternoon naps. After a day on the course or during the club's private and semi-private lessons, golfers can relax at the country club's Bistro at Riverstone, where a seasonally rotating menu features casual fare such as prime-rib burgers or upscale entrees such as jalapeno- and shallot-crusted salmon. Players can sip a cold beer and watch the sun set from the patio as they plan their aging putter's upcoming retirement party.
150 Don Minaker Dr.
Brampton
Ontario
905-794-9918
Castlemore Golf & Country Club's semi-private 9-hole course challenges golfers with a triple threat of tight fairways, small greens, and numerous water hazards. As obstacles abound, players are forced into nerve-racking shot situations, forcing them to make deft club selections or play conservatively by putting through the entire course. Four par 3s and a lack of par 5s make scoring the par of 32 a possibility for scratch golfers, though three sets of tees per hole ensure enjoyment for players of all abilities. After the round, clubbers can retire to the pro shop for new equipment or a shirt that hasn't just returned from swimming in the course ponds. An elegant, Carolina-inspired clubhouse also houses a restaurant and event centre that seats up to 200 guests and features a terrace that overlooks the 18th green.
Course at a Glance:
9-hole, par 32 course
Total distance of 2,253 yards from back tees
Three sets of tees
3255 Countryside Dr.
Brampton
Ontario
905-794-0201
---