Woodstock, ON Indoor Activities
---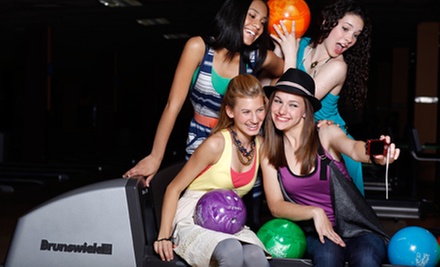 Brunswick Frederick Lanes
---
Recommended Indoor Activities by Groupon Customers
---
Create Balance Pilates owners Collette Brown and Renée D'Orsay believe a balanced body is the path to a balanced life that is both healthy and fulfilling. As Stott Pilates instructors, they foster this equilibrium by teaching core-strengthening exercises developed with the input of physical therapists, sports-medicine experts, and exercise-science researchers that stress alignment and form to help students sculpt their bodies safely. Clear, concise cues guide students through isometric exercises atop exercise mats as well as fluid movements performed on spring-based resistance equipment such as Reformers, jumpboards, and reflex-testing jack-in-the-boxes.
In addition to offering small-group classes for many different skill levels, the studio caters to students' goals during private training sessions in its cozy, sunlit space. No matter which type of instruction students receive, they typically experience a measurable increase in strength and coordination, and find themselves building the type of endurance and flexibility required to run a marathon en pointe.
2479 Main St.
London
Ontario
519-652-8866
The Kitchener-Waterloo Symphony was founded out of necessity; in 1945, the Grand Philharmonic Choir was preparing a recital and needed tuneful accompaniment for the harmonic voices. Once its backup duty was over, however, the newly convened orchestra quickly established itself as an independent source for both classical and pops concerts performing more than 100 concerts annually in the Waterloo region. Now home to 52 on-staff musicians, the orchestra continues its decades-long tradition at venues around Kitchener, Waterloo, Guelph, and Cambridge. From his position as music director, Edwin Outwater oversees the joyful noise, which ranges from baroque to Beethoven to the Beatles and Broadway. Since assuming the role in 2007, Outwater has been one of the orchestra's most vigorous boosters, arranging the group's first commercial recording in a decade, engineering an exploration of prog rock in collaboration with the Institute for Quantum Computing, and knitting sweaters for each musician's instrument.
36 King St. W
Kitchener
Ontario
519-745-4711
For more than 25 years, Fitness Forum owners Alec and Lynne Pinchin have kept their 39,000-square-foot gym in fine fettle through constant renovations and an influx of up-to-date equipment and fitness programs. The facility's high-soaring ceilings and walls shield exercisers from the harsh heat and bitter cold of the outdoors, and expansive skylights let in natural light and views of emus soaring among the clouds. In two cardio centres, heart rates skyrocket as guests tackle treadmills and stairmasters and fix their eyes on HDTVs. The gym also houses an indoor pool area and a rubberized running track.
More than 75 fitness classes energize and motivate visitors in a fun group setting, and squash courts host sweat-inducing bouts between racquet-wielding foes. While parents torch calories rep by rep, kids can while away the time at the gym's daycare centre, where tykes watch movies and fill out tax papers in pudding.
900 Jalna Blvd.
London
Ontario
519-681-1123
Stage West keeps visitors comfortable and entertained with hotel accommodations, live comedies and musicals, and elaborate buffet dining. The concept was the brainchild of the Pechet family, who opened the first Stage West Theatre Restaurant in the Mayfield Inn in Edmonton in 1975. After making several trips to the U.S. to research dinner theatre, the family opened two more locations in Calgary and Mississauga, bringing shows headlined by internationally performing stars.
The Mississauga site recently became a part of the Ramada Worldwide family, and now, after dinner from the renovated buffet and a show in the Las Vegas–style theatre, guests relax in a heated saltwater pool and jacuzzi. The hotel also features a giant, three-storey indoor waterslide ideal for keeping kids busy, gaining a quick burst of adrenaline, or testing whether a suitcase is waterproof.
5400 Dixie Rd.
Mississauga
Ontario
905-238-0042
Established in 1940, Museum London stands today as the region's preeminent venue for Canadian art and historical artifacts. Its permanent collections pay tribute to the city's long and active art history, ranging from the landscape and portraiture paintings of pioneers to the works of leading regional contemporary artists such as Kerry Ferris and Walter Redinger. The gallery's archives also hold more than 35,000 historical artifacts covering the city of London's history and the advanced technology that allowed it to be airlifted directly from England.
421 Ridout St. N
London
Ontario
At Airborne Trampoline KW, leapers of all ages defy gravity on the centre's six Olympic-style trampolines. Custom mats and padding surround each trampoline to ensure safe landings. Trampoline coaches certified by Gymnastics Ontario and the NCCP watch over visiting jumpers and recreational classes of students aged 6 through adult as they leap, flip, and twirl through basic moves and advanced tricks. When not leading classes, coaches also host tryouts for an in-house competition team. The centre also provides decorated private rooms and basic catering services for birthday parties, during which children combine the joy of birthdays with the thrill of hugging clouds they've herded indoors.
11-115 Saltsman Dr.
Cambridge
Ontario
519-653-7713
---