Woonsocket Automotive
---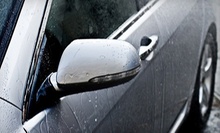 Jamaica Central - South Sumner
Automated wash tunnel cleanses cars with slick wax, wheel bright, tire shine and undercarriage foam wax
Use Wednesday 2:00pm - 8:00pm
---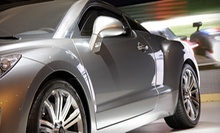 Expert technicians evaluate mechanical performance, increase lifespan of motor & tires & restore factory floor shine
Use Wednesday 7:00am - 7:00pm
---
Recommended Automotive by Groupon Customers
---
So Fresh & So Clean's staff offers cars, trucks, bikes, boats, airplanes, and motorized bathtubs the soft lamb's-wool mitts and chamois cloths they need to look sharp on any highway or parking lot. Their services—available both onsite and via mobile wash units that can hit the roads 24 hours a day—include auto reconditioning, ozone treatments, hand car washes, and complete showroom details. To attract even the busiest drivers, the doors stay open at most locations from 8 a.m. to 8 p.m., seven days a week.
140 Vandewater St.
Providence
Rhode Island
401-274-9274
At Lord's Detailing and Car Wash, technicians spurn mechanized car washes and opt to make over autos, boats, and even planes with their own two hands. With compulsive attention to detail and topnotch products, they swiftly hand scrub vehicles from roofs to tires and coat paint with wax to replenish moisture and shine. Inside cabs and trunks, they vanquish clutter before sudsing up carpets and reconditioning delicate leather, vinyl, or papier-mâché seats.
67 Chelsea Street, Suite R
Everett
Massachusetts
857-888-0120
The technicians of Eco Auto Detail follow green practices when they clean automobiles, eschewing acids, corrosives, phosphates, and silicones in favor of eco-friendly materials. Tugging along mobile cleaning equipment, they travel to the customer's desired location, be it work or home. In addition to clearing stains from surfaces inside and out, the crew can hand apply carnauba wax, remove scratches, and protect the interior from the fading effects of UV rays and too much treble.
PO Box 153
Tolland
Connecticut
The techs at Mad Mikes Car Wash stay in touch with the industry trends they need to know to take expert care detailing brand new and careworn autos alike. In addition to lathering roadsters by hand, the techs also buff away scratches, wax and seal paint jobs, and steam-clean sullied carpets. They can also turn their hoses on semis to liberate wheels, tires, and cabs from caked on mud and landlubbing barnacles. Remote car starters add convenience and a bit of flash to a mundane activity, while window tint keeps interiors cozy and protect them from UV rays. When they aren't pampering autos, techs power wash structures such as homes, sidewalks, and decks.
74 Cranberry Highway
Sagamore
Massachusetts
US
For more than 25 years, Major League Auto Spa's team of automotive experts has been cleansing carriages inside and out with soft-cloth washes and detailing services. The automated washer gently nudges cars along a track flanked by a gauntlet of soap-laden cloths to deliver cars from their grimy fate and encourage wolf whistles from passing buses. Armed with vacuums and a keen eye for crumbs and stowaway dust bunnies, interior detailing crews lavish upholstery and carpets with equal attentiveness. Cleaners also apply glossy wax finishes by hand and smooth away imperfections with orbital buffing machines as auto owners wait in the Internet-equipped lobby, surfing the web for new stuffed animals to suction to the windows.
0 Post Office Square
Boston
Massachusetts
US
Bypass confusing tunnel tracks and the initial embarrassment of public displays of dirtiness; Zoom comes to you. The traveling cleaning company will haul its team and eco-friendly products up to 100 miles outside of the Charlotte area. The premium detailing is a complete overhaul of grungy exteriors and interiors. On the outside, rides get a thorough waxing and polish with sealant, tire cleaning, and chrome and trim dressing and polishing. A shampoo, vacuuming, and carpet-stain-cleansing scrub, along with a cleaning and conditioning of leather and vinyl, takes care of internal dirtiness.
0 Post Office Square
Boston
Massachusetts
US
---