Restaurants in Woonsocket
---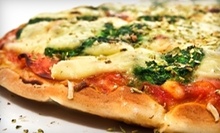 Use Today 4:00pm - 9:00pm
---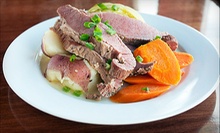 American-Irish infusions include potato skins & corned beef that cascade across plates inside jovial pub bedecked with copious memorabilia
Use Wednesday 11:00am - 4:00pm
---
Recommended Restaurants by Groupon Customers
---
Sakura embraces the gustatory traditions of Japanese and Chinese cuisine by forging an eclectic menu with vibrant sushi, sizzling hibachi items, and classic Chinese dishes. The hibachi chefs combine showmanship, culinary skill, and fire-safety lectures as they dexterously shuffle chicken, steak, or seafood across a grill erupting with flames, creating toothsome entrees directly in front of their hungry spectators. Meanwhile, kitchen staffers drape double-cooked pork with a spicy hoisin sauce, and sushi-smiths artfully slice fresh, fire-retardant fish for each order of sashimi and roll maki in a cylinder of rice and seaweed.
Within the dining room, crimson walls sport such personalized decorative accents as a stenciling of the restaurant's name and a finger-painting of its business license.
809 Washington St.
Attleboro
Massachusetts
508-639-5390
Reali's Fine Italian Cuisine's owner and chef, Jim Reali assembles meats, pastas, and sauces into hearty Italian creations using cooking skills first cultivated when he was 16 years old. Diners choose between upscale offerings such as veal and chicken parmigiana or call the waiter via foghorn to order seafood selections. Downpours of rich tomato sauce cascade over pastas, and, as meals unfold, eaters can repurpose pieces of penne as straws to sip white, red, and blush wines sourced from domestic and international vineyards.
79 Putnam Pike
Johnston
Rhode Island
401-231-3004
Native North Enders Vinnie Amato and Steve Costa opened Cafe Porto Bello to revisit the Italian cuisine of their childhoods and re-create the atmosphere of dinners with family. For more than a decade, the café's chefs have prioritized freshness by preparing every dish to order with spices blended in-house and by garnishing gourmet, hand-tossed pizzas with their own roasted red peppers. The dining room is warm and softly lit, with sturdy wooden tables and seating for up to 100. In the adjacent lounge, bartenders pour Italian and American varietals in syncopation or ragtime with live jazz sets.
6 N Washington St.
North Attleboro
Massachusetts
508-699-0006
Chef Nick Iannuccilli's family transplanted from Bologna, Italy, to Providence when the budding epicurean was young, sealing his dual status as a true Italian and a Rhode Islander. Though his cooking style incorporates some North American flair, his allegiance to the cuisine of his homeland undoubtedly led to the success of his first restaurant, Florentine Grille, where his culinary skills received the lick of approval from Frank Sinatra and the former president of Italy, Oscar Luigi Scalfaro.
Today, Iannuccilli turns his full attention to Italo American Grill, where he continues to create his signature Italian dishes, including the pescatore baked scrod he once served to Sinatra. Along with the tasty favorites, it's Iannuccilli's willingness to cater to guests' requests—be it for a gluten-free pizza or a prosciutto named after them—that keeps happiness flowing.
1195 Douglas Ave.
North Providence
Rhode Island
401-334-3663
Two Papas Biscotti inspires dreams of Italian cafés or Tuscan countrysides with its biscotti, which are handmade and hand-cut, resulting in various shapes and textures. King Arthur flour builds each biscuit's skeleton, and fresh fruit and chopped nuts give varieties such as the cranberry walnut or limoncello their distinct flavor. Traditional vanilla-almond biscotti charm palates with slivered almonds, and a double-chocolate-chip biscotti satiates cocoa lovers. All biscotti are twice baked, allowing eaters to experience a taste of Italy without making out with Fabio.
900 Victory Hwy., Suite 4
North Smithfield
Rhode Island
Though recently featured in a USA Today Travel article that praised its "astonishing" chow mein sandwich, Chan's Fine Oriental Dining is known by locals for more than just its kitchen's specialties. The restaurant also won a prestigious Keeping the Blues Alive award in 2011, and its world-famous jazz and blues performances have helped cement its self-proclaimed reputation as New England's "home of eggroll, jazz, and blues."
Long before the sounds of horns and saxophones filled its halls, the New Shanghai Restaurant opened its doors in 1905. It was not until the mid-1960s, however, that the Chan family refurbished the Woonsocket landmark and began serving an innovative combination of Cantonese, Szechwan, Hunan, and Mandarin cuisines. Around this time, the Chans also brought in the live jazz and blues music that continues to fill the main dining area—known as the Horseshoe Bar Lounge—and the famous Four Seasons Jazz and Blues Club.
With its red paper lanterns, traditional Chinese artwork, and colorful paintings of musicians, the Four Seasons has played host to such legendary blues, jazz, and folk artists as Dizzy Gillespie and Rebecca Parris. A buffet spread accompanies musical performances, during which enthralled audiences watch as musicians pound eggrolls against snare drums or slide their hands along guitars strung up with slippery chow mein noodles.
267 Main St.
Woonsocket
Rhode Island
401-765-1900
---