Fitness Classes in Worcester
---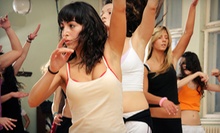 Instructor Shelly Rego leads students through easy-to-follow, Latin-inspired dance workout moves set to international party tunes
---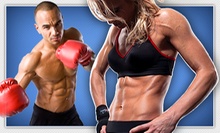 Kickboxing classes combine boxing and martial arts to help tone and trim physiques, and one-on-one training helps refine style and results
---
Recommended Fitness Classes by Groupon Customers
---
PowerHouse welcomes all fitness levels and promises a challenging, fun workout tailored to your needs. Whether you want to burn fat or just lift giant ice blocks with your nipples, you'll learn powerful self-defense tools. If you're a fighter hoping to improve your striking technique, PowerHouse can take you to the next level, enabling you to wail on people even tougher than a certain California governor.
91 Sidney St.
Cambridge
Massachusetts
US
In 1990, Christina Rondeau fell in love. With martial arts, that is. After earning her black belt and competing in amateur karate and martial arts tournaments all over the United States and Europe, Rondeau decided to go pro. She travelled the globe as a member and coach on the USA WAKO kickboxing team, and went on to win the women's lightweight title. Rondeau continued to feed her athletic hunger with a switch to pro boxing and appeared in numerous print media and television shows, including The Maury Povich Show.
Having achieved fame and glory, Rondeau took on a new fight: she wanted to help women and children defend themselves while gaining indomitable confidence. She has authored books, created instructional DVDs, and opened Rondeau's Kickboxing. The women-only, 24/7 gym garnered Rhode Island Monthly's readers' pick for Best Fitness Center in 2010, due in no small part to its empowering blend of fitness and martial-arts-based classes. Rondeau also promotes safety in her community by participating in events geared towards ending violence toward women and girls and teaching local schoolchildren how to defend themselves or pass a math quiz without using weapons. She also coordinated a box-a-thon to help line the shelves of a Rhode Island food bank.
12 Sunnyside Ave.
Johnston
Rhode Island
401-272-5425
The noises and stressors of the day melt away as students find peace and quiet inside H.Y.P. Studio's intimate workout areas. Small groups of no more than five participants gather for Pilates classes that use specialized equipment to build lithe muscles and abdominal strength. BarSculpt classes incorporate mats, weights, bands, and ballet barres to create a low-impact workout that targets fat in common problem areas along the legs, arms, and torso. Inside the yoga studios, a custom-designed heating system maintains an ideal balance of heat, humidity, and fresh oxygen, and the floors are constructed out of an antimicrobial material that prevents germs and charkas from getting trapped under the surface. Classes are held from as early as 5:45 a.m. to as late as 7.45 p.m., and students can use private shower and changing areas to get ready before and after sessions.
50 Central St.
Wellesley
Massachusetts
781-263-7380
No matter the weather outside, the conditions are always right at Extra Innings, a 15,000 square foot indoor baseball and softball training facility. The facility includes four batting and pitching tunnels, each of which is 70 feet in length and equipped with an adjustable pitching machine, an L-screen for live batting practice, and a pitching mound. If players want more help, they can turn to Extra Innings' instructors, many of whom are former or current professional players and college all-stars. These experts use a uniform step-by-step teaching system to help students develop their swings, improve their fielding, and learn to only exclaim "I got it!" if they're about to catch a fly ball or have just been told a joke. For a break, players can visit an on-site pro-shop full of name-brand gear, or they can even arrange a shindig in the party area to celebrate birthdays and special victories.
10 Micro Drive
Woburn
Massachusetts
781-935-2256
SpinCity Training Studio's team of spin instructors and personal trainers joins forces with a registered dietitian and licensed massage therapist to provide clients with a comprehensive road map to wellness. Rather than offering run-of-the-mill spin classes, trainers customize programs to address each client's specific goals, which may include injury rehabilitation, sports training, weight loss, or muscle improvement. Prior to the workout, instructors manually adjust each cycle to the rider's unique posture to facilitate the best possible speed, comfort, and spinal rigidity during routines that take individual fitness levels into account. They then run students through a gamut of low-impact body conditioning performed to a motivating score of music and car horns. After classes, the studio's onsite dietitian can balance workouts with a three-day food analysis and a four-week nutrition program. The facility also lays claim to Cybex Arc Trainers, treadmills, and strength machines to round out exercise routines. An onsite locker room and shower facility sluice away post-workout perspiration, though patrons must dry off with towels brought from home.
305 N Main St., Suite 301
Andover
Massachusetts
978-749-0000
After Brian Ayers earned his degree in fitness management and went to work in a corporate fitness setting, he discovered a new kind of training—one that involved challenges such as boxing, mud races, and obstacle courses. "I moved away from using machines and dumbbell exercises to exercises that will get people in shape for more athletic things," he says. In June 2011, he decided to open a studio dedicated to the philosophy of embracing challenge, and Rugged Fitness was born.
Traditional machines do not exist at Rugged Fitness. Instead, there's plenty of space for boot-camp workouts, a pull-up area with TRX bands, and 11 heavy bags for boxing classes, which never exceed 11 pupils. Outside, giant tires patiently wait to be lifted and flipped, and an obstacle course with monkey bars, army-crawl netting, and a climbing wall dares visitors to push themselves to their limit. During the interval-based boot camps, students might heft sledgehammers one minute and drop for pushups the next. Because activities focus on increments of time, rather than specific weights or numbers of reps, everyone can calibrate the exercises to their ability level. And the students do have a range of abilities—some are fitness aficionados, whereas others are complete beginners, and one student dropped more than 100 pounds.
To challenge and encourage students, Brian gathered a staff of experienced coaches, which includes a former professional boxer and an amateur mixed-martial-arts fighter. "Our coaches are all very hands-on," he says, "Everything they they're putting you through, they've done. It's not just someone sitting back with a cheeseburger telling you to do pushups." That spirit of camaraderie extends throughout Rugged Fitness's clientele. "You're all struggling through these crazy workouts we're going to put you through," Brian says. Even outside the gym, members frequently band together to complete mud runs, obstacle courses, and marathon Macarena sessions.
To supplement the classes—which include kickboxing, kettlebell conditioning, and the once-a-week Rugged Boot Camp challenge—the trainers offer one-on-one nutrition counseling. An online nutrition program helps steer guests toward healthier diets, analyzing what they're eating based on the calories, nutritional components, and number of Flintstone vitamins hiding in foods.
1870 Berlin Tpke.
Wethersfield
Connecticut
860-436-9777
---